Professor and Alumna Co-Edit New Volume on U.S.-Russian Cooperation on Nonproliferation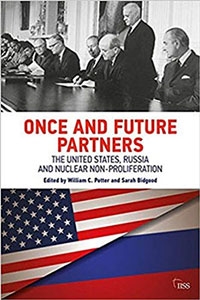 William C. Potter and Sarah Bidgood MANPTS '16 of the Institute's James Martin Center for Nonproliferation Studies (CNS) celebrated the launch of their new co-edited volume Once and Future Partners: The United States, Russia, and Nuclear Non-proliferation earlier this month.
The book examines the history of U.S. and Soviet/Russian cooperation on nuclear nonproliferation matters, which persisted even at the height of the Cold War. "Leaders in Washington and Moscow recognized that nuclear proliferation would serve neither country's interests even when they did not see eye-to-eye in many other areas. They likewise understood why collaboration in mitigating this nuclear danger would serve both their own interests and those of the international community," write Potter and Bidgood.
Potter is the founding director of CNS, as well as the Sam Nunn and Richard Lugar Professor of Nonproliferation Studies at the Institute. Bidgood is a senior research associate with CNS and 2016 graduate of the Institute's Nonproliferation and Terrorism Studies program.
The book is being published as part of Routledge' Adelphi series, and its jacket includes laudatory quotes from Siegfried Hecker, former director of the Los Alamos National Laboratory, and Professor Matthew Bunn of Harvard University.