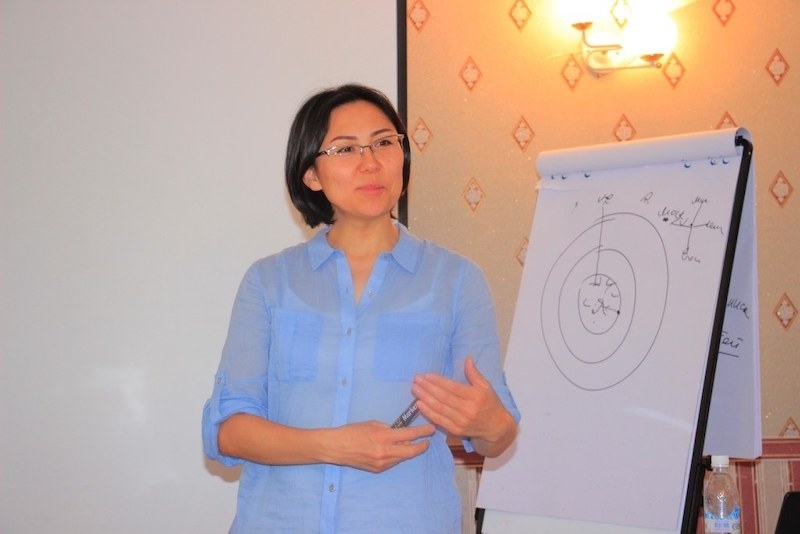 Associate Professor Mahabat Baimyrzaeva facilitated a strategic planning retreat for the Roza Otunbayeva Initiative in Bishkek, Kyrgyzstan.
Baimyrzaeva who teaches in the International Policy and Development and Public Administration degree programs, facilitated a two-day retreat in June, 2019 for former Kyrgyzstan's president Roza Otunbaeva' Foundation "Roza Otunbaeva's Initiative" (ROI). "The ROI is one of the most innovative organizations in Kyrgyzstan," shares Baimyrzaeva and add that the organization develops new ideas and engages a wide range of local and international organizations to implement large scale projects in Kyrgyzstan pertaining to education and youth empowerment. 
"The retreat enabled the leadership and the staff of ROI to rethink their own individual and organizational strengths, as well as refine their organizational strategy in the context of the country's development." 
Former Kyrgyz President Roza Otunbayeva shares her experience leading the first peaceful transition from authoritarian rule to parliamentary democracy in Central Asia.
Middlebury Institute student Matt Levie describes a unique opportunity he had to work with journalists in Kyrgyzstan this summer and how Institute faculty "completely went out of their way" to support his goals before he even enrolled.
Middlebury Institute student Stephanie Gentle is adding her eighth and ninth languages as a Boren Fellow in Kyrgyzstan while using her skills to conduct valuable research for her international environmental policy degree.