Incoming Student Enjoys Unique Summer Experience Working in Kyrgyzstan Thanks to Faculty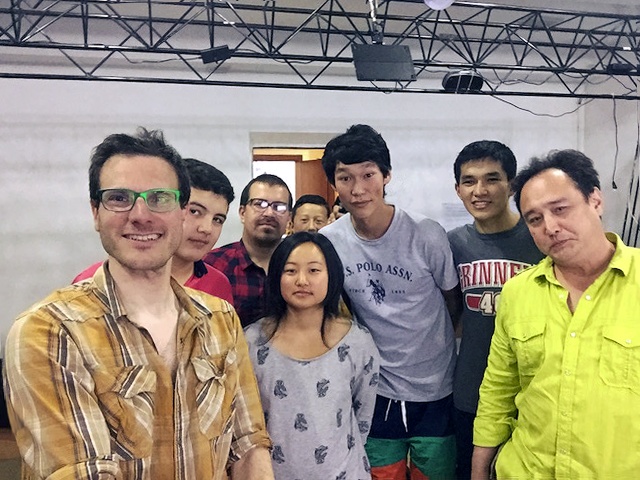 When future Middlebury Institute student Matthew Levie's Ukrainian guitar tutor heard he had taken one year of Russian in high school, she insisted they only speak that language during lessons. It could be described as his first true immersive learning experience. He then spent some time in the former Soviet Union when he was 16 years old and took additional Russian courses as an undergraduate student at Harvard University.
Levie MPA '18, who also speaks fluent Hebrew, graduated with a B.A. in political economy and then embarked on a career as a film editor, working on several documentaries, promotional videos and broadcast shows. Living with his family up the coast from Monterey in Pacifica, he was a member of the local school board for four years. "That experience gave me a good view into public policy," he says and adds that thinking about what he "really wanted to do" brought him to the Institute where he audited a few courses last spring.
With a desire to capitalize on his Russian language skills and a deep interest in both U.S. policy towards Russia and development in Central Asia, Levie enrolled in the Master of Public Administration (MPA) degree program. "Even though my Russian is quite good, I felt I needed an immersive experience in a Russian-speaking environment before starting my graduate studies," he says, explaining that he picked Kyrgyzstan because of its excellent Russian language institutions, lack of visa requirements for Americans, and affordability. One of the courses he audited at the Institute was taught by Associate Professor Mahabat Baimyrzaeva, a native of Kyrgyzstan.
Levie contacted Baimyrzaeva for tips and advice, and says her response blew him away. "She encouraged me to use the opportunity to do work related to my career goals and connected me with a bunch of organizations and interesting people." Through her connections, Levie found a position with a media organization called Kloop. They had recently acquired high quality video equipment and Levie hosted training sessions teaching them how to edit videos. He particularly enjoyed hearing their perspectives on events in Kyrgyzstan and the U.S. and said he was very impressed with the organization. "I learned a lot from these great journalists."
In addition to Baimyrzaeva's beneficial help, Levie says he got more great advice from Professor Anna Vassilieva, director of the Institute's Graduate Initiative in Russian Studies and a valuable connection to her good friend, Rosa Otunbayeva, the former president of Kyrgyzstan. Levie was accepted by a respected competitor graduate program, but says he picked the Middlebury Institute because of the wonderful connection to faculty and staff. "The faculty completely went out of their way to support my goals, before I even enrolled! You don't get that in many places."