"A Remarkable Commitment": Amy Sands Looks Back on 20 Years at MIIS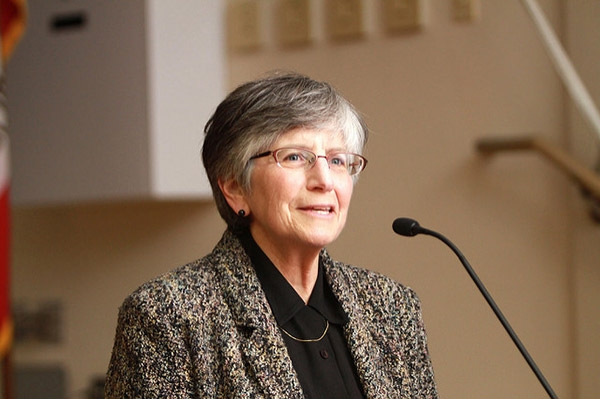 Dr. Amy Sands will retire at the end of December from her current position as executive director for research centers and initiatives at the Middlebury Institute of International Studies. Sands has been a mainstay on campus for 20 years, since arriving in 1996 to take on the newly created role of deputy director of the James Martin Center for Nonproliferation Studies (CNS). As the Institute moved through a particularly eventful period in its history, Sands went on to serve as dean of the Graduate School of International Policy Studies for two-plus years before being appointed provost, a position she held from 2006 to 2014. Prior to coming to Monterey, she enjoyed a distinguished career in international security, including senior positions at Lawrence Livermore National Laboratory and the Arms Control and Disarmament Agency. We sat down with Amy Sands earlier this month for an informal "exit interview" of sorts.
Q. You arrived at the Institute in 1996 from a senior position at the Arms Control and Disarmament Agency (ACDA). What attracted you to the field of nonproliferation?
AS: I was always interested in international security and foreign policy, specifically the causes of conflict and approaches to resolving the problems underlying it. I had gotten into the field of nonproliferation because of the job I took at the Lawrence Livermore National Laboratory, which led to the opportunity in Washington at ACDA. The work was challenging and interesting and nonproliferation was clearly an incredibly important topic within the broader field of international security.
How did you first connect with the Center for Nonproliferation Studies and [Founding Director] Bill Potter?
I had known Bill since I went to Livermore in 1983. When I decided to come back to California in the summer of 1996, I contacted him and looked at his center's activities and saw he had a posting for director of a chemical and biological weapons nonproliferation program. After I applied, Bill called me and said, "Amy I just want to let you know that I'm not going to hire you for the job you want." And I thought, "Well, this is sort of odd." [laughter] And then he said "But I have another job for you. I've realized I really need an associate director, and I wonder if you'd be interested." As he described the details, I realized it was a perfect fit. I have a lot to thank Bill for in terms of getting me engaged with the Institute.
How did your experiences in Washington influence your approach to working with graduate students and teaching?
When you're in Washington and you need staff to do something specific, and you realize that none of them have quite the right background, or language skills, or problem-solving ability, you start to think about what you might want in a perfect staff person. When I came to Monterey, Bill asked me to take on teaching the "Introduction to Weapons of Mass Destruction" course. From my own experience, I had a good sense of the kinds of skills and information students might need given the responsibilities they might have someday in Washington, and I tried to put together course materials and opportunities that would hit those key points. It also helped that I could bring in some fairly senior people from Washington for that practitioner perspective.
When you arrived in Monterey, CNS had been around for seven years, and we're now well past its 25th anniversary. How was it different in those early days from what we see today?
I got here just as Bill Potter had managed to get some additional funding, as a result of the closing of Fort Ord, from the Office of Economic Adjustment at the Department of Defense. I think the Institute's president at the time, Bob Gard, managed to get a piece of that money for the Institute. The funding CNS received allowed Bill to add my position, and also bring in Jonathan Tucker, who became the head of the chemical and biological weapons nonproliferation program I mentioned earlier, as well as John Lepingwell and Nikolai Sokov. Over the next seven years we continued to grow and were able to start the Washington office [now part of Middlebury in DC]. Coming from Washington, where people sort of scoff at the academic think tanks as being ivory towers and not really engaged, it was exciting to be at a center that was active in the field educating the next generation of professionals and providing relevant research to policy-makers about nonproliferation.
What were the circumstances of your move from CNS to become dean of Graduate School of International Policy Studies (GSIPS) in 2003?
After seven years at CNS, I was ready for a change. Meanwhile, the Institute was going through the most severe financial crisis in its history. The president of the Institute had just resigned, and Steve Baker, who had been serving as the dean of GSIPS, was appointed as the new president. Bill alerted me that they might approach me about being the new dean, and that's exactly what happened.
I signed on with the idea that if it didn't go well, I would become a faculty member. That was the fallback, because this was really sort of a leap for me at the time, but it worked out well. The first year was a pretty crazy one, because we were incredibly financially strapped. The positive side was, I didn't have any discretionary money at all, so I couldn't say anything but no to requests for funding. Ironically, it's easier when you don't have options; I was able to focus more on the degree programs and the faculty and get to know them in a way that I might not have if the conversations had all been about allocating money.
You were dean of GSIPS when the Institute first began looking around for another institution to partner with. What was it like to be in senior administration in those days?
The joke was, what do you do? Do you put out a shingle and say "For sale"? Over time, quietly, the word went out, and there were some pretty serious discussions with the University of California and others. Eventually, the connection with Middlebury was made, and it almost immediately seemed like a good fit. I was fortunate enough to be part of a committee that went to Middlebury twice, and was part of the group that hosted the Middlebury team that came to Monterey. There was a similar culture and focus on international education and the role of languages and the importance of taking on the global challenges. Both schools were focused on preparing students to be effective as global citizens.
What amazes me when I look back on it is how quickly things developed once Ron Liebowitz and the Middlebury Board made the decision to move forward. The Institute, along with the Language Schools and Schools Abroad and Bread Loaf, really enrich the intellectual ecosystem of the College and help to keep it relevant and engaged on a broader set of global issues. I think that insight was behind Ron Liebowitz's push to acquire the Institute, and I think he was right.
What were the circumstances of your move from GSIPS to become provost?
[In 2006] Middlebury leadership appointed Clara Yu, who had recently retired after serving as vice president for languages and director of the Middlebury Language Schools, as the new president of the Institute. She was innovative and creative and full of energy, but when she came on board, she realized that if she was going to focus on finalizing the agreement with Middlebury, and fundraising, and revitalizing our relationship with the local community, she was not going to have time to also run the academic programs. So she decided to reinstate the position of provost, and asked if I was interested.
Clara was a dynamic and forceful leader with a clear agenda. I liked the speed at which she liked to do things, which was pretty quickly. In the three years that she was here, she achieved a lot. One interesting point is that in the first year, Clara decided we would tackle strategic planning, and the three priorities we identified—academic excellence, financial sustainability, and new revenue opportunities—are in many ways the same ones we're still talking about now.
In 2009, the Institute went through a major academic reorganization, consolidating from four graduate schools to two while simultaneously bringing all advising under the Center for Advising and Career Services. How did that reorganization come about, and how do you think it's worked out in practice?
There had been, from almost the day we signed on with Middlebury, discussion about how thin we seemed to be spread across four schools, four deans, four dean's assistants, and so on. It seemed like that wasn't a very efficient approach. On the other hand, some of our programs clearly thought of themselves as pretty autonomous and standalone. We questioned what it would mean to put all of the language-related programs in one bucket and all of the policy and management ones in another bucket, and considered different approaches. In the end it was about finding the sweet spot where the right programs were in the right place.
During this period we transitioned from Clara Yu to Sunder Ramaswamy [as president], and he was given the task of coming up with the final version and moving it forward. There was real concern about alumni reaction—primarily about the translation and interpretation and business school alumni who might feel like they were "losing their school." It was a challenging year.
At the same time, students had been complaining about our advising and career services, which were distributed across the four schools. That definitely wasn't efficient. I think we all saw the creation of CACS as an experiment, and in the first three to four years, it checked the box on a lot of the things the students had been concerned about. One of the issues that we continue to have is that we're never going to have the funding needed to bring in experienced professionals from each individual field to be career advisors – that's a very expensive thing to do. I have no doubt, though, that our current leadership will figure this out and come up with a good approach.
Do you have a favorite memory from your time as provost?
For me the highlight of the year is always Commencement. Seeing these students, who are so dedicated to moving forward in their fields and making a difference, get to the point where they're ready to go out and do that. It's really fulfilling to know that, whether you're teaching students or helping the academic programs to run smoothly, you've contributed in some way to making that happen.
For the past couple of years you've been overseeing the work of the Institute's centers and initiatives. Has that felt in a way like coming full circle, back to where you began? And how do you see the centers and initiatives evolving over the next few years?
The first thing I'd say is, the centers are not evolving as a unit; they're each doing their own thing. When I started out, I initially thought I might be able to pull the centers together in a more cohesive structure. At the big universities, often times centers coalesce around an umbrella consortium, like the Freeman Spogli Institute of International Studies at Stanford. That hasn't happened here, partially because there aren't resources to do it, and partially because our centers and initiatives have a history of being autonomous.
Over the last two years what's happened is we've managed to streamline the number of centers and zero in on the ones that fit well with our academic interests and support learning opportunities for students. At this point, we've got it pared down from 10 to six. The four primary centers [the James Martin Center for Nonproliferation Studies, Center for the Blue Economy, Center for Conflict Studies, and Center for Social Impact Learning] seem like the right ones now, plus an initiative in Russian studies and one in cyber. I'm pleased with the way that has worked out, that we've been able to focus our efforts on this core group of centers and initiatives.
You've had a chance to interact with an entire generation of faculty and staff at the Institute. What strikes you as unique about them?
What has struck me the most is that the faculty and staff that I've known here are so dedicated to this Institute, and work so hard to make it the best it can possibly be for the students who come through the doors. There's a remarkable commitment to helping students find their way and giving them the language, skills, knowledge and experiences they need to graduate and become colleagues. I just attended the holiday party in Washington and it was wonderful to see all these young alumni out there doing what they wanted to do, and doing it well. They have such energy and enthusiasm, and they're thankful for the opportunities they've had because of the Institute.
I would also say that there's a feeling of a common cause here. Even as the faculty are doing their own research or consulting, they stay focused on making the learning that happens here high-quality, relevant and meaningful. I've worked with and been around a lot of academics over the course of my career and you just don't find that kind of commitment and loyalty very often. There are a lot of faculty who've lived through hard times here, and stayed through it all, because they knew this was a place where they could make a difference. You could say the same about staff. There has always been a sense that there was something unique happening here and people want to be part of it.
We've been looking back at the last 20 years. Looking ahead now, what advice do you have for younger faculty and staff?
I would encourage them to think about how to balance their efforts so that they have time to really think about how they teach and their pedagogy. They should be comfortable with it, but it should never be static; it should always continue to grow and be enriched by the different tools we have, especially with technology opening so many new possibilities.
Secondly, I would encourage them to always think about how they can help mentor students. Reach out to them and make sure they know your door is open. Maybe you have some ideas about their career path or a network that could be helpful to them. The conversation doesn't have to be about a particular job; the important thing is to find ways to connect, because the students who come here are pretty phenomenal.
What are you going to miss the most about working at the Institute?
The people. I'll remember days when I was walking across campus and ended up being late for a meeting because I ran into three other people who had a question or just wanted to chat. I'll miss the people and the sense of being part of a community that's so dedicated.
Any parting words of wisdom?
Yes: try to keep things in perspective and keep a balance in your life. Recognize that the world keeps turning no matter what craziness fills up your day. Just keep trying to do the best you can in the context you're in and hope that moves the pendulum in the right direction.