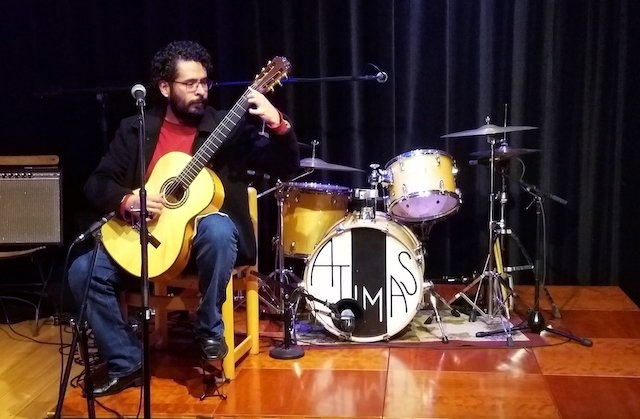 Middlebury Institute students and local residents gathered at the Wave Studios in New Monterey to hear a variety of musicians and local artists, socialize, and enjoy refreshments on Friday, February 22.
The event, MIRA Fest: A Celebration of Diversity Through Arts, was hosted by the Institute student club Immigrant Rights Alliance (MIRA) in collaboration with the Undocu-Otters and Allies, a club at the California State University, Monterey Bay (CSUMB). The Undocu-Otters advocate for equitable opportunities for undocumented students at the university. The event benefited CSUMB's Undocu-Success Emergency Fund, which supports undocumented students who encounter financial difficulty, creating barriers to their educational goals.
MIRA's mission is to be allies for the immigrant community in Monterey County—part of which they believe involves improving the communication between the vastly different towns in the county, and between Institute students and the local community. The event, organized by MIRA club officers, was conceptualized at the beginning of the academic year as a vehicle for fundraising for an important cause that would be hosted in Monterey, off-campus, in order to encourage student engagement with the wider community around the issue of immigrant rights.
MIRA Fest featured music performances, poetry readings, and artwork displays from a variety of artists, including Fresno-based classical guitarist Christian Cruz, author / poet Patrice Vecchione, and Monterey local bands the Ajimas and Sensory Tribe. All of the performers were intentionally chosen due to their deep involvement with the cause of immigrant rights, and several performers are immigrants themselves. The event was a long time in the making and generated a lot of excitement on the Middlebury Institute campus. "I hope people walk away from the event seeing the diversity of art, performers, and bands, with the idea that it's a positive thing," said Elizabeth Motolinia MPA '20, one of MIRA's leaders. "The event will show that there is diversity in the county and we want to celebrate that."
The Undocu-Otters and Allies regularly host events at CSUMB to raise awareness about immigration and human rights issues facing students in California and country-wide. Many of these events are open to the public. MIRA hopes to continue to support this and other local immigrant rights organizations to further its mission of supporting immigrant rights in Monterey County.
At the Middlebury Institute, there are numerous clubs and organizations through which students can find common interests, discover new passions and enhance their experiences.
The annual Club Fair offers Middlebury Institute students the chance to learn new languages, join interesting issue-based clubs, participate in sports and outdoor recreation, and make lasting connections.
Toastmaster Magazine recently highlighted the unique character of the MIIS Club, where members have partnered with the school's translation and interpretation program to offer presentations in English, Spanish, Chinese, and Russian that are interpreted simultaneously into those four languages, Japanese, and French.