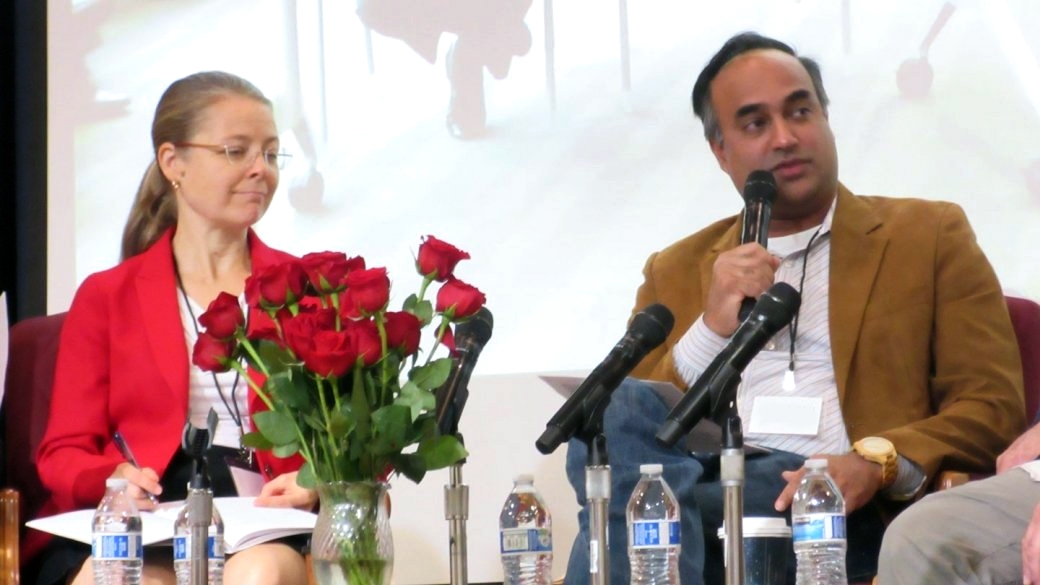 Ambassador Gregg Doud, the chief agricultural negotiator for the Office of U.S. Trade Representative (USTR), and Awinash Bawle MAIPS '06, deputy director of the California Governor's Office of Business and Economic Development, were among the featured speakers at the Bi-Coastal TradeTalks Conference Nov. 30 at the Middlebury Institute. The conference was hosted by the student club known as the Middlebury International Trade Association (MITA), many of whose members are enrolled in the Institute's International Trade and Economic Diplomacy program.
"We're at an interesting crossroads in the world," said Ambassador Doud in response to a question from audience member Maria Onorato MAITED '19 about whether President Trump's trade policies serve the United States' long-term interests. "I've met with folks from around the world with regard to what we're doing, and their reaction is all the same: 'Gregg, we're right behind you.' Everybody understands this issue, and understands that there are countries like Australia that are totally dependent on trade. If a country in that situation stepped in front of this train, they would have no way to deal with the economic consequences."
The three panels featured at the conference focused on the future of free trade, the broader impact of locally-focused strategies, and export compliance in today's complex regulatory climate. Most of the conference speakers participated in person, although Ambassador Doud and Deputy Assistant USTR for Agricultural Affairs Julia M. Doherty beamed in via videoconference from Washington, D.C., offering attendees real-time access to current policymakers. Other featured presenters included:
Lisa Dyer - Former Director, Office of Intellectual Property Enforcement, Bureau of Economic & Business Affairs
Ed Brzytwa - Director for International Trade, American Chemistry Council
Tony Livoti - Founder/President, Monterey Bay International Trade Association
Joe and Jia Hui Onorato - President & GM, Presidio Trade Group, San Francisco/Beijing
Dr. Katheryn Russ - UC Davis Economics Professor
Sean Barni - Manager, Worldwide Trade Compliance, Tesla
Gary C. Hufbauer - Senior Fellow, Peterson Institute for International Economics
Jessica Latham - Trade and Customs, KPMG; WIT-NC Vice President
Janice Whitaker - Senior Manager of Global Trade, Teledyne Technologies
Dyer commended the team for organizing such a "thoughtful and informative" conference, adding that it "underscored my view that not all trade policies originate in Washington, DC. The Monterey and Bay Area participants offered key insights on trade policy, California's prominent role in world trade, and how to implement effective export controls that should be incorporated in any government's policy discussions."
The conference attracted a range of students and community members. Jenn Hart MANPTS '19 explained that she has been considering taking some trade classes and "thought attending this conference would give me some added perspective. It definitely has – it's been really interesting."
MITA President Adam Anderson MAITED '19 pointed to a moment during the third panel as the day's highlight: "Before the Q&A, the panelists voluntarily steered the discussion to career advice for emerging trade professionals, offering their insights on what attitudes, practices, and qualifications best prepare new graduates for the real world." He noted also that most of the panelists stayed to attend the networking mixer that followed the final panel, connecting with students and offering career advice. Panelist Janice Whitaker told Anderson she was "amazed that such a professional conference had been organized entirely by first-year, much less first-semester students. I've worked in the 'real' world for a long time and there are very, very few that could have organized an event like this and have it executed so flawlessly."
The steering committee for the conference included Anderson, Peter Skarlatos MAITED '19, Benjamin Wollam MAITED '19, Angelo Gonzalez MAIPD/MAITED '20, and Benjamin Orenstein MAIPD/MAITED '20. MITA member Pia Park MPA/MAITED '20, who worked on marketing and sponsorships, called the conference "an awesome experience – a rollercoaster," noting that her work on the conference increased her confidence in her project management skills. 
For his part, Wollam was struck by the discrepancy heard at the conference between support in Washington D.C. for the administration's protectionist trade policy, and skepticism from California government and private industry experts about the "extreme" tactics being used. He also agreed with Anderson's assessment that the conference "exceeded all expectations," with Anderson adding that "Without the full participation of every single member [of MITA], this conference would not have even been possible, much less have turned out to be such a remarkable success."