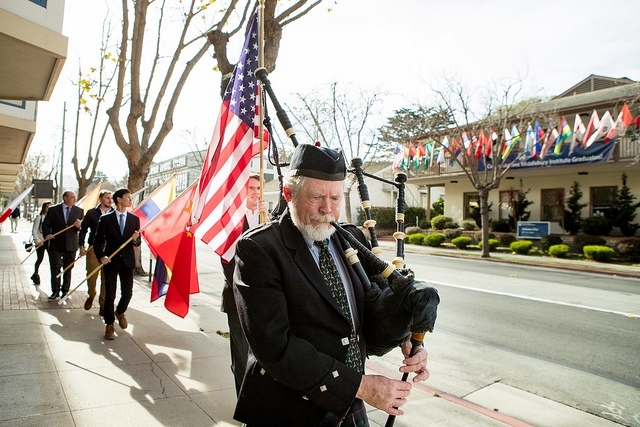 On Saturday, December 15, a gorgeously crisp and sunny day in Monterey, 85 graduates lined up for the traditional procession to the commencement ceremony, marking the culmination of their studies at the Middlebury Institute. 
Led by the bagpipes of Professor Mike Gillen, other faculty, and volunteers carrying the flags representing the 14 nationalities of this graduating class, the students were cheered on by family and friends before entering the Monterey Conference Center.
Always an intimate affair, Winter Commencement each year presents the winner of the annual faculty Excellence in Teaching Award as the featured speaker. Anne Campbell, assistant professor in the International Education Management degree program, asked students to consider how they plan to apply their freshly minted knowledge, how they are going to direct their capabilities, and what choices they are going to make. She said while it is true that our culture and values dictate what is considered success, "having the choice—and making the choice of how to apply our capabilities—is what is important."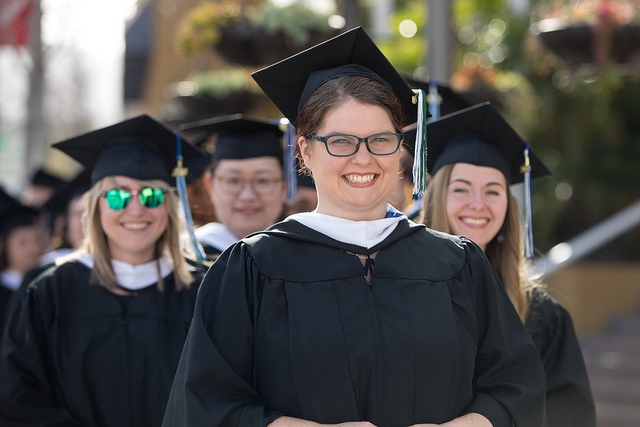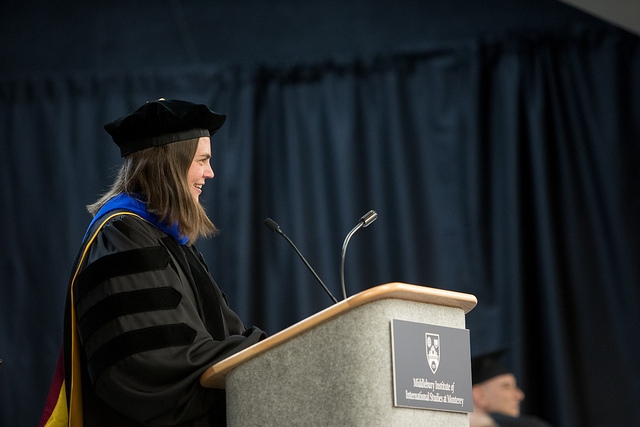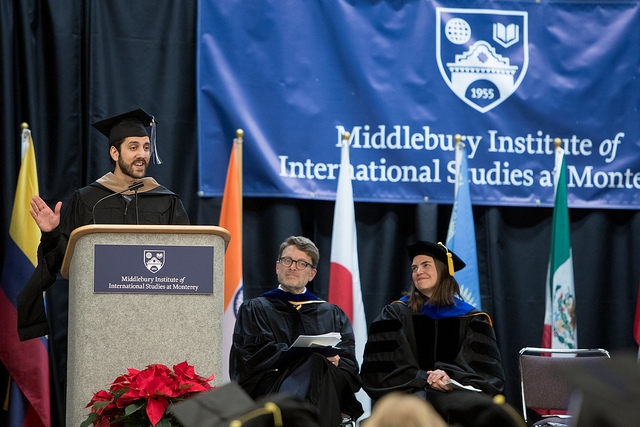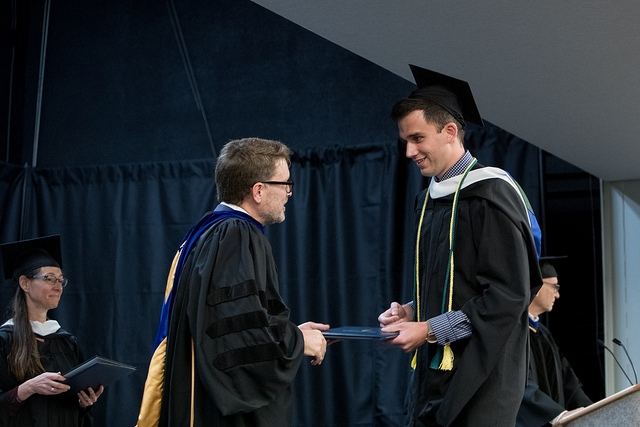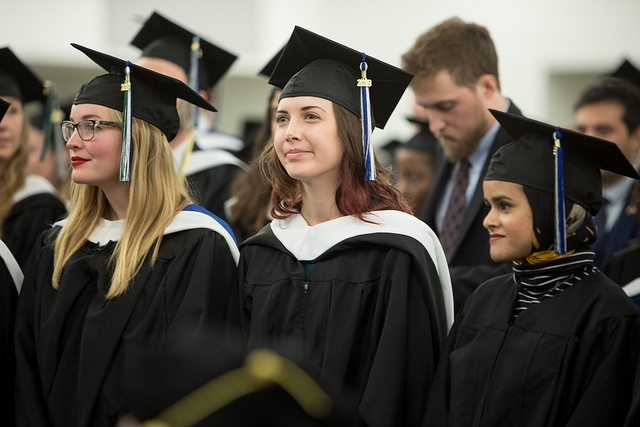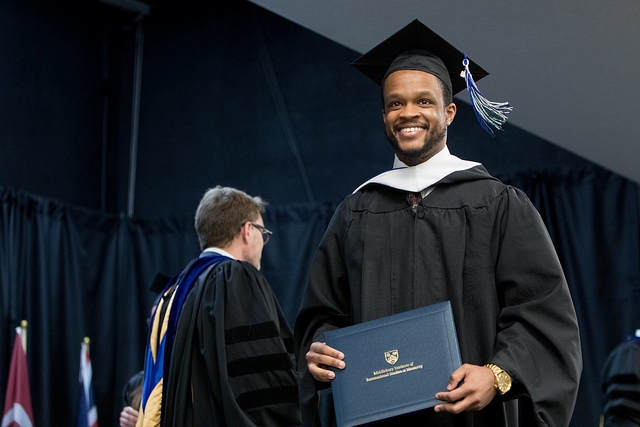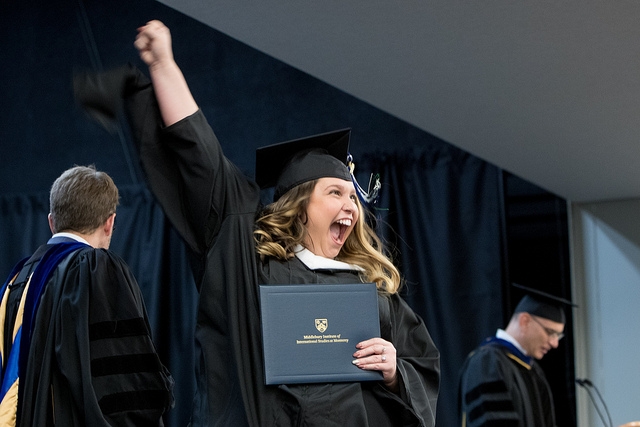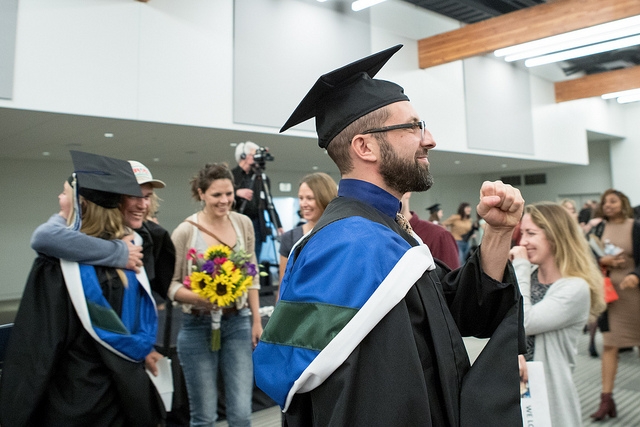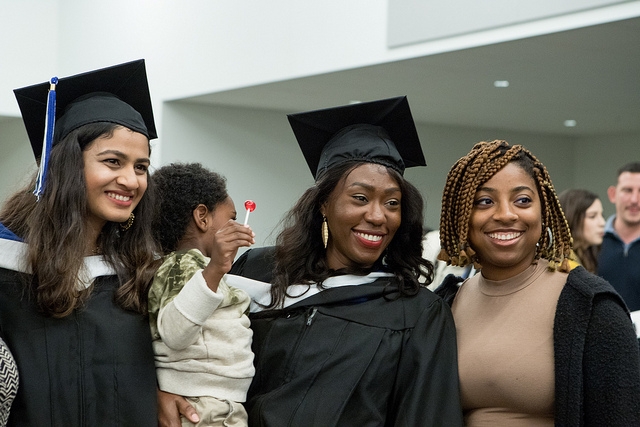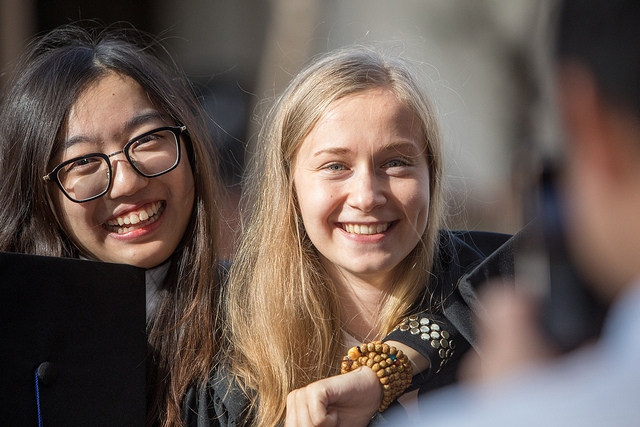 Student speaker Eiad Alhamad MBA/MAIPD '18, selected by his classmates, shared the story of how he got to Monterey, through his native Syria, with stops in Cyprus and a school in a remote part of Saudi Arabia where he first heard of the Institute through an alumnus who became his mentor. When he encountered issues with his student visa application to the United States, the Institute community did not give up on him, but rallied to his cause, and for that he will always be grateful. He picked this story he said, to provide "a real example of how the MIIS community puts its roots everywhere, all the way from California to Japan to Saudi Arabia to Syria, and anywhere you can possibly imagine, at any time, and any generation, and makes beautiful things happen!" We all experience our own version of his visa challenges, he added—roadblocks or challenges that make it hard to achieve what we are meant to achieve. When graduates head out into the world with their new skills and knowledge, they will also bring with them a strong international network spanning the globe.