Winter Commencement: Celebrating Achievements of 137 New Graduates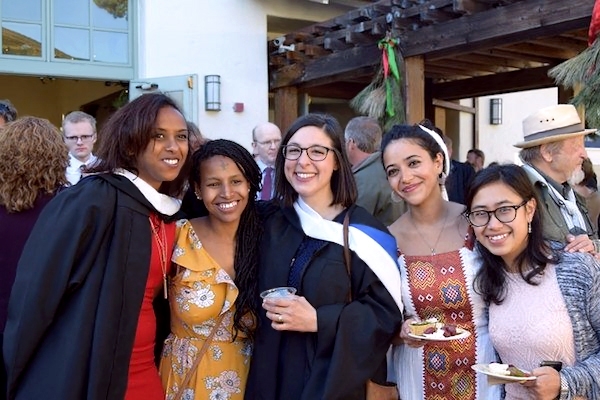 Winter Commencement at the Middlebury Institute of International Studies was held on Saturday, December 16th at the historic Golden State Theater in downtown Monterey. Students were cheered by friends and family as the procession made its way the two blocks from campus to the theater. The intimate ceremony celebrated the achievements of 137 new graduates who are off to the next phase of their careers in the world, offering an expertise that is needed "now more than ever," as Vice President and Dean of Academic Affairs Jeff Dayton-Johnson said in his opening remarks.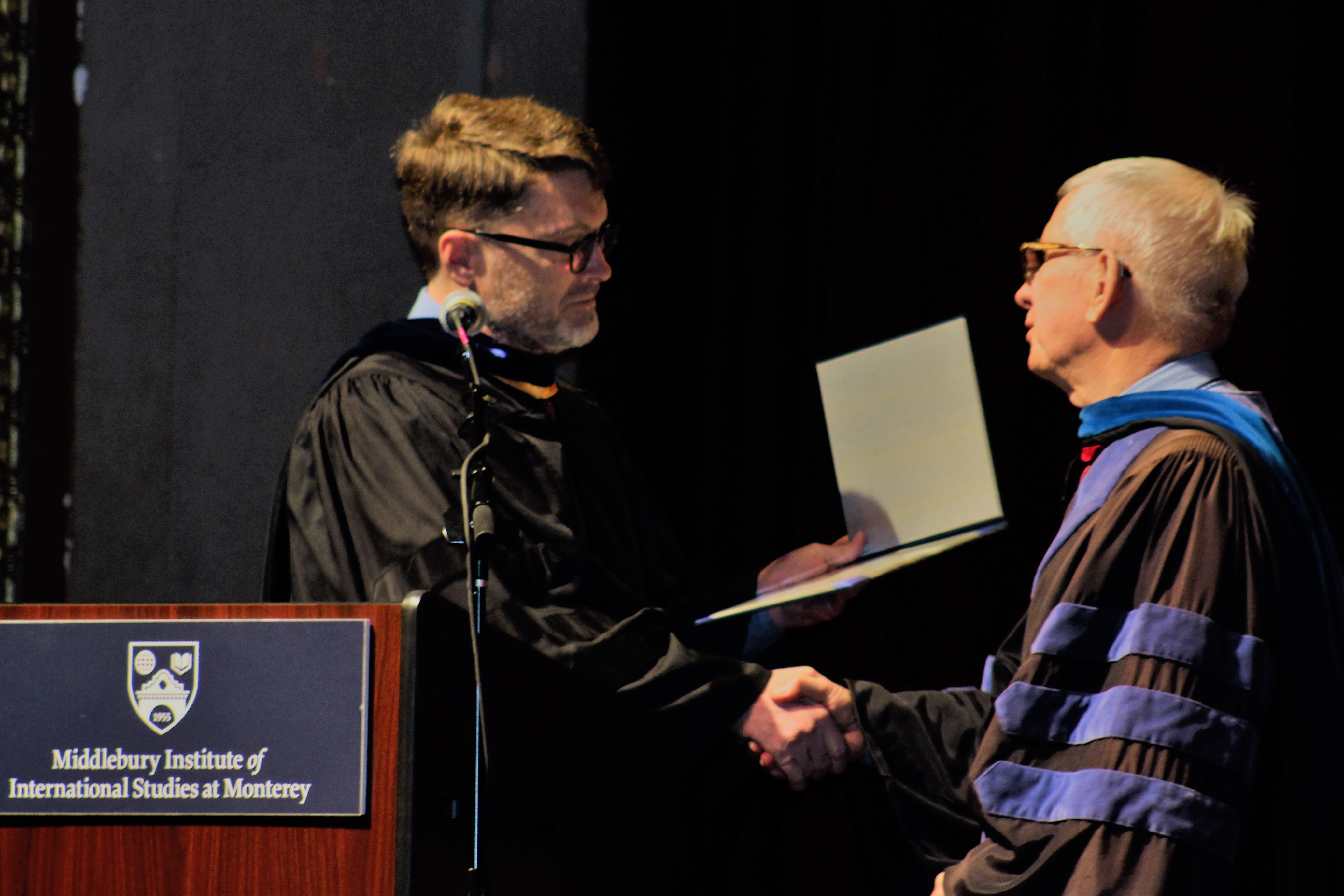 For Faculty Commencement Speaker Ed Laurance, his speech marked the end of a long career, a quarter century of which he spent at the Institute. The beloved faculty member has been influential in the lives of many graduates, especially those who have followed him into the field of small arms control. Laurance told the audience how much joy it brings him to work with former students and see them flourish and make a difference in the world. He shared stories of two Institute graduates who are doing just that, his step-daughter and daughter. (See interview with Laurance published on 12/14/17.) After his speech, Dayton-Johnson awarded Laurance the title of Professor Emeritus, a title that is reserved for faculty who have made a lasting contribution to the Institute.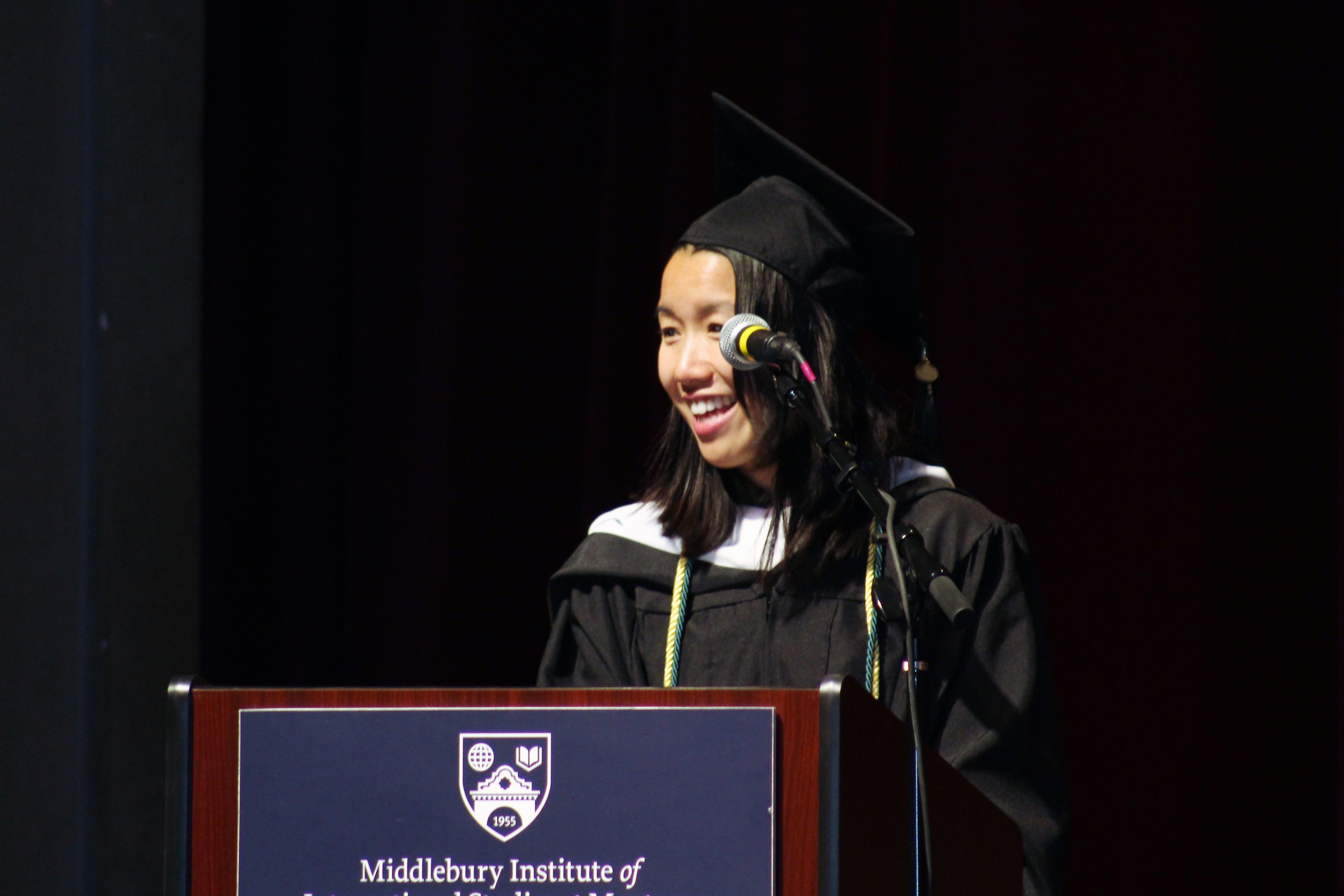 Every year the graduating class votes a student speaker and this winter, Amy Nguyen MPA '17 represented her "small but mighty class." Nguyen described her passion for the field of international development and career in the field as "a love letter to her parents," who came to the U.S. as refugees from Vietnam. Her moving speech drew comparisons to the work her mother does everyday as a manager of a Supercuts hair salon in Los Angeles, advocating for the immigrant women who work for her, providing links to community services to newcomers, and a safe place for all her customers – or what a MIIS student might call a community resource or agent for social change. She talked about the jargon that comes with a profession and what happens when we code switch between our personal and professional lives, between the different worlds we might inhabit and how important it is to do that on a regular basis. Her speech was met with an enthusiastic response by all.