The World According to Student April Danyluk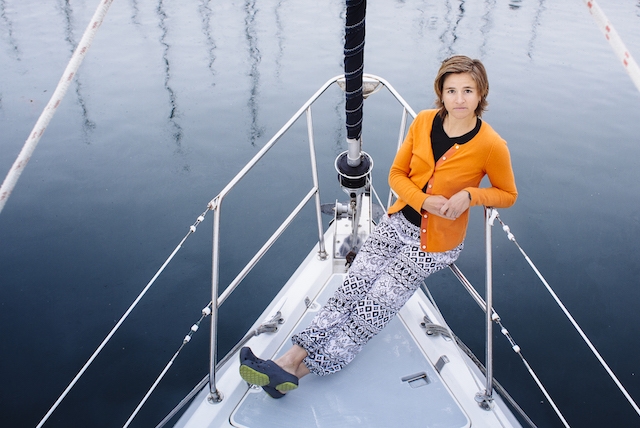 Middlebury Institute student April Danyluk MAIEM/MPA '16 lives on a sailboat in the Monterey marina. She attended high school in Guantanamo Bay, is a graduate of the Clown Conservatory in San Francisco, and has lived and worked all over the world. In her time at the Institute, she has co-founded a program that connects MIIS students learning Spanish and Hispanic women in Soledad who are learning English and brought Theater of the Oppressed to Monterey. Earlier this summer, she shared what she has learned along the way with the Communiqué:
At 36, I am considered an older student. As you get older you realize that no one really knows what they are doing in life, and we are all figuring it out as we go. This realization makes me more relaxed about it all and in many ways more present to enjoy the journey.
Living simply is liberating. My husband and I sold most of our stuff, bought a sailboat in San Francisco and have made it our home in the Monterey harbor for the last two years. A roof over your head, laptop, and a jacket go a long way in Monterey.
I prefer being part of the crew. If I trust the leadership I have found that I don't need to always be in control. I can if I have to, but I prefer to remain adaptable and agile to all the roles life throws at me.
Talk to strangers. So many times things could have gone badly but didn't because I asked for help and got it. Traveling around the world I have found that most people are good, willing to help you, and appreciate human interaction. Talking to strangers also gives you a lot of opportunity to listen and learn.
Humor. We all laugh. Make space for that. Participating in theater in high school was a great outlet. I learned to never take myself too seriously. That is probably why I ended up at the Clown Conservatory in San Francisco.
Life lessons from being a clown. Funny enough, the skills I gained in my year-long program have been more relevant to my life than almost any other experience. Seriously. Knowing how to engage and respond to an audience, as well as how to turn my weaknesses into "golden opportunities" (to quote my clown teacher) continue to inform my daily interactions.
Irrational fear of clowns or coulrophobia is, in part, connected to the exaggerated painted faces of American-style clowns. This style evolved when circuses, like Ringling, Barnum & Bailey moved to big, multi-ring arenas so that audience members in the back could see their facial expressions. If you are entertaining at a child's birthday party you do not need such embellishments.
Clowns, with humor as their medium, demonstrate our universal human absurdities, insecurities, and contradictions. I strongly believe that the role of clowns in our society, in any society, are profoundly important. They can be inappropriate and histrionic in a way that is cathartic to a rule-abiding audience. Sure, they make us laugh. But they also help us see ourselves for who we really are: ridiculous creatures.
Life is not a zero-sum game. Most hate and misunderstanding stems from fear, when people feel threatened. There is no script for life. The more we can be comfortable with that, the less scary the unknown seems.
Theater of the Oppressed is a concept created by Brazilian activist Augusto Boal in the 1970s. The idea has spread across the world and is used as a participatory action tool to encourage collective problem solving and discourse around social injustices. Boal's techniques compliment what we are studying here at the Institute and I was grateful to be able to host a workshop with expert facilitators this semester.
If you don't have it, create it. The small high school I attended in Guantanamo Bay did not have a theater program so we created it. In my liberal arts college, I learned that my education is my education and designed my own degree blending biology, psychology and theater. My first semester at the Institute I wanted to find ways to apply my Spanish in real life so I collaborated with my Spanish professor, Gabriel Guillen, to launch a tandem language course that partners with language learners in the community.
I have never been to real Cuba. My dad was stationed in Guantanamo before 9/11, and I have fond memories of my two years there. It is a very small and intimate community with literally one road, one store and one McDonalds. It is an amazingly beautiful stretch of land surrounded by crystal clear water. It is so idyllic, in fact, that you easily forget you are under constant surveillance and surrounded by landmines. One day I would love to visit real Cuba.
So many great activities start with s. Since my husband and I are both busy graduate students, we decided to limit our activities to those that start with the letter 's', such as swimming, surfing, sailing, studying, suppering…and other things you can use your imagination to figure out. I recently started aerial silks with a friend. The plan is to be able to hang silks from our boat and do private performances over the ocean.
Love. I have never lived anywhere for more than three years in a row, so home is not a geographical location. Home is what I feel when I am around certain people. Home is warm breezes and the open ocean. Home is peanut butter and banana sandwiches. My husband and I met in Nepal where we both worked as volunteer English teachers. We were initially just friends but kept in touch over the years and fell in love when we reconnected in California. It was a big decision for me to give up my dream of being a starving clown and follow him to Hawaii with his military career. Over ten years later, the risk has paid off. I never could have predicted the ways my life has unfolded, yet at the same time, I can't imagine it any other way. As the Alchemist says, "The universe conspires…"