Tangut Degfay: On Freedom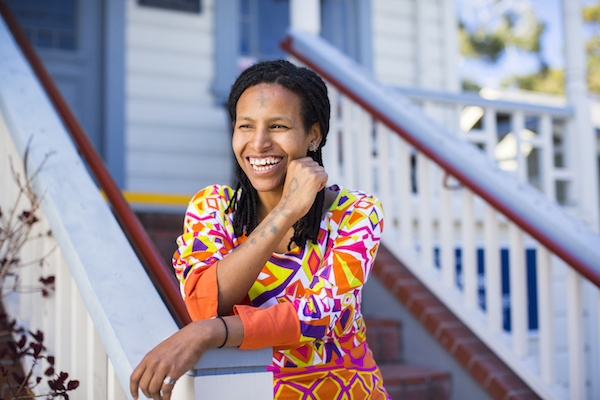 Middlebury Institute student Tangut Degfay MAIPD '18 shares her story from a remote village in Ethiopia to Monterey with important stops along the way in Norway, Vermont and Japan, and the transformative role education has played in her life.
Embracing New Beginnings
I was born in a remote village in northern Ethiopia. At that time, we did not have schools at an accessible distance so local children were expected to help their parents at the farm and later take over the farming tradition when they reach an age to marry and lead their own household. When I was five or six, my aunt offered to take one of my father's children to the city and educate them. My parents say it was an easy choice. They sent me away because my personality was not compatible with what was expected of me as a young girl, because, instead of spending my time with my mother in the kitchen, I would follow my dad to the farm or the market.
I do not remember having second thoughts about leaving my village. In fact, I was feeling ecstatic to experience the bus ride which people tried to scare me with. Addis Ababa was two days away by bus on horrible roads. I was too small for the bus so I was not given my own seat. I remember sitting under my aunt's legs and holding tight onto her legs so that she doesn't leave me behind.
Benefits of Being an Outsider
Addis Ababa was a lot different from what I imagined. Cars, buildings, pushy people on the roads… Socially, I had a very difficult time at school. I did not make any friends. I was often treated harshly for the way I talk, for my unusual name or because I have prominent traditional tattoos. But I thrived academically because I had more time to spend with my teachers than my peers. You know those kids that are often inseparable from their teachers? That was me.
In my new family there was constant pressure on me to behave a certain way. My academic performance was closely monitored by my parents because they were most proud when I performed well. I was expected to be even stronger and more independent than my new siblings. School was my getaway. It was also an outlet for me to experiment with my different personalities. I made sure to take advantage of every possibility to speak out, take leadership positions in student clubs and I even joined the boys' soccer team.
The Wonders of Belonging
I was selected to represent my school and my country at the United World Colleges (UWC), with a full scholarship to study for two years in Norway.
Arriving in Norway felt yet another beginning, a new breath of air, a new place and new faces. It also felt somewhere I belonged. I suddenly felt interesting and accepted, because my peers from all around the globe seemed interested in my stories, my voice and everything I had to say. They would often ask about my traditional tattoo and what it meant, and I never felt bothered even for once to share the history and culture it holds. My tattoo was no longer a mark of discrimination like in my old days, but it become an icon of recognition, and a great conversation starter when I meet new people.
A Brave New World
I came out of UWC feeling like a new person. I became more confident and outspoken. UWC was also my bridge to Middlebury College. I loved being a Midd-kid and I enjoyed every single day of my four years there. I was part of the summer language schools for two summers with Japanese and Korean, which also allowed me to travel to Japan for my study abroad experience. Not only that, I also made sure I took advantage of internship and volunteer opportunities locally and abroad
My irreplaceable experience with Middlebury led me to my graduate studies in Monterey. My dreams are always changing but I continue to aspire working in the field of youth development. I am not the type of person who maps out their life but right now, I am looking into life and work in East Asia and how I can contribute to strengthening socio-economic relations with Africa.
I am a social butterfly, and I enjoy being busy so I take on many extracurricular activities and projects. You can say I sometimes drive myself crazy intentionally but I like the feeling of it. It makes me more productive and socially active when I do so much than the alternative. Take what life gives you.
My Own Personal Freedom
Education introduced me to my own kind of freedom, freedom from cultural and social restrictions, and freedom from what is expected of me as a girl. Most importantly, freedom to speak loud and clear, and to voice my concerns about anything and everything I care most about in the world. Because of it, I feel most comfortable with who I am.
[This article was published in the Spring 2017 issue of Communiqué.]