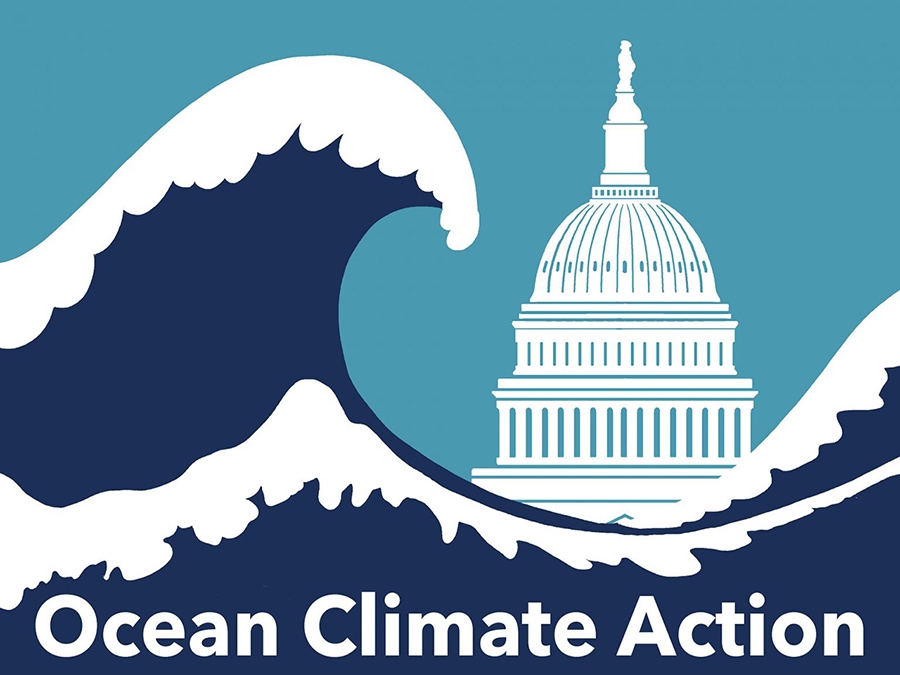 All hands on deck!  Ocean advocates and anyone concerned about climate change is invited to join Ocean Climate Action (Virtual) Capitol Hill Lobby Day on Wednesday, April 14th, 2021. We will meet (via Zoom) in state, district, and territory delegations with U.S. Congress Members to advocate for ocean-based solutions to the climate crisis.
About the Event
In what is expected to be the largest ocean lobby in U.S. history, the Ocean Climate Action Plan (OCAP) coalition, with key supporters including Climate Envoy John Kerry, Climate Activist and Actor Jane Fonda, founder of the environmental justice movement Dr. Robert Bullard, Indigenous groups, industry and maritime leaders, environmentalists, social justice activists and youth will promote job-generating ocean solutions to the climate crisis, over two days of meetings, April 13th and 14th, 2021.
On Tuesday, April 13th, small group meetings with leaders of the new administration and federal agencies are being organized.  Tuesday is "by invitation only."  There will be an opening/welcome event that is open to all.  If you have an area of expertise or are a young person with a particular focus, please indicate that on the sign up form. 
On Wednesday, April 14th, public participation is encouraged—ALL HANDS ON DECK!   When you sign up, you'll be assigned to a state team, and receive updates on the schedule and activities planned by your State Lead.  Each state team will have a dedicated "Zoom Room" and participants will be sent the Zoom link and all other information needed to participate.  Your presence in the Zoom Room will show how many people care about climate change and the ocean's connection to solutions.  
Please join and send a message to Members of Congress that the job-creating Ocean Climate Action Plan and our oceans, coasts, rivers and Great Lakes must be not be ignored as we move toward a more sustainable and just future!
Tuesday, April 13, 2021
Federal Agency Day
Administration & Agency meetings
(experts, small group meetings, by invitation only)
Wednesday, April 14, 2021
Capitol Hill Day
Welcome & Opening Remarks
including: Dr. Sylvia Earle, Congressman Raúl Grijalva (
AZ
-
D3
), and Congressman Joe Neguse (
CO
-
D2
)
The public is welcome to join, even if not participating in Lobby Day.
Link to join:  Ocean Climate Action (virtual) Lobby Day Welcome
Password: ClimateNow
Webinar
ID
:  955 2193 8273
To join by phone:
US
: +1 669 900 6833  or +1 346 248 7799  or +1 253 215 8782  or +1 301 715 8592  or +1 312 626 6799  or +1 646 876 9923
Phone Passcode: 9122923737 (phone only, no attendee
ID
, press # to bypass)
International numbers available
State Delegates Lobbying Congress
(must sign up by Monday, April 12th to join)

Attendees will receive zoom link and final schedule from the "state leads."
State Delegates Report Back, Music, & Celebration!
(open only to attendees and invited guests)
About Ocean Climate Action Lobby Day Priorities:
Ocean-Based Climate Solutions Act:  This comprehensive bill includes protections for oceans, coasts, rivers and lake systems, while promoting sustainable job opportunities and renewable offshore energy.  We seek passage in the House, and a companion bill in the Senate.
 
Coastal Barriers Resources Act:  This current law protects dunes, seagrass, coastlines, coral reefs, lake and river shores across 3.2 million acres of the U.S., saving lives, increasing wildlife habitat, and saving taxpayer money, but should be expanded to the west coast and all the vulnerable areas of the nation. 
 
Clean Ocean Energy: It's time for expansion of federal leasing for offshore wind and federal investment into research and development of wave and tidal energy.   Learn more about our Ocean Climate Action (virtual) Lobby Day Priorities here. 
About the
OCAP

Coalition

A healthy ocean and secure coastal communities are key components of a thriving blue economy, which can create high-quality jobs, assure equity and safeguard our nation from the impacts of climate change.

The non-partisan Ocean Climate Action Plan (OCAP) was developed over the past two years by hundreds of industry leaders, marine conservationists, academics, frontline communities, Indigenous communities, youth activists, and policymakers with Blue Frontier and the Center for the Blue Economy acting as convenors.  It is intended as a template for federal laws and policies.  The OCAP coalition is working around the clock to get new laws passed in Congress and to make sure federal agencies use their regulatory and budgetary power to support ocean and coastal environmental justice and climate action. HR 8632, the Ocean-Based Climate Solutions Act currently being introduced in the House of Representatives is a step in the right direction, and includes roughly 50% of our recommendations, but our coalition is working to make sure all of our key priorities are met including:
Offshore renewable energy that supports communities and ecosystems
A job-producing living shorelines coastal restoration industry
Sustainable fisheries and aquaculture
The greening of our ports and shipping industry
The 30x30 initiative to expand marine protected areas to 30% of federal waters.
Getting these items in concrete legislation is our goal for the April 14th (Virtual) Capitol Hill Day.
Join some of the world's top solution-oriented ocean leaders and marine grassroots activists, including Philippe and Ashlan Cousteau, Climate Envoy John Kerry, Dr. Robert Bullard, the father of the environmental justice movement, Dr. Sylvia Earle, Bill McKibben, Mr. Leon E. Panetta, Former Secretary of Defense, Mr. Frank Nutter, President, Reinsurance Association of America, Mr. Mark Magaña, Founding President & Chief Executive Officer, Green Latinos, and many others fighting for change at the Ocean Climate Action (Virtual) Capitol Hill Lobby Day April 14th!
Questions
Contact Lauren Townsend, our OCAP Lobby Days Coordinator at lauren@oceanclimateaction2021.org or 215-939-7621 . We are waiting for you and can't wait to see you there!