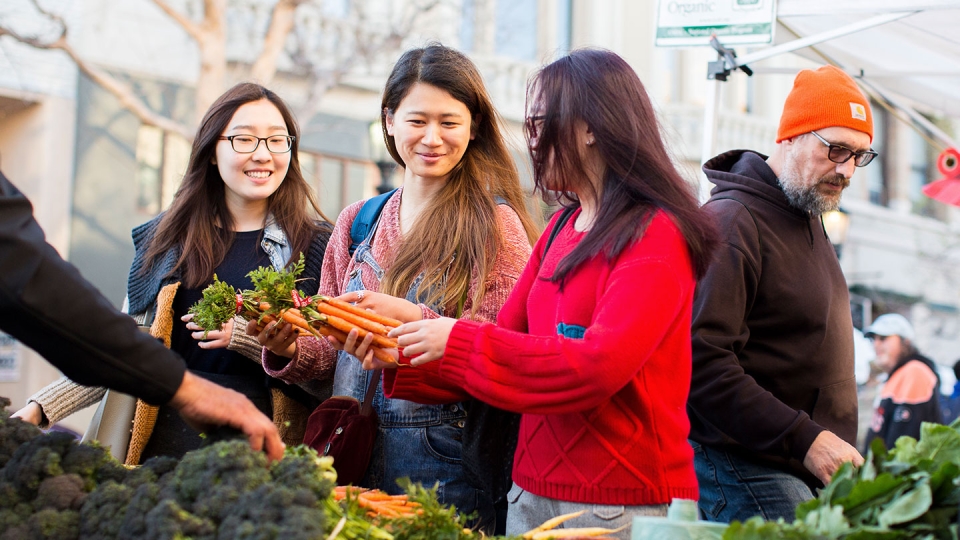 There are lots of interesting things to see and do in Monterey and in the surrounding communities.
Restaurants
Take a look at our Google Restaurants Map for some favorite dining options.
There are many local cafes and restaurants located within a five minute walk of the Middlebury Institute's campus, making it easy to grab coffee or lunch in-between classes. Food options include sushi, burritos, sandwiches, ramen, pizza, crepes, and gyros. Most restaurants accommodate dietary restrictions, with many offering vegan and gluten-free options.
Seaside, Carmel, and Marina, all about a 15 minute drive or less from campus, also boast a variety of local restaurants, breweries, and coffee shops.
Attractions
Check out our Google Attractions Map for the Monterey Aquarium, local museums, and nearby beaches and parks.
The Monterey Bay Aquarium is world famous, showing the diverse marine life in the Monterey Bay. You can watch sea otters play or learn about sustainable fishing and seafood.
Local museums include the National Steinbeck Center, Monterey Museum of Art, and the Salvador Dalí Exhibit at the MHAA. Monterey was the capital of California when it was part of Spain and then Mexico. As a result, there are many old adobe houses that were built in the 19th century spread throughout downtown Monterey.
Nearby beaches and parks include Asilomar State Park, Monterey Municipal Beach, Del Monte Beach, and El Estero Park. Kayaking, surfing, and scuba diving are common pastimes for MIIS Students. Monterey is only a few hours from most major California cities.
Whether you enjoy art, history, or the great outdoors, Monterey has plenty of opportunities to enjoy life on the Peninsula.
Biking
Bicycles are a convenient, environmentally friendly, and relatively inexpensive form of transportation, and the Monterey Peninsula is a biker's paradise.
You can rent bikes and other recreational equipment at Adventures by the Sea. There are also multiple bike shops located in Monterey. You can find biking routes at Bicycling Monterey and Monterey County Bike Map. Popular and beautiful trails are found all over the Peninsula.
Visitor's Guide
The online Monterey Visitors' Guide is full of ideas for planning your free time.
Big Sur
We are just about 45 minutes from Big Sur and some of the most dramatic coastline in the continental United States. Drive across the famous Bixby Bridge along Highway 1 as you see the beautiful views of the Pacific Ocean on your way to Big Sur. Hike, enjoy nature, visit galleries, and discover hidden beaches. Take weekend hikes with your classmates and friends, and enjoy the fresh air as you take a break from learning.