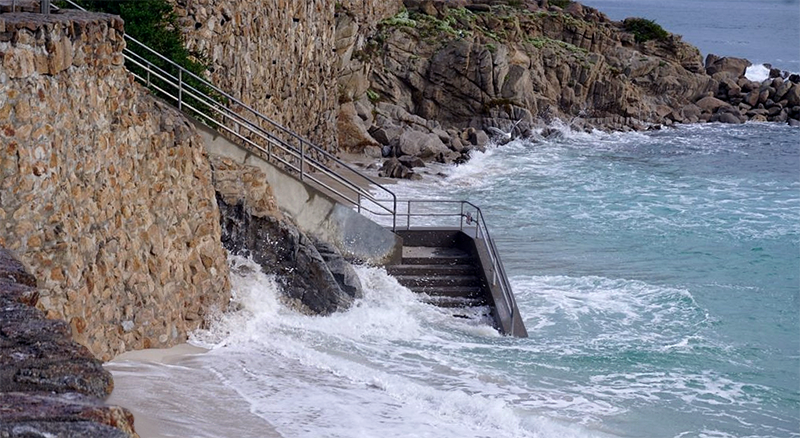 With 3,427 miles of tidal coastline, California is one of the states expected to be most affected by sea-level rise.
California coastal communities are in the midst of planning for a future where high tides lap up against coastal homes, and storms block roads and damage businesses. According to the state's Fourth Climate Change Assessment, released in 2018, rising seas could cause over $17 billion in damage to residential and commercial buildings by 2100. That doesn't include damage to rail lines, roads and bridges that lie in the path of rising waters.
This article, originally published by Sea Grant California, highlights two recent research projects to address this issue, one of which was conducted by Dr. Charles Colgan and the Center for the Blue Economy.
Charles Colgan and colleagues at the Middlebury Institute of International Studies in Monterey developed a new model that allows planners to view possible futures, understand how likely different cases are and plan for them by providing a more complete understanding of the costs and benefits of different options. The tool can give policymakers a better understanding of costs of action—and of inaction.
Because the model integrates sea-level rise projections, potential solutions, and cost-benefit analysis, it allows policymakers to ask "what if" questions about the future.  In Monterey, Colgan says, they asked questions like, "What if we do things sooner rather than later? What if economic growth or population growth in region isn't what we expect?"
For the City of Monterey, the researchers found that while most projections show the biggest impacts of sea-level rise will come after the year 2050, there is no economic benefit in waiting to take adaptation measures.