The Proud Boys' Fabricated Expedition to Ukraine

After months of rising tensions and Russian military buildup along the Ukrainian-Russian border, US intelligence claims of an imminent Russian invasion of Ukraine were borne out. With images pouring in of bombed out apartment buildings, the arming of everyday Ukrainian civilians, subways-turned-bomb shelters filled to the brim, the world has its eyes set firmly on Ukraine. Since 2014, the fighting between the two brother nations has drawn the attention of far-right, neo-nazi groups and individuals. The opportunity to network offline, partake in real military fighting, and gain authentic tactical training to bring back home was too good of an opportunity for these extremists to pass up. Now, as the fighting escalates to a critical, all-out-war level, people have been wondering if this will bring about a new flood of foreign fighters. Almost immediately after news spread across the globe that Russia had, in fact, invaded Ukraine, Proud Boys' telegram channels began posting about traveling to Ukraine to fight alongside Russian soldiers.
While an issue of concern for dedicated individuals and hardened accelerationists, it is extremely unlikely that the Proud Boys will join in this endeavor, despite their recent social media posts. Individual Proud Boys telegram channels' members have shared screenshots of flight paths or images of airplanes taking off (see Figure 1). Yet the authenticity of these posts are in question, and are potentially outright fabrications or "shitposting." To further the narrative, Proud Boys members posted alleged updates of anything from meet ups at rendezvous points to members sustaining injuries while in battle. While painting a vivid picture of combat zone play-by-plays, it takes little effort to see that these stories of the Proud Boy's participation in this war are fabricated.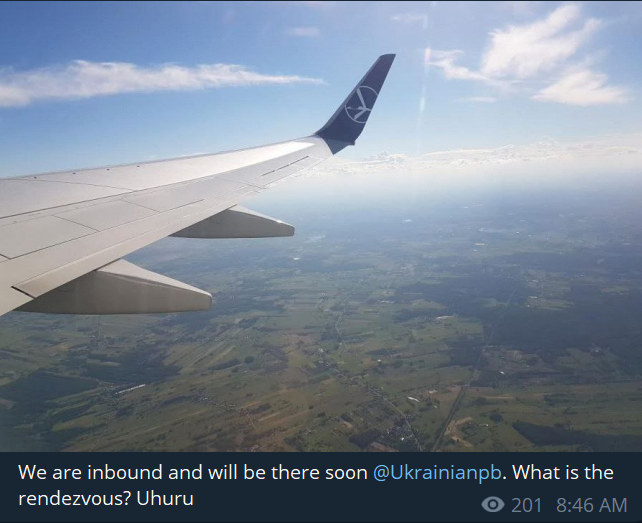 While the Proud Boys have shown a willingness to clash with counter-protesters at rallies, the chances of them systematically partaking in the war in Ukraine are extremely slim. The seriousness of their claims are at first undermined by their use of satire. Even though some posts glorify Putin and his military prowess appear serious, the majority of posts are focused on rescuing beautiful female Ukrainian refugees and bringing them back to the US to marry (See Figure 2 and 3).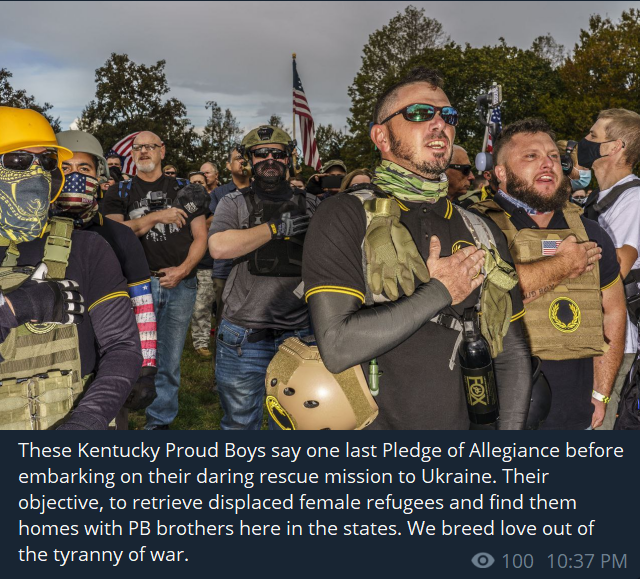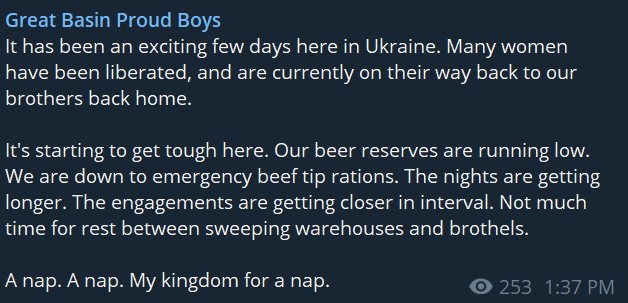 Proud Boy telegram channels are also full of misleading posts. Members have been taking videos from individuals actually based in Ukraine and claiming them as their own. One example is of the Proud Boys taking ownership of the viral video of a Ukrainian man moving a landmine off the road. This image was reframed with the caption, "Proud Boys of Seattle putting explosive disposal training they learned during the BLM wars into good use here in Ukraine." Another example was a Proud Boys member posing in military garb in what appeared to be a military bunker. However, the background of this image was proven to have been taken in a Texas military force museum in 2017.
Despite the clear insincerity of their posts, the Proud Boys were able to fool major news outlets into thinking they were fighting in Ukraine, much to their own satisfaction (See Figure 4). The running of this story not only hurts the reputation of typically reputable media sources, but also can contribute to greater Proud Boys recruitment, either through the support of their fabricated actions in Ukraine or their newfound clout for manipulating the media.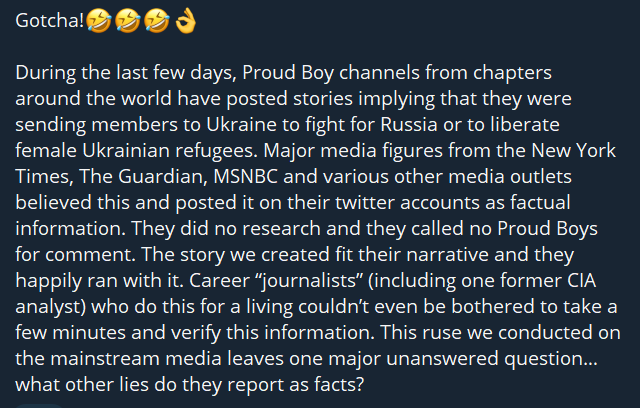 The concluding line of this post "What other lies do they report as fact?" points to a possible motive for this online mobilization of misinformation, one focused on causing friction around a key societal institution. By effectively manipulating the media, these Proud Boys were able to attack the credibility of the media and create doubt around their reporting on hot-topic issues like Ukraine. Considering that these posts were supplemented by accelerationist language and imagery, such as a post saying "Pray for a peaceful resolution but one that includes the collapse of the current American government," it is likely that this campaign was a part of a greater accelerationist agenda.