IEM Practicum Spotlight: Aleena Yunuba Hammack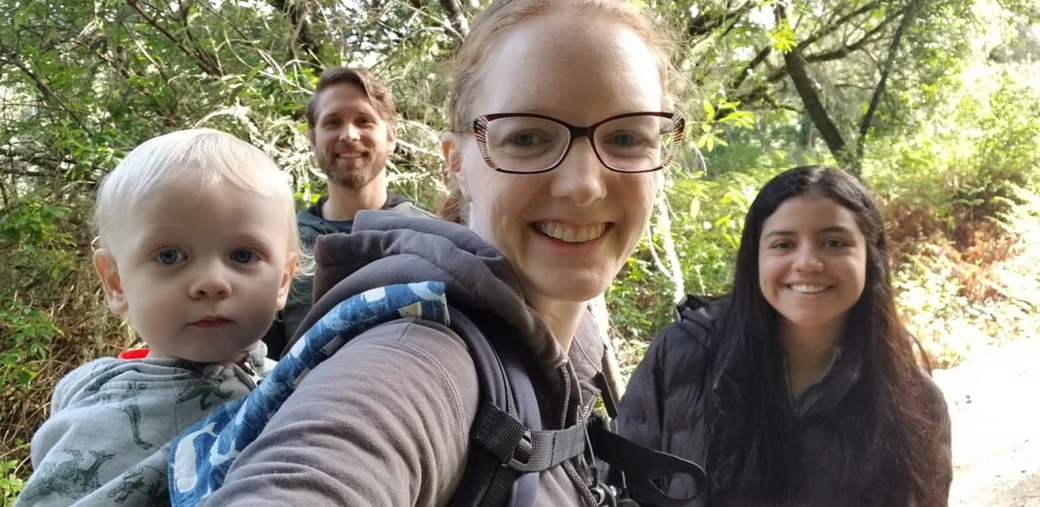 MIIS students in the International Education Management Program (IEM) spend their final semester working for an organization in their field. We spoke with Aleena Yunuba Hammack '20 who is participating in a practicum with Camp Fire, a nonprofit organization with a 110-year history of inclusive youth development.
Tell us about yourself and where you are doing your practicum?
I'm a chronically busy person. I have two young kids and I tend to throw myself into my work no matter what it is I'm doing, so it's important for me that I have a "values match" with my position; if I don't love what I'm doing, I just find myself getting burnt out and then juggling family and work can feel overwhelming. I was so lucky to find a position at Camp Fire because it ticks all my boxes: it's remote and flexible; has a focus on diversity, equity, and inclusion; is in the positive youth development industry supporting out-of-school-time programming; lets me work with curriculum design and evaluation; and somehow manages to tie in environmental literacy and outdoor education too. Honestly, I wouldn't have thought a practicum like this existed until I found it!
 
How did you land this practicum position?
This is a bit of a longer story than it should be! I started with [the IPL Director]'s database of past practicum positions and applied for a few, and was very successful. I was actually accepted for two roles through that and turned one down (which another IEMer ended up filling). Just as I was polishing off my TOR, the position that I had chosen fell through – I suspect due to the organizational restrictions during COVID, but I don't know for sure. Even though my original supervisor couldn't support a practicum position, she said she was really impressed with me and wanted to help me find something else, so she started introducing me to other people she knew in the positive youth development industry and telling them what I was looking for in a practicum. One of those was Camp Fire, and after a few interviews they created this internship role for me. It's a great fit and I really couldn't be happier with it, even though the road to getting it wasn't what I expected.
 
What does your position at Camp Fire entail?
​The office I'm working with handles a lot of different things, under the umbrella of 'program quality;' designing and implementing curriculum, training staff, conducting assessments, and providing resources and supports for over 50 different Camp Fire organizations across the country. Most of my time is spent on a project list that my supervisor and I created, which involves some projects that were already underway and some that were more 'wish list' projects—things they wanted done but didn't have the time to prioritize. Other than that, I support the rest of the team and the Camp Fire network however I can.
 
What is one specific project you are a part of that you have spent the most time on, and what are your roles in that project?
I've been diving in to culturally responsive teaching, which fits really well with Camp Fire's strategic initiative around diversity, equity, and inclusion. I started with a literature review that turned into a report, like an outside consultant might provide, dealing with Camp Fire's ability to implement culturally responsive teaching and laying out recommendations. That report was very well received, and many of those recommendations have become new projects that I'll be working on throughout my practicum. Camp Fire was also already planning a curriculum audit, and I've stepped in to that role to find areas for improvement in their conflict resolution curriculum and then recommend revisions to make it more culturally responsive.
 
What did you learn at MIIS and IEM that has been beneficial for your duties at Camp Fire?
I think the breadth of experience I gained at MIIS has been the most beneficial for me at Camp Fire. The team here is much more siloed into their individual roles (programming, evaluation, grant-writing, marketing, etc) and the fact that I have some experience in all of these areas and can jump in to a conversation and have something to contribute is fairly unique. Some of my projects touch on multiple areas, and even the ones that are fairly narrow still benefit from a good understanding of the principles of other areas so that I can make recommendations that make sense and are able to be applied.  
 
What has been an unexpected challenge you have faced while at Camp Fire?
One of the challenges for any remote work is that it's a little harder to connect with people on the team in the personal sense. The Camp Fire National office does have some periodic staff check-ins which are meant to fill that void, but there's only so much one-on-one connection you can really get in a zoom room with fifteen other people. I do think that Camp Fire has some supports in place to help overcome that, though, because they've been working remotely since before COVID-19, but it's still challenging.
 
What are your plans after you're done with your practicum?
I really enjoy the flexibility of working remotely, since it gives me more time to spend with my family, and Camp Fire's mission aligns very well with my interests. Ideally, I'll find another job just like this one – working in positive youth development and getting to play around with data in either a research or evaluation capacity. I've looked at some jobs with policy and research organizations that work with youth development as well, since I want to focus on educational equity and helping to close the opportunity gap.