MGIMO Internship Spotlight: Sara Beth Marchert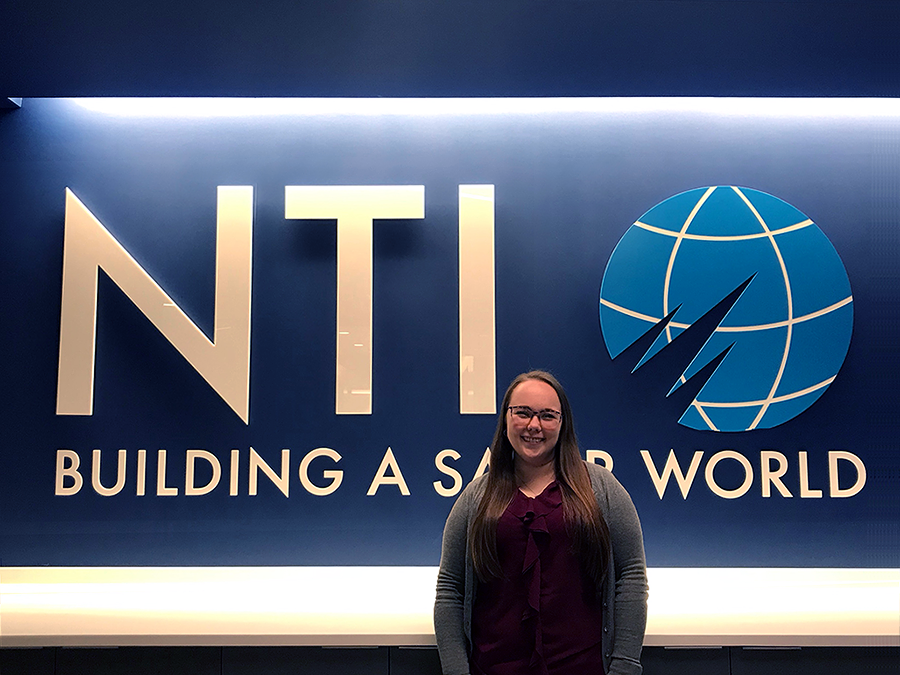 MGIMO/MIIS dual degree student Sara Beth Marchert (MANPTS '19) talks about her experience at the Nuclear Threat Initiative.
Can you tell us a little about your background?
My name is Sara Beth Marchert and I am in my final semester of the MIIS/Moscow State Institute of International Relations (MGIMO) NPTS dual-degree program. I am fulfilling my practicum requirement as a Herbert Scoville Jr. Peace Fellow at the Nuclear Threat Initiative on the Scientific & Technical Affairs program. The Herbert Scoville Jr. Peace Fellowship, established in 1987, is a highly-competitive national fellowship program that provides recent college and graduate school alumni with the opportunity to gain a Washington perspective on key issues of peace and security.
How did you find the Nuclear Threat Initiative (NTI)? Why were you interested in working with them?
I've known about NTI for at least the past four years; they're a great resource for research and partner with the James Martin Center for Nonproliferation Studies (CNS). Through the Scoville program, we get to pick any of the partner organizations as our host location for the duration of the fellowship. I was interested in working with NTI because they encouraged me to learn and apply myself in new ways to security problems facing the nonproliferation regime. NTI also has an amazing leadership team and staff, filled with experienced government officials who I wanted to learn from. They're also one of the few security think tanks in DC that has at least 50% female experts on staff, which was important to me.
Why did you choose a position in D.C. rather than one abroad?
I would have loved to be abroad, but I knew I'd need to be applying to federal jobs that may require a security clearance for after I complete my practicum that require you to be in the United States during the application process. I've found that I love DC for multiple reasons, one of them is that there are constant learning opportunities for someone in the nuclear field. I've been in DC for just over a month, and have been able to attend almost a dozen conferences, panels, or speaking events on a range of topics within nuclear security.
What courses at the Middlebury Institute helped prepare you the most for your current position with the NTI?
As a member of the Scientific & Technical Affairs team, my work covers a range of issues, specifically export controls, proliferation financing, and emerging technology right now. Robert Shaw's Strategic Trade Controls class, Moyara Ruehsen's Financial Crimes Management classes, and Elaine Korzak's Cyberwar workshop have all been extremely helpful. I'm also using my Russian, as I work on a US-Russia project and assist in facilitating the publication of a NTI report translated into Russian.
What projects have you worked on so far? How did they relate to your personal mission?
My current portfolio includes planning a US-Russia forum on opportunities for cooperation around cybersecurity norms of nuclear command & control. My personal mission is evolving as I find my place in the professional nuclear policy circle, but I'm certain that we have to find or create the political will for cooperation in certain sectors between the United States and Russian Federation. I think there's a certain responsibility in being the two states with the largest nuclear arsenals, and that involves looking for opportunities to strengthen the norms around the ever-evolving threats to international security.
What lessons or skills have you learned "on the job?"
Time management in an office or organization with a lot of busy, often traveling, coworkers is so different than the individual time management I've tried to work on during graduate school, so I've come to master Outlook meeting requests & scheduling my day in order to manage multiple projects or prioritize when something unexpected comes up.
What are your plans after you complete your time at the Nuclear Threat Initiative?
I'm currently applying to full time government and NGO positions for when my fellowship concludes, and I'm really open to anything. I'd like to stay in DC, but I've also been applying to positions all over the US and abroad. At the end of the day, I just want to be able to apply what I learned in class and at NTI to current problems in the nonproliferation field.