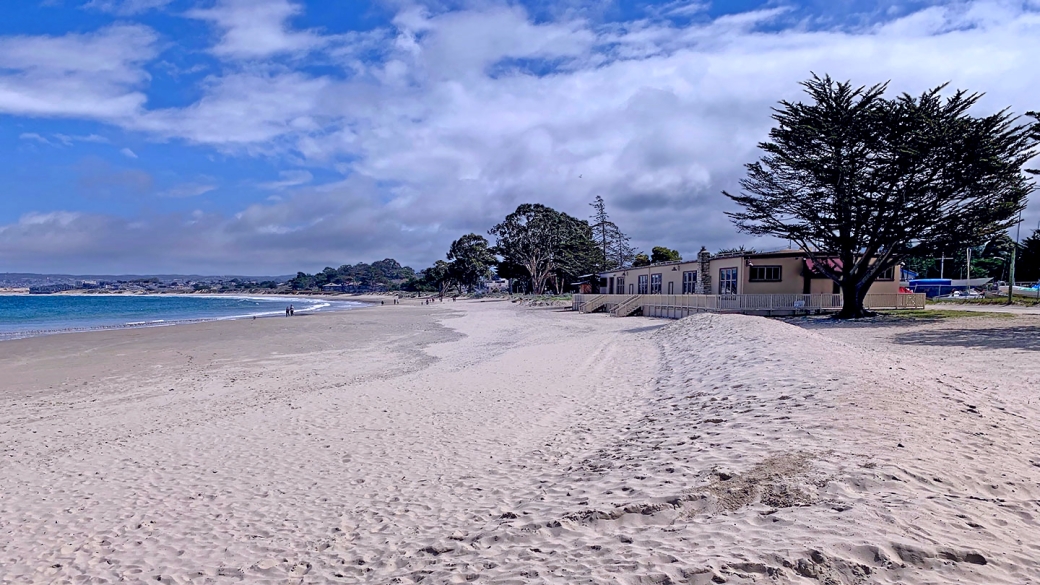 "For me, it's difficult to picture Monterey without Del Monte Beach and San Carlos Beach," says Andrea Fisher MAIEP '18 of the two beaches that sandwich the wharf and marina areas of downtown Monterey—and that are both in danger of disappearing entirely in the coming decades, according to a recent study by the Institute's Center for the Blue Economy (CBE).
With funding support from the National Oceanic and Atmospheric Administration's Sea Grant Program, the study examined the impact of climate change–driven sea level rise on three coastal segments that fall within the city of Monterey: Del Mon­te Beach; the harbor area from the Munic­ipal Wharf to the Coast Guard Pier; and the area from the Coast Guard Pier to the Pacific Grove city line that encompasses San Carlos Beach and Cannery Row.
"The harbor already has a lot of pro­tection, so we focused more on Del Mon­te Beach and the Cannery Row segments of the shore," explains Dr. Charles Col­gan, leader of the study team and director of research for the CBE. "With Del Mon­te Beach, the short-term problem will be erosion; the beach will get narrower pro­gressively over time, at first mostly during the winter, and then for longer and longer periods during the year. Ultimately, with the higher sea level several decades out, the beach disappears."
Loss of Del Monte Beach is only part of the potential impact of climate change, though, according to the study. "With the barrier of the beach eroded away," says Colgan, "major flooding and property damage along Del Monte Avenue will re­cur. Floods will damage houses and busi­nesses, and over time Del Monte Avenue, one of the most heavily traveled streets in the city, will become impassable more and more frequently."
An earlier 2016 study of various sea-level-rise mitigation strategies, spear­headed by the Nature Conservancy and with the participation of Institute Profes­sor Fernando DePaolis, estimated that Del Monte Beach currently attracts ap­proximately 88,000 visitors per year, who pour $2.7 million into the local economy.
The option that both studies recom­mend to local policy makers as the most cost-effective for trying to stave off these long-term effects is "continuous beach nourishment"—essentially, grabbing sand from elsewhere and depositing it on the beach, assuming sand continues to be available from other sources.
The projections for San Carlos Beach, where throngs of scuba divers gather ev­ery weekend to explore the kelp forest just offshore, are at least as alarming as those for Del Monte. "San Carlos Beach will most likely be gone by 2050 under all but the most dramatic reductions in climate change," says Colgan. "It just won't be there as a beach. In fact, based on the latest projections, in a worst-case scenario San Carlos could be effectively gone in as few as 10 years."
Fisher holds fond memories of both beaches from her time in Monterey. "Del Monte Beach and San Carlos Beach were places for solitude. I spent time on both beaches thinking and recovering from the stress of school, and also kayaking, free diving, and swimming with friends. The beaches help create a sense of community because they attract so many different people."
Farther west along the Monterey coastline, the effects of sea level rise will be felt differently. As Colgan explains, "Cannery Row's problem is that all the hotels and refurbished cannery buildings are built into the rock and held up over the water by cantilevered structures, which have been degrading over time." But wear and tear on the buildings' understructures isn't even the biggest concern. "In 30 to 40 years, most of those buildings will be sitting at or near sea level. That means in a storm, waves are going to come crashing right through the first-floor windows and doors."
The options for addressing these risks are also different. "On Cannery Row, you're going to need engineering changes to the buildings themselves. Beyond that, you may have to build some kind of offshore barrier to prevent the waves from literally climbing into someone's hotel room," says Colgan. "That would almost certainly create environmental problems, because it would interfere with the kelp forest that is key habitat for sea otters. And, to be really effective, it would have to be high enough to block part of the view."
Alumnus Matt Shipley MAIEP '15 shares Fisher's fond memories of time spent along the shore in Monterey. "Cannery Row is the second downtown of Monterey," he says. "I remember biking, skateboarding, dancing, and sightseeing along Cannery Row as a student."
The timing of these impacts on Cannery Row and the Monterey-area beaches is challenging to project. "Until the last year, the general consensus was that the greatest chance of these sorts of impacts occurring was after 2070, but there's a chance that it could begin to occur as soon as 2020. One of the things our analysis does is to recognize that there are very severe, although low-probability, events that could cause these really damaging effects to occur much sooner." Colgan adds that the most recent data on climate change and sea level rise, which was not available in time for this study, "probably advances the risk of the most serious effects by 20 years."
The current study developed an interactive software platform that models over 10,000 possible computer-generated futures over 80 years using recent data to determine the maximum economic and environmental benefit of various sea-level-rise mitigation strategies.
Shipley sums up what the study's findings mean to students and alumni who enjoyed these unique community assets during their years in Monterey: "I remember having bonfires on Del Monte Beach with fellow students and making new friends that I stay in touch with till this day. Losing these beaches to sea level rise would have a huge impact on recreation for both locals and tourists."