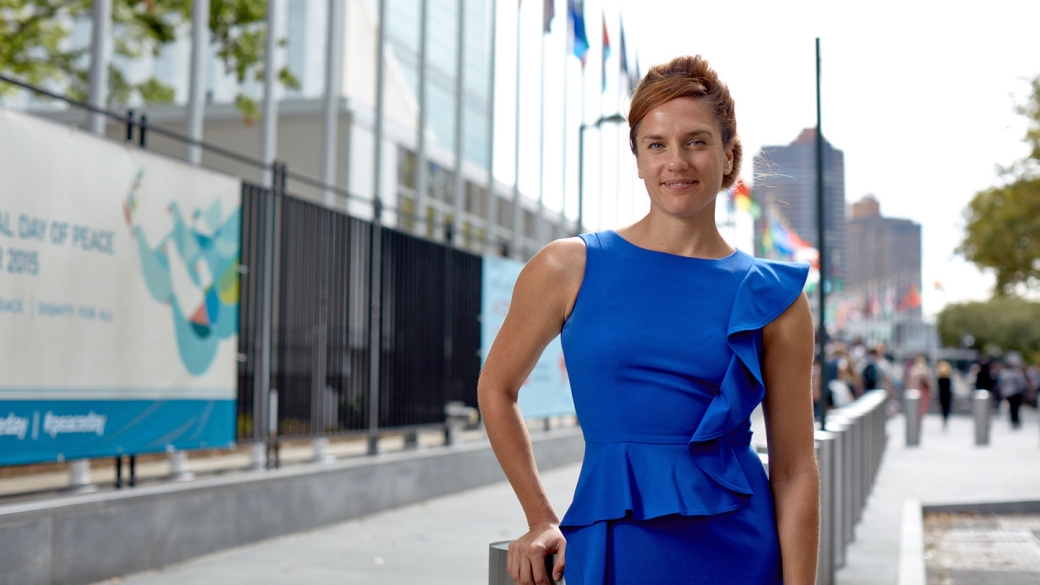 You could say Sarah Irene's path to the United Nations began early in life. Raised in a bilingual—English and Ital­ian—household, she also learned French at a young age, having lived in Geneva for several years. "I never considered French a foreign language," she recalls. When Irene reached junior high school, she took to studying Russian and Japanese—and continued with those languages through her undergraduate years at the Univer­sity of Bologna. Her major? Linguistics, naturally.  
Irene enrolled at the Institute in 2008. "It looked like it offered very good training, and I liked that there were other disciplines like nonproliferation and inter­national policy at the same institute," she recalls today. A conversation with French Professor Julie Johnson led to an informal two-week internship working with Sheila Shermet MATI '87, a former MIIS professor and staff interpreter at the United Nations in Geneva. "That experience paved the way for me," she says.
After graduation, she headed to New York City, where she been accepted to the UN's English booth-training program, taught by an adjunct professor from the Institute, Lynn Visson.
The training and testing to be recruited as staff interpreter are notoriously rigor­ous. Of the several dozen candidates her year, she was one of only four who passed the exam. She describes the final one-hour staff exam as "mentally and emotionally exhausting."
But it was worth it for this self-described "political nerd." Irene commutes to the iconic UN headquarters on the east side of Manhattan every day from her apartment in Brooklyn. Her work can be unpredictable: "My schedule requires se­rious flexibility and contingency planning, as it often changes at the last minute."
At the height of General Assembly activity, meetings may begin early in the morning and run as late as midnight. The UN's several hundred interpreters rotate through on-call weekends and may be called in if the Security Council or another UN body convenes an emergency meeting.
Irene, who specializes in Rus­sian-to-English and French-to-English in­terpretation, is keenly aware of the sensi­tive nature of the material she interprets, and the thin margin for error. "I work of­ten on the Security Council, and have seen tensions rise between Russia and the U.S. and Western Europe over the past year or so," she says, "Every communication is more charged with emotion, every turn of phrase more significant. I simply cannot get anything wrong—there's too much at stake."
The work is daunting even in the best of circumstances. On typical day Irene works two three-hour stints in the inter­preting booth in tandem with a colleague, with each relieving the other every 20 to 30 minutes. (An infamous 2009 in­cident saw Libyan leader Muammar Qaddafi's personal interpreter collapse 75 minutes into the leader's rambling 96-minute diatribe.) Each interpreting team works in one of six booths desig­nated for the six principal UN languag­es: Arabic, Chinese, English, French, Russian, and Spanish.
The teams also work in concert with one another, and because the English-lan­guage booth serves as a pivot for other languages, her colleagues in other booths are often relying on her. "That may be one of most challenging parts of the job," she says. "We are perpetually aware that in­terpreters in other booths may be relaying from us at any time. A colleague in the Chinese booth may turn to the English channel to hear my voice interpreting from Russian, so that they can interpret back into Chinese."
But the unpredictability and stress are worth it. "As an interpreter at the Unit­ed Nations, I see history unfolding," says Irene. "Each country has a voice, and I am an integral part of making sure that voice is heard and understood."