Winter 2023 Commencement Speakers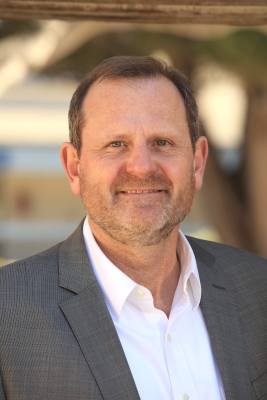 The Winter Commencement speaker is Professor Scott Pulizzi, Visiting Associate Professor across the Institute's policy courses. He is the recipient of this year's Middlebury Institute Faculty Excellence award. 
Scott Pulizzi is an accomplished international development professional who brings 25 years of experience to the classroom. He has worked with United Nations agencies, national governments, non-governmental organizations, foundations, and businesses in dozens of countries to improve well-being. This includes serving as a team leader at UNESCO in Paris, a program director for the Government of Botswana, a policy evaluator in Indonesia, and a junior high school English teacher in Japan. 
In addition to teaching at the Middlebury Institute, Dr. Pulizzi is a technical advisor to international and local civil society organizations on strategy and program development. He currently serves as Director of Evidence and Learning for a USAID-supported program with Education Development Center, a global organization dedicated to addressing educational, health, and workforce development challenges worldwide.
Dr. Pulizzi's teaching approach is informed by the need to embrace the complexity of sustainable development. Therefore, he aims to prepare the next generation of practitioners to think systemically, challenge assumptions, see interrelationships, and break patterns. He has found that these skills are central for students to be successful program managers, project evaluators, policy analysts, and leaders of human development and social change.
Julian Hernandez-Webster is the Student Speaker and will graduate with a joint degree in Master of Public Administration and Master of Arts in International Policy and Development. He was born in New York City and raised in Brooklyn and Edison, New Jersey. 
He graduated from Bucknell University in 2019 with bachelor's degrees in sociology and Spanish. His undergraduate studies centered around the experiences of immigrants and other marginalized populations within the United States. He was fortunate to spend a semester abroad in Granada, Spain, which inspired his passion for advocacy, pursuit of equity, and commitment to furthering human rights. Amidst the chaos and uncertainty brought by the COVID-19 pandemic, Julian sought out the Middlebury Institute as a catalyst to pursue his ambitions to make an impact by improving protection and humanitarian assistance for vulnerable people. 
Throughout his time at MIIS, Julian has immersed himself in the community and celebrated the diversity of the student body by connecting with and learning from the array of unique backgrounds and expertise found at the Institute. He has served as a graduate assistant and advocate for social justice and looks forward to continuing work to promote human rights and dignity for migrants, particularly in the arena of human trafficking. Outside of this, Julian enjoys the cinema, spending time outdoors and at the beach, and sharing his love of soccer with those around him.