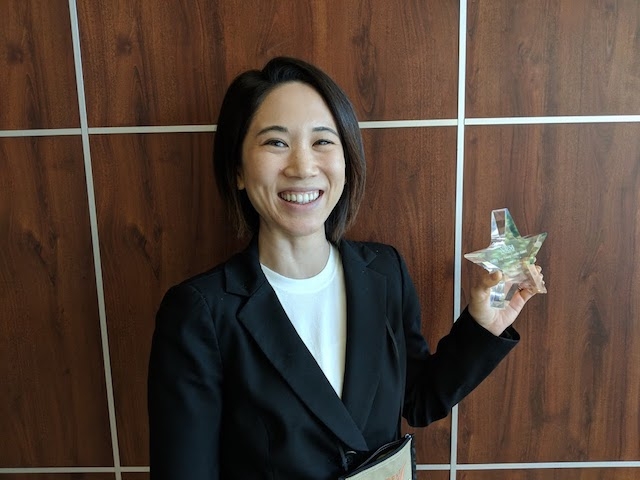 Middlebury Institute International Education Management alumna Stephanie (Toriumi) Kim MAIEM '13 was awarded the Rising Star Young Leader Award at the NAFSA: Association of International Educators Region 12 Conference in Reno, Nevada in October 2018. Selected from among international educators in California, Nevada, Hawai'i, and the Pacific Islands, this award recognizes a professional who has significantly impacted the field of international education during their first five years of work.
Kim was recognized for her work in bringing professional development opportunities to educators working in K-12 education. As the first K-12 representative to serve on the NAFSA Region 12 leadership team, Kim has advocated for the interests of international educators working in K-12 education, a constituency underserved in the field. For the 2018 NAFSA Region 12 conference, Kim organized a networking event, a planning meeting, and a workshop session focused on developing the global competence of youth. She is working with a team to develop even more expanded programming for the 2019 conference.
Kim is a graduate of the first International Education Management (MAIEM) cohort. The degree program launched in 2012 and now boasts more than two hundred graduates working in a wide range of fields, including supporting youth programs in international education. Kim is the International Student Coordinator at the Mid-Pacific Institute in Hawai'i, an independent Preschool-12th grade private school focused on developing responsible lifelong learners and global citizens. In her position she supports 100+ international students, and their families, from the initial admissions process, to arrival and adjustment to the U.S., and through their stay. Her work includes recruitment, admissions, orientation, advising on visas and immigration status, mentoring, and cross-cultural advising.
Program Chair Katherine Punteney says, "Stephanie approaches her work in the field with energy and passion. Through her work with youth and families, she provides essential support that enables young people to have positive and impactful experiences living and learning in a cross-cultural environment. Beyond her daily work, Stephanie volunteers her time to create opportunities for professional development for other international educators who work with youth. Identifying this area of unmet need, and taking on a leadership role, Stephanie supports not just individual educators, but also the development of global competence of countless students impacted by their teachers and advisors. We are honored to have Stephanie Kim as an alumna."
Middlebury Institute Professor and International Education Management Program Chair Katherine Punteney was honored with the Service in International Education Award at the Association of International Educators (NAFSA) Region 12 Conference.
Local high schools students were invited to the Middlebury Institute campus on Friday for the eighth year to participate in a wide-ranging program designed to introduce them to the many benefits of an international education.
Middlebury Institute alumna Thuy Nguyen MAIEM '15 works as a study abroad coordinator at the University of Texas, Austin. She shares her experience in the field of international education.