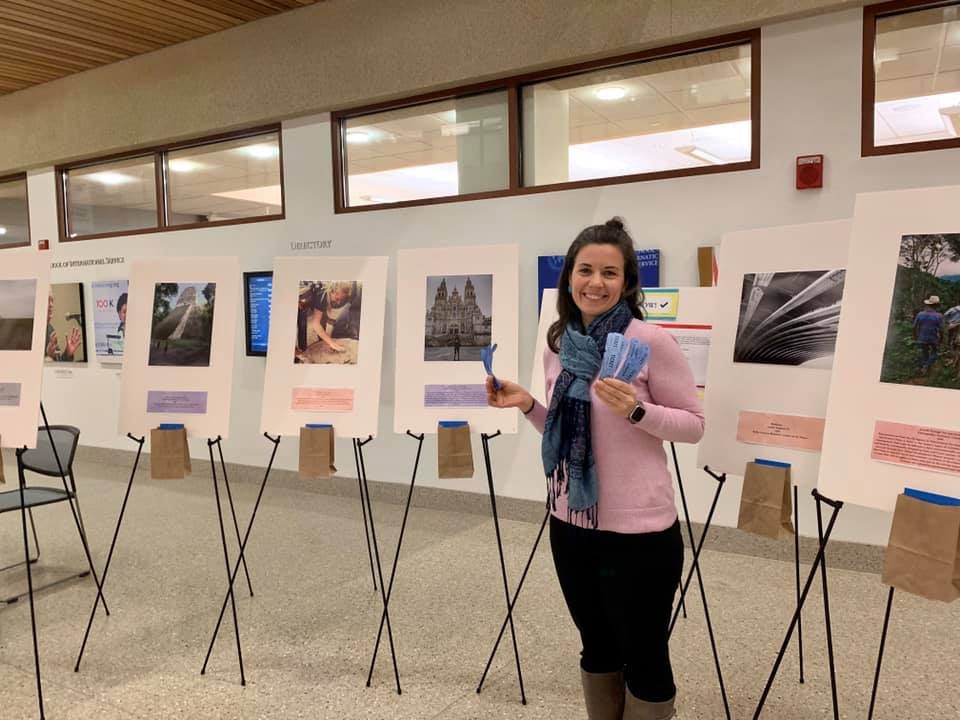 Across the United States and around the world, graduates of the International Education Management (MAIEM) degree program at the Middlebury Institute of International Studies are actively involved in the internationalization of education.
They design and facilitate educational programs that help participants to develop their intercultural communications skills, tackle challenging global issues, and promote peace and multiculturalism. The day-to-day work of international educators may focus on the quiet work of student advising, ongoing nurturing of international partnerships, or the careful deliberate and thoughtful process of assessment of learning. International educators do this work because they see first-hand the impact it can make it students' lives.
While much of the work of educators is done without fanfare, November brings an annual opportunity to celebrate the work of international education. In the third week of November each year, at universities across the United States, International Education Week showcases the diversity of cultures in our institutions and the benefits of global learning. We did a quick poll of some of recent alumni of the International Education Management degree program about what events they and their colleagues were organizing this year. We received these responses:
Jessica Fareri MAIEM '19
International Scholars Office Intern; University of California Riverside
Scholar Research Poster Fair, International Cooking Class, Presentation on International Students Mental Health
Karmen Mallow MAIEM '16
Assistant Director, English Language Institute and Office of Global Affairs; Sacred Heart University
Supported students from Japan in an event including floral arrangement, origami, and games
Amy Marrion MAIEM '15  
International Programs Manager, School of International Service; American University
International photo contest, sustainable travel presentation, study abroad memories display
Jeanna Reyes-Belval MAIEM '16
Education Abroad Coordinator; California State University Monterey Bay
Diversity march, African drumming, Salsa dance class, storytelling
Caroline Tegeler MAIEM '19
International Student Advisor; University of California Berkeley
An international festival with more than 100 students presenting and performing
Keri Toma MATFL '03, MAIEM '14
International Programs Manager; San Jose State University
Chinese and Indian Name Pronunciation, International LGBTQ Roundtable, and more
Daniel Watson MAIEM '17
Marketing & Technology Coordinator, Learning Abroad; University of Utah
A K-Pop dance festival, A Going Global Career Panel, and a photography exhibition
International Education Management Program Chair Katherine Punteney observed that, "The national prestige of International Education Week creates an opportunity for us to draw attention to international issues and the diversity of cultures that make up our communities. At these large public events, we can capture student interest to engage them more deeply in sustained international education programs. I'm delighted to see all of the inspiring work being done by IEM alumni!"
Middlebury Institute students Beth Magyar MAIEM '20, Kathryn Murata MAIEM '20, and Thi Nguyen MAIEM '20 joined International Education Management professor Katherine Punteney to lead a workshop at the NAFSA Region 12 Conference in Pasadena, CA in November 2019.
International Education Management alumna Anna McCreedy (IEM '17) was awarded the Rising Star Young Leader Award at the NAFSA: Association of International Educators Region 12 Conference in Pasadena, California in November 2019.
The Middlebury Institute's International Education Management degree program was well represented at the NAFSA: Association of International Educators Region 12 Conference in Pasadena, CA in November 2019.