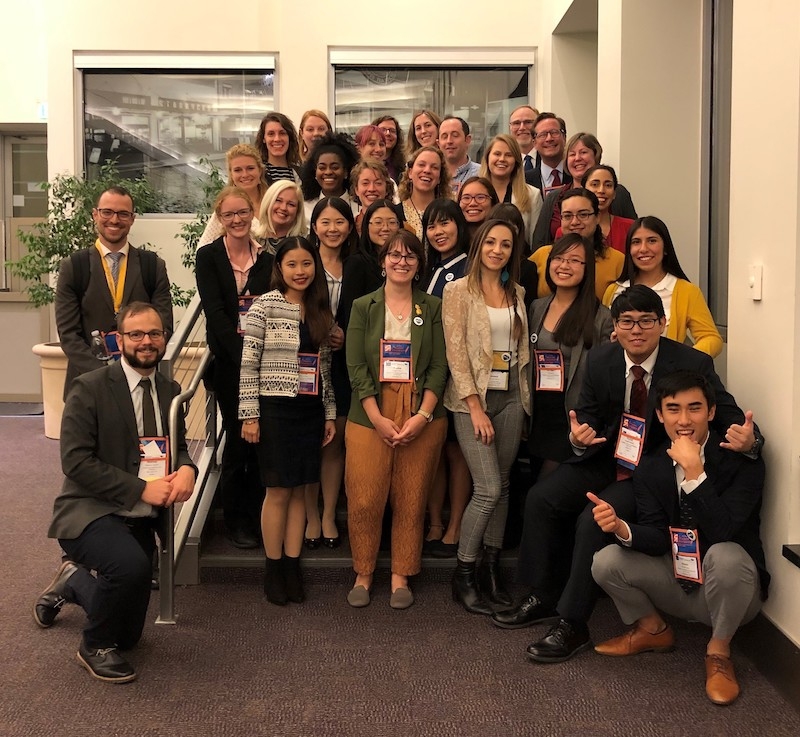 The Middlebury Institute's International Education Management degree program was well represented at the NAFSA: Association of International Educators Region 12 Conference in Pasadena, CA in November 2019.
Eighteen current International Education Management (IEM) students, as well as the same number of alumni, and four faculty members were in attendance at this conference which attracts around 700 international educators from California, Nevada, Hawai'i, and the Pacific Islands. Alumni Matt Loehrer MAIEM '15, Ashley Machado MAIEM '15, David Saide MAIEM '15), Keri Toma MATFL/03 MAIEM '14, Yuki Ueda MAIEM '17, and Jay Ward MAIPD '83 offered presentations to attendees, sharing their expertise and applied knowledge of the field.
Seven current students from the IEM program partnered with faculty to research and deliver interactive presentations. Aleena Yunuba Hammack MAIEM '20 observed that her classmates "might not have felt confident presenting alone… but they all did really well and their sessions were very impactful, and now they have that experience of presenting professionally to bolster their confidence in the future." In collaboration with IEM Professors Daniel Chatham, Chris McShane, Katherine Punteney, and David Wick, the current students who presented at the conference were Natalie Fallert MAIEM '20, Jen Gerard MAIEM '20, Beth Magyar MAIEM '20, Kathryn Murata MAIEM '20, Thi Nguyen MAIEM '20, Alexandra Ramos Lopez MAIEM '20, and Alex Roman MAIEM '20.
"The NAFSA Region XII was my first conference, and I arrived in Pasadena with a great deal of anxiety and uncertainty," shares current IEM student Carisa Crittendon MAIEM '20. "However, I soon learned that international education professionals are a welcoming community who are committed to helping young professionals excel in the field."
Crittendon says that taking part in both NAFSA's mentor/mentee program and Professor David Wick's Conference as Curriculum program, she felt like I had a support system in place from the beginning. "Attending the conference with my IEM cohort peers was a positive experience. We shared advise on networking and optimizing our time in sessions, and were given the chance to reflect on our experiences together during coffee breaks."
She adds,"The confidence I gained while attending the NAFSA Region XII Conference was invaluable, and I will definitely build upon the lessons I learned and the connections I made in my future career in international education."
International Education Management alumna Anna McCreedy (IEM '17) was awarded the Rising Star Young Leader Award at the NAFSA: Association of International Educators Region 12 Conference in Pasadena, California in November 2019.
Middlebury Institute alumna Thuy Nguyen MAIEM '15 works as a study abroad coordinator at the University of Texas, Austin. She shares her experience in the field of international education.