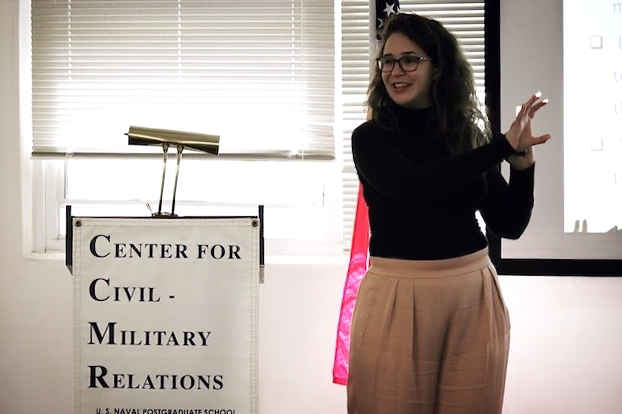 Name: Galen Anderson
Graduation Year: 2015
Degree: Joint IEM-MPA
Current Title: Resident Program Associate
Current Position: Faculty Associate
Name of Organization: The Center for Civil-Military Relations, Naval Postgraduate School
What is the most fulfilling aspect of your current work?
While I am new to this particular position, working at The Center for Civil-Military Relations at the Naval Postgraduate School is fulfilling in many ways. The content of our work can be complicated and nuanced, but it is the students that make our programs impactful. We host military and government personnel from around the world, and the classroom is always lively with healthy debate, detailed questions, and a genuine appreciation for different cultures and ideas. It is this crossroads of learning and change that I love most about my job. We can have an idea of how courses and missions might go overall, but as international policies change, we too must adapt.
What aspects of the International Education Management program most prepared you for your professional life?
A big part of my current career is taking complex ideas and distilling the information into manageable and useful data points. I have come to qualify this skill as "process management." For example, while working in so many countries can be exciting, the reality is that each country has its own set of regulations when it comes to sending students. Add the levels of government and military rules on top of that (from both the US side and the partner country!) and it can be hard to manage the information. My IEM toolkit of writing down operating procedures and streamlining processes is incredibly important to the success of my work. It's a bit like making sense out of chaos. Analysis has also been imperative to my work. The IEM program prepared me well in this area - Design & Assessment might be a stressful course as a student, but the skills I learned are ones that I am reflecting on and using in my daily work. When it comes to measuring the impacts of our programs, we have to use a mix of participant numbers as well as anecdotes to see how we are doing. Part of the challenge is tailoring an evaluation to our specific students (and their different backgrounds) and part of it is tracking the long-term impact consistently. Being flexible comes in handy when it comes to analysis. We may never have exact stats, but we can offset our data by looking at the picture as a whole.
Did your career path diverge from initial plans upon graduation? How did you navigate any changes?
My career path has diverged completely! I never thought I would be working for the government, much less as a faculty member. Post-graduation, I managed a new program at MIIS (Sprintensive), served as a Fellow for the Fund for Innovation (Middlebury), switched to contractor (Analyst at CCMR) and now have my faculty position. It is not that the goals change, but it is that I have found new ways of redefining and understanding how these goals can fit into the field of international education. The changes in my career have not been so difficult to navigate. Instead, I think it was (and remains) more important to keep learning the many ways that our subject area integrates into different fields. Until a friend had told me about CCMR, I had no idea that international education could span into this hybrid world of professional military education and international security. Navigating the changes was less about the logistics and more about following the passion.
What are the greatest challenges that you see facing the field of international education?
IE is expanding but the rules are changing. Students (of all ages) are pursuing education in a myriad of ways. Study abroad, exchanges, short-term courses, host-country modules, online programs - all of these options are competing with one another to be the best option. Part of the challenge is that the "best option" really depends on the student's goals and how s/he best learns. But the academic "design" and offering aside, international policies are making it difficult for educational migration to occur. I see this challenge as twofold. First, it limits access to opportunities (often based on location factors). Already visa restrictions have created a divide in who can access what education. Second, it directly contradicts our roles in international education: to bridge the gaps and connect people from around the world in order to foster cultural exchange and understanding. If we limit opportunities for some but not others, we aren't really doing our jobs. As international educators, we have to lead the way forward in how to navigate these ever-changing regulations. It is on us to guide students to find the best educational fit as well as show them the steps to get there.
Do you have any additional comments or advice to share?
My biggest piece of advice is to not let someone else define how your IEM career might manifest itself. You are not limited to certain offices or job titles. IEM exists across multiple arenas and it is amazing to see how the skills we learn in the classroom and through client projects can transfer into so many different careers! Be open to change and never be afraid to let your passion- what drove you to this field in the first place- be a guide as you navigate your career.
Interview with international education management alumnus Reginald Spence MAIEM '15, Program Manager at NYU.
Pilar Diaz de la Rubia MAIEM '18 is completing her practicum with the Middlebury Schools Abroad in Madrid, Spain.  She is working on two projects: the Sede Prim and the International Education Management Spain Leapfrog Initiative.
Middlebury Institute International Education Management alumna Jayna Winn MAIEM '14 shares her experience working for CEA Study Abroad.