IEM Spotlight: Jayna Winn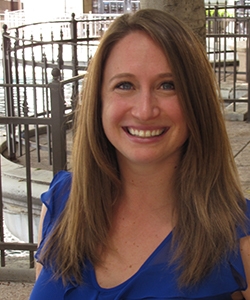 Name: Jayna Winn
Graduation Year: 2014
Degree: International Education Management
Current Title: Director, Custom and Faculty-Led Programs
Name of Organization: CEA Study Abroad
Brief Description of Organization: 
CEA Study Abroad is an organization that partners with universities across the U.S. to supplement and enhance their education abroad offerings. Founded in 1997, CEA is headquartered in Phoenix, AZ and runs programs in 22 destinations around the world. CEA offers options for students to enroll in local universities and/or take courses at CEA Study Centers, and also works with university partners to facilitate custom and faculty-led programs.
What is the most fulfilling aspect of your current work?
My work with custom programs allows me to see the full program development, execution, assessment, and refinement cycle in a very short timeframe for a wide variety of programs. I also enjoy the opportunity to creatively develop programs that support the university's academic goals while also aligning with students' needs and budgets. Finally, I love working closely with our international team members to develop best practices and new procedures that allow us to improve both the quality and efficiency of our custom programming.
What aspects of the IEM program most prepared you for your professional life?
My coursework at MIIS allowed me to specialize in the administration of international programming, giving me foundational knowledge of the field while also providing practical training through consulting projects and the final practicum. At the same time, I was able to continue my language studies and hone my intercultural competency skills, which always come in handy in this line of work!
Did your career path diverge from initial plans upon graduation? How did you navigate any changes?
I knew I wanted to focus on the operational side of study abroad, whether that meant program development or working to support/lead teams. I'm very happy to have found a job that has allowed me to do both! My career path has diverged somewhat from my initial plans, as I was originally interested in working on the university (rather than the partner/"provider") side. I think there are challenges and benefits to both, but I have settled in nicely on this side. Additionally, my current role has allowed me to have visibility into different universities' study abroad office policies, procedures, working environments, etc., and I have been able to make great connections with university-side colleagues.
What are the greatest challenges that you see facing the field of international education?
One major challenge facing education abroad in particular is balancing the commodification of education - especially as it relates to U.S. students' increasingly high expectations of service and value for their program fee - with the academic, cultural, and material realities on the ground in host destinations.
Do you have any additional comments or advice to share?
When thinking about what type of role you're hoping to obtain within the field of international education, try to think critically about what is most important to you and what you would enjoy doing every day. For example, do you want to interact directly with students on a regular basis? Or will you gain fulfillment knowing that your work creates great opportunities for students (even if you never speak with them)?
 
Interview with international education management alumnus Reginald Spence MAIEM '15, Program Manager at NYU.

Erika Quiñonez MAIEM '17 works as Study Abroad Coordinator at the University of Miami, a private research university with more than 17,000 students, serving undergraduate and graduate students in more than 180 majors and programs. 

| by Eva Gudbergsdottir

Two Middlebury Institute students transformed a report on how to promote international education opportunities to high school students into a real-life field trip.