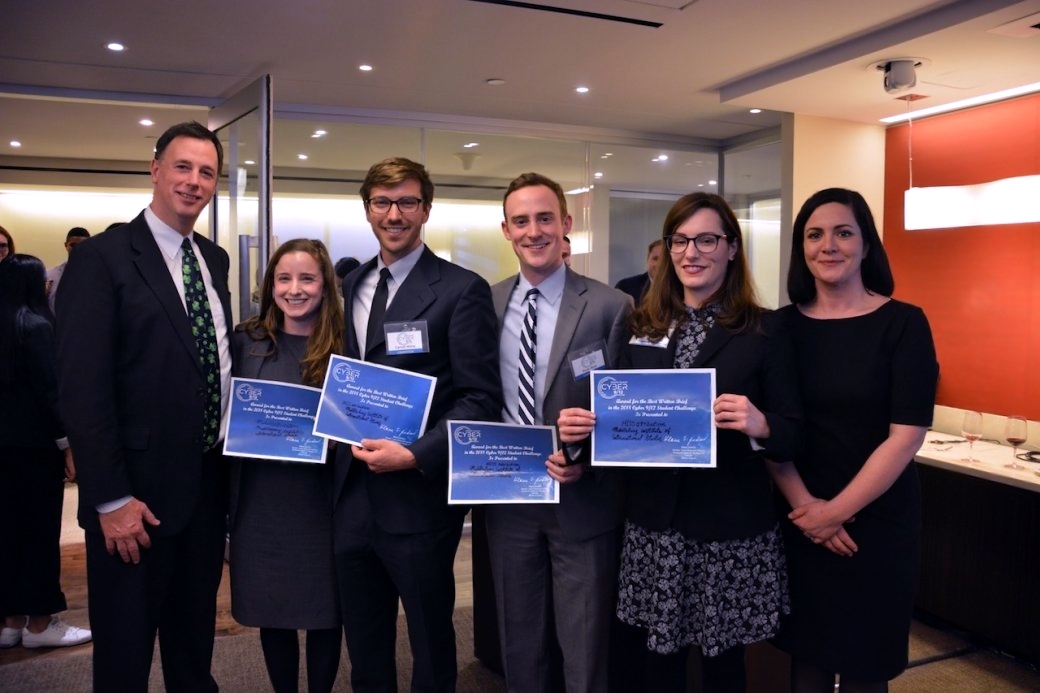 Imagine you were called upon by the National Security Council for guidance on how to respond to a major cyber incident affecting critical infrastructure around the world. What would you do? 
This is the premise of the Atlantic Council's Cyber 9/12 Student Challenge, which a team of students from the nonproliferation and terrorism studies degree program at the Middlebury Institute participated in this March in Washington D.C. The team, coached by Dr. Elaine Korzak and comprised of J. Ryan Bolt MANPTS '19, Paula Granger MANPTS '18, C. Scott Milne MANPTS '19, and Yona Koch-Fienberg MANPTS '19, advanced to the semi-finals and was awarded "Best Written Brief." Upon announcing the award, Klara Jordan, Director of the Cyber Statecraft Initiative, said the judges thought it was the best brief in the history of the competition. The team also placed fifth out of 38 teams, including civilian and military, in the first round.
According to the Atlantic Council's website, "the Cyber 9/12 Student Challenge is an annual cyber policy competition for students across the globe to compete in developing national security policy recommendations tackling a fictional cyber catastrophe." In an interactive, fast-paced, competitive scenario, students are encouraged to develop a deeper understanding of the policy challenges and tradeoffs involved in cyber disasters and conflicts, and to respond to rapidly-changing problems that have competing stakeholders. In practice, teams are required to develop two different written products that summarize the situation, discuss its implications, and explore possible responses, as well as prepare live presentations wherein the team justifies their decision-making process to industry experts.
While the subject of the competition revolves around cybersecurity, deep knowledge of cybersecurity is not a requirement for success in this competition. As Scott Milne describes it, "Cyber 9/12 was an ideal experience for students with a beginning or intermediate level of cybersecurity fluency." In fact, the team members came from vastly different backgrounds including military, law, and sales. With these mixed disciplines, each member brought a different angle and skill to the team's dynamic and success. As the competition progressed, the team dove deep into the field of cryptocurrency and similar emerging technologies.
Beyond subject-matter expertise, the competition was an opportunity to develop and hone the types of skills that apply broadly across all disciplines. "The competition forced our team to think deeply and holistically, act quickly and think on our feet, and synthesize our knowledge into briefing products for an expert audience," says Scott Milne. "The competition honed our critical thinking and communication skills and was excellent practice for working collaboratively in the face of ambiguous information and hard deadlines. These kinds of skills will serve us well in any role in any sector, whether in the board room or in front of the National Security Council."
Milne's teammate Paula Granger agreed that the competition is a great opportunity to hone a wide range of broadly-applicable skills. "Participating in the Cyber 9/12 Student Challenge is an incredible way to refine necessary skills such as public speaking, apply relevant cybersecurity knowledge, and creatively tackle new evolving cybersecurity challenges in a safe environment. This is one of the most intense and rewarding exercises I have participated in."
Dr. Elaine Korzak is excited about the opportunities ahead for the next generation of cyber policy experts as she takes over leadership of the Middlebury Institute's Cyber Initiative.
In its twentieth year, the Middlebury Institute's CNS Summer Nonproliferation internship program once again offered highly qualified undergraduates a unique opportunity for training in the field of disarmament.
Middlebury Institute student Kathryn Smart will study culture, politics, and religion in Chechnya this summer before heading off to Georgia to improve her Chechen language skills on a Boren Fellowship.