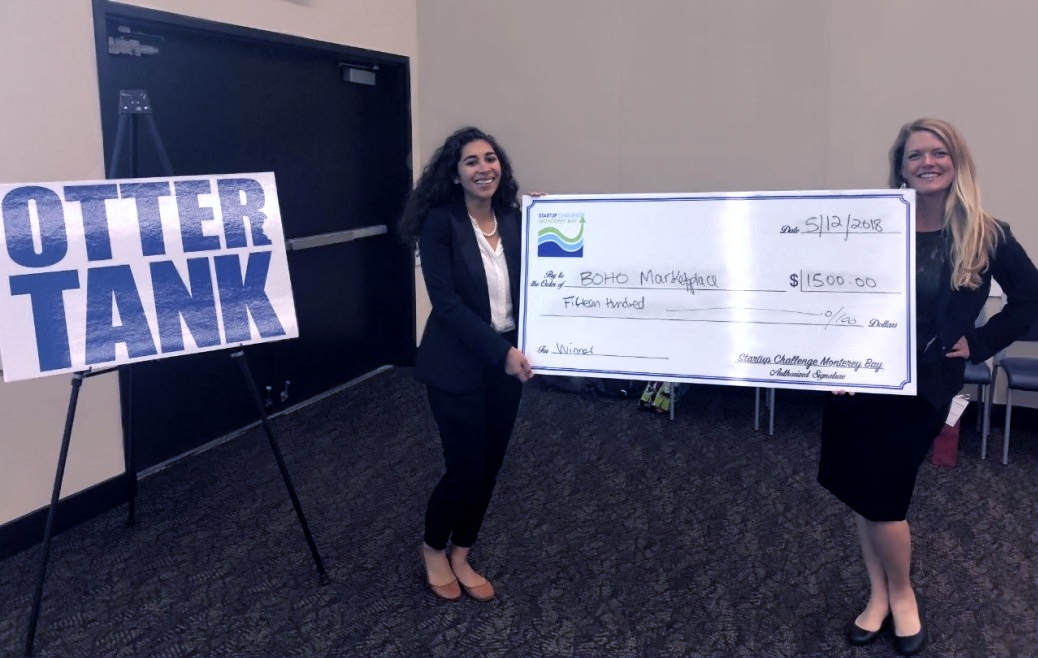 Middlebury Institute students Jillian Flavin MBA/MAIEP '18 and Khadija Hafiz MBA/MAIPD '18 won first place in the Student Division of the Monterey Bay Start-Up Challenge this Saturday in Salinas, California.
Their social enterprise, the BOHO (Buy One Help One) Marketplace, is an insurance marketplace that allows corporate clients, their employees, and eventually all individual consumers the option to compare and purchase insurance policies while also helping provide insurance to a chronically underinsured individual or family in an emerging market.
The team competed against three other finalist teams and also showcased their business during the event's Venture Showcase Exhibit, where judges and the public were able to learn more about businesses in the Student, Main Street and Venture divisions. As part of reaching the final stages of the challenge, the team received coaching and had the opportunity to pitch their idea to a group of external advisors. "The feedback we got helped us create a better product and the whole experience gave us momentum to keep moving forward with the business," says Flavin.
The BOHO (Buy-One-Help-One) Marketplace is an insurance marketplace accessed through the BOHO platform that allows customers to purchase affordable policies while also providing a much-needed insurance product to participants in an emerging market. BOHO incorporates groundbreaking technology to reduce payment processing and administrative costs, speed up settlements and guarantee transparent transactions. It allows customers to compare insurance quotes, and premiums, while also supporting uninsurable communities in emerging markets for as little as $1-2 per month.
The idea started as a class project in the fall semester. Flavin, Hafiz, and fellow students Celina Lima MAIPD/MBA '18 and Ruth Lai MBA '18 came up with the BOHO Marketplace as a solution to a case study assignment, and Professor Yuwei Shi encouraged them to take it further. They participated in the Bangkok Business Challenge, competing in the final stage in Thailand earlier this year. Exciting job and professional development opportunities led Lai and Lima away from the project this semester, but they might be a part of its future. One of the challenges ahead for the team will be to balance new careers with the demands of developing a groundbreaking idea for a startup.
Four teams made it to the finals of the Student Division on Saturday, May 12th, including two from the Middlebury Institute. Startup Challenge Monterey Bay is a regional new-business competition and acceleration program for entrepreneurs in Monterey, San Benito, and Santa Cruz counties. The challenge provides workshops and mentoring to support the founding, funding, and growth of new and innovative businesses in the Monterey Bay region while empowering entrepreneurs to communicate their ideas effectively to investors, customers, and employees. The winning team won a cash prize of $1,500.
"It was really exciting to see a project start in the classroom and become a winning idea with the support from our university and the community," Flavin shares. Adds Hafiz, "The Start-Up Challenge has been an amazing learning experience. It certainly helped to advance our business model and to connect us with like-minded individuals that also aim to use business for social good."
A team of students representing the Institute made it to the final round of the Sustainability Category of the Bangkok Business Challenge.
Middlebury Institute student Christina Lukeman has been awarded the Projects for Peace fellowship and $10,000 to build a business literacy program in Cambodia.
A team of four Middlebury Institute students won the Business for a Better World international case competition in Davos, Switzerland today, beating out teams from 20 other universities with a "stunning" presentation.