J Term Students Experience Unique Courses in Eight Countries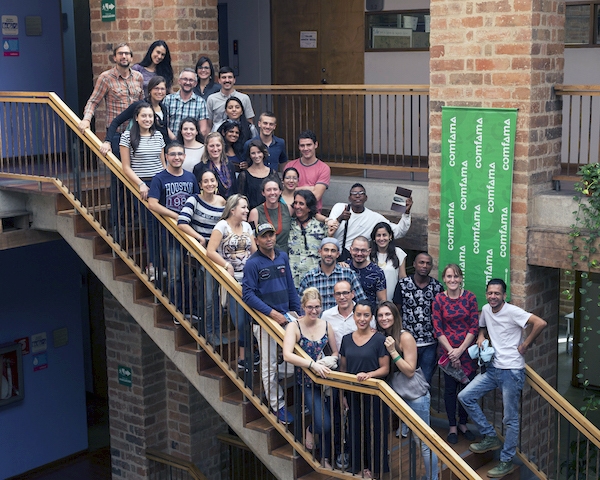 The new year brings new opportunities and adventures for Middlebury Institute students, beginning with the January winter term, affectionately known as "J term." Training sessions for students heading off to semester-long immersive learning opportunities such as the International Education Management Practicum, the International Professional Service Semester and the Frontier Market Scouts are held on the Monterey campus, as are intensive courses offered by several degree programs. Other courses are offered off campus, with students this year able to chose from unique opportunities in Cuba, Rwanda, Spain, Nepal, Salinas, Egypt, Colombia and the Czech Republic.
Twenty-one students opted to travel to Rwanda for DPMI, the Institute's intensive short course leading to a certificate in international development and social change. The course offers students the opportunity to gain professional skills such as design and project assessment and to work side by side with African professionals from leading nongovernmental organizations on real-life client projects.
Two groups of students participated in courses in Egypt and Colombia that combined trainings with client projects. (The training and client model were inspired by the DPMI program.) Seven students travelled to Medellin, Colombia to collaborate with the nonprofit organization E2E founded by alumna Teryn Wolff MAIEP '14. Before starting their individual client projects they participated in a training session, all in Spanish, with other students from Europe and the U.S., as well as local development practitioners.
"While group work in Monterey is fun and challenging, working in another language with people from various countries and backgrounds takes problem analysis and design thinking to another level," shares Brendan Tarnay MAIPD '17. "Conflicting interests and cultural differences can paralyze a group's progress, but little by little, hour by hour, day by day, you adapt to make space for understanding others' values and contributions."
Eight Middlebury Institute students and one student from Middlebury College participated in a program similar to the one in Colombia in Cairo, Egypt. Again, longtime partnerships and alumni involvement was a key part of the program. The students participated in a course at the American University in Cairo, a longtime partner of the Institute, and worked with the Better World Foundation, a nonprofit founded by alumnus Hany Amin MBA '12. In addition, the students were hosted for dinner by Audrey Metcalf MAIPS '12 and Josh Fleming MAIPS '15.
Students in Professor Phil Murphy's Field Methods class during fall semester had the opportunity to take the skills they learned in class to the field during J term. Eight students conducted a survey of people in Nepal on plastic waster disposal practices under the guidance of alumna Amanda Bensel MAIEP '15. Donna York MAIPD '18 says it has been "one of the best experiences" she has had so far. "Nothing can compare to Nepal's rich culture, unique food, long history, breathtaking landscape and deeply kind people. Not only have I been conducting surveys and interviews but I have also learned more about the arduous process of policy enforcement. I am looking forward to learning more about Nepali culture and I will definitely be coming back." Other students are working with Professor Murphy in Salinas, evaluating the impact of a program aimed at improving law enforcement and community relations.
Nine students in the nonproliferation and terrorism degree program are currently participating in a two-week course in Prague in the Czech Republic. The students will attend lectures at the Department of Nuclear Reactors at the Czech University, go on site visits, and connect with some of the many alumni working at the International Atomic Energy Agency (IAEA) in Vienna, Austria on a visit there. The course, led by Professor George Moore, started off on a high note, a first day that included a lecture and a visit to see a research reactor, and which Kyle Pilutti MANPTS '17 described on her blog as "fantastic, wonderfully nerdy and full of science."
One alumna and 15 students traveled to Cuba with two faculty members, Jan Black and Maria Jesus Iglesias-Barca. Students learned about Cuban policy towards the U.S., the education system, the arts and civil defense among other things and had many opportunities to experience the island's culture.
Ten students in the International Education Management program visited Madrid, Spain to explore onsite management of international education programs with Professor Paige Butler. While there they visited program providers and universities and engaged with the staff at Middlebury's Madrid School Abroad, Sede Prim.
Carolyn Taylor Meyer, director of professional immersive learning and special programs with the Institute's Graduate School of International Policy and Management, says that many of the immersive learning J term courses "offer an opportunity for co-learning along with practitioners and insights into what is happening on the ground and the complexities of the issues they are interested in, not to mention the unique bonding that happens and lifelong friendships that are often formed."
Check out the Middlebury Institute on Instagram for images and videos from J term student adventures in Rwanda, Nepal and Spain.