Kindred Spirits: Alumna Mentors, then Hires Recent Localization Graduate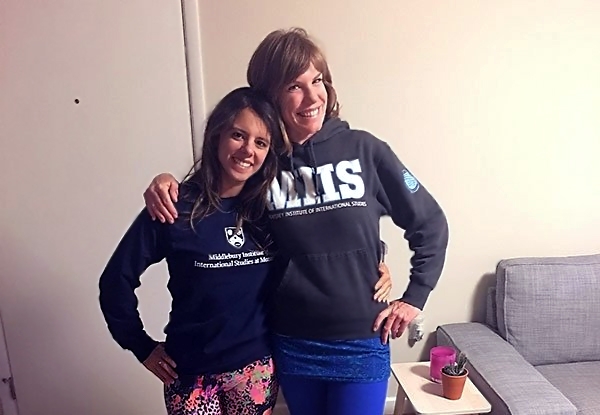 "We were meant to cross paths," says recent Middlebury Institute graduate Natalia Weinberger MATLM '15 of her relationship with her scholarship donor and mentor Linda Childs Hothem BAPS '85. 
Despite Natalia being a recipient of the scholarship Linda created to support women from Latin and South America, the two did not meet until the day before Natalia was to graduate, in spring of 2015. That same Commencement, Hothem was honored with the Distinguished Alumni Award and delivered the alumni address. "I will never forget this day," Natalia recounts. "I had long wanted to meet the person who had been so kind and generous with her scholarship, without even knowing me."
The two connected immediately as they quickly discovered a mutual passion for youth development and the arts. Hothem, the very busy founder and CEO of the commercial real estate Pacific American Group LLC, told Weinberger about her long-held dream: to create a foundation, inspired by her friend, renowned Panamanian artist Olga Sinclair, to provide art education for underserved children and youth in the San Francisco Bay Area. Sinclair's foundation, Fundación Olga Sinclair (FOS), had been successfully doing this throughout Panama for five years.
Weinberger embraced the vision and Hothem realized she had found someone who could help move her vision forward. With Weinberger's South American roots, her fluency in English, Portuguese, and Spanish, and most of all, her newly minted degree in translation and localization management, Hothem could think of no better person to manage that aspect of the foundation.
Along with a group of friends, Hothem created FOSART, which provides art education services to low-income children in the San Francisco Bay Area. Linda adapted the FOS acronym, which stands for Friends of Olga Sinclair. The goal of FOSART is "to serve as a bilingual non-profit that enhances the culture and talent of children and youth with the help of artistic expression; by promoting the social, cultural, and racial union through the love for art."
As FOSART's CEO for localization, Weinberger manages a variety of projects and handles most of the translating. She also works with donors and prospective partners. One recent project she is especially proud of is a collaborative effort with the Getty Museum called Art Beyond Borders through Pacific Standard Time. The program included 1,000 children from The Partnership for Los Angeles Schools who participated in a series of painting sessions led by Olga Sinclair.
"The Institute provided me with numerous resources for project management, taught me how to handle stressful situations and tight deadlines, and provided me a network of support," Weinberger says. "Part of the reason I moved to the United States and chose the Institute was to acquire more tools to make a difference, not just work for a profit-driven corporation. When Linda shared her dream and her longtime friendship with Olga, I realized it wasn't a coincidence. It was meant to be."