Language Students Recruited by 38 Employers at Career Fair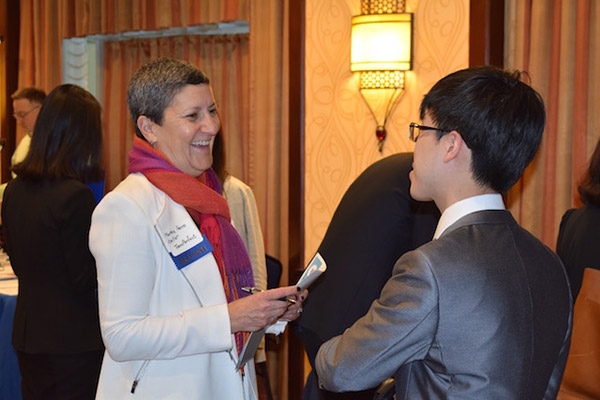 On March 3, the annual Middlebury Institute Translation Interpretation and Localization Management (TILM) Career Fair drew 38 employers from around the country and as far away as Geneva, Switzerland to the Marriott Hotel, just across the street from the Institute's downtown campus.
Recruiters from companies and organizations including Facebook, WeLocalize, Stanford Health, Netflix, Morningside Translations and the U.S. State Department mingled with 163 language students with resumés in hand. In many cases, the recruiters they spoke with were themselves graduates of the Institute—this 30 Institute alumni returned to Monterey to recruit for their organizations.
Director of Employer Relations Bryce Craft called the 2017 TILM Career Fair "one of the most impressive" career fairs he has been a part of. "The combination of thorough preparation by our students and the employers' enthusiasm and interest in the Institute students created an electric environment. The room truly had an amazing energy about it and you could almost feel the bridges being created – the bridge from student to professional."
The Center for Advising and Career Services hosts the Career Fair and a concurrent On-Campus Recruiting (OCR) event, with center staff offering their offices to employers for the day to conduct interviews with student candidates. At least 96 interviews were conducted at the OCR event, in addition to many more informally arranged interviews in cafes and restaurants through downtown Monterey.