Middlebury Institute Student Advises UN on Youth and Climate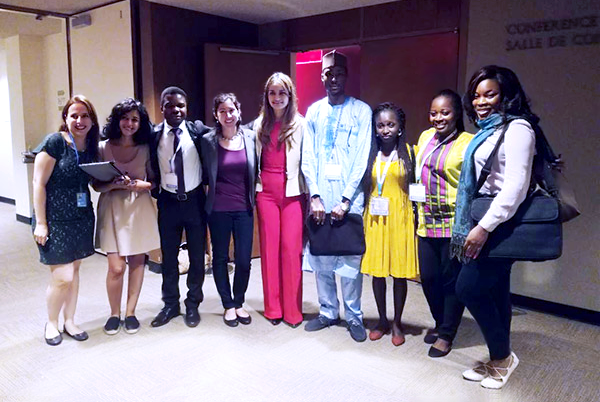 "I think it is really important to highlight the threats youth face due to climate change," says Lama Ranjous MAIPD '18 of her interest in finding "the right policies and programs to solve these problems and threats." In her native Syria, Ranjous worked with the Arab Youth Climate Movement and was interviewed by researchers from the United Nations who were looking for information about the impact of climate change on Syrian youth specifically, and young people living in the Middle East more generally. Her work with the researchers led to an invitation to serve on the UN Sustainable Development Solutions Network Advisory Council for the organization's Report on Youth, Peace and Security.
This summer, Ranjous found herself on a panel at UN Headquarters in New York speaking in front of 500 people as part of the Youth Assembly discussion about the report. "I was nervous and stressed. However, I was honored to share the report and its findings." The thematic paper investigates the impact of climate change on the security and development prospects of young people across the globe, as well as examining how ownership of the 17 Sustainable Development Goals as adopted by 193 UN member states could promote the case for youth-led development.
Before participating in the Youth Assembly, Ranjous was invited to be a part of the High-Level Political Forum, the UN central platform for follow-up and review of the 2030 Agenda for Sustainable Development and the Sustainable Development Goals. Through her participation, Ranjous says she learned a lot about the process of implementing and monitoring the Agenda 2030. "I also had the opportunity to contribute through the UN Major Group for Children and Youth to raise the voice of youth and gain the attention of decision makers."
Overall it has been a great learning experience, says
. "I had the chance to meet people from all over the world and learn more about the solutions they are working on and trying to get support for in their countries. I am very motivated to do more, and am happy to share that with the Institute community."