Monterey Celebrated as Language Capital of the World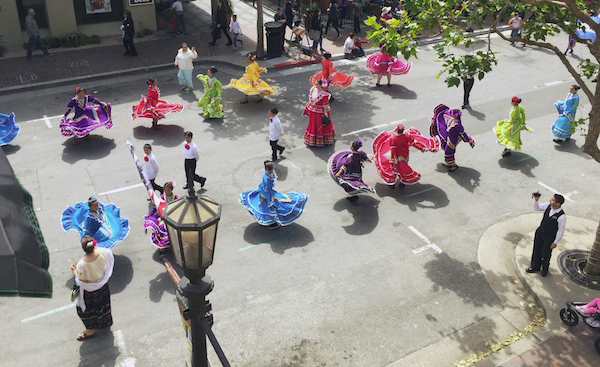 The third annual Language Capital of the World Cultural Festival featured a colorful multicultural procession through downtown and an all-day food and cultural celebration in Custom House Plaza, steps away from Fisherman's Wharf. Members of the Middlebury Institute community participated in events large and small, including offering language lessons organized by Teaching English to Speakers of Other Languages student Neil Hetrick MATESOL/PCMI '20.
"Language and intercultural communication play such an important role in our students' ability to succeed in global careers and make an impact on the world," says Patricia Szasz, assistant dean for Language and Professional Programs at the Graduate School of Translation, Interpretation, and Language Education (GSTILE). Szasz sits on the steering committee of the festival along with GSTILE Dean Renée Jourdenais. She adds that, as the Institute is known for its expertise in language teaching, translation and interpreting, "it only makes sense for us to take part in this celebration of Monterey's rich multilingual community."
This year, the Middlebury Institute was specifically responsible for setting up mini-language and cultural lessons. Over the course of the day 20 one-hour lessons were offered in the several booths set up by Institute staff and students. The 12 languages featured were American Sign Language, Arabic, French, German, Greek, Icelandic, Korean, Mandarin Chinese, Persian Farsi, Russian, Spanish, and Uyghur. The teachers came from the Institute and beyond, including from Monterey Peninsula College, Defense Language Institute and the community at large.
The festival was created to highlight the rich diversity and heritage in the region along with the many language resources such as the Middlebury Institute, the Defense Language Institute and multiple language service providers such as Moravia and Language Line. It is organized by the City of Monterey in collaboration with the Institute, the Fisherman's Wharf Association, the Old Monterey Business Association, the Defense Language Institute, and other local cultural organizations. This year's presenting sponsor was Rotary Club of Monterey, with additional support from the Arts Council for Monterey County.