New Composting Bins Aid Campus Carbon Neutrality Goals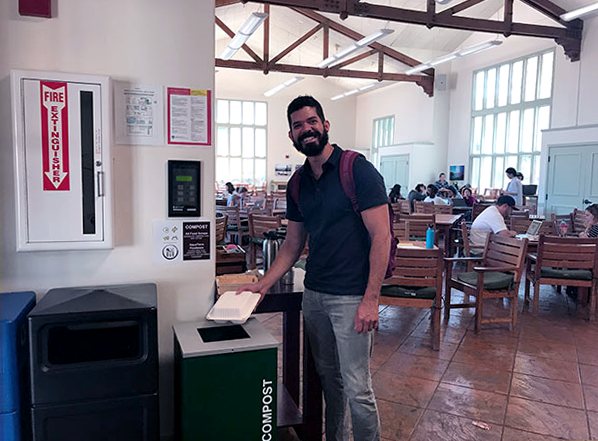 In 2016, the Middlebury Institute of International Studies sent an average of 500 pounds of material each week to the recycling facility, but almost 700 pounds of waste per week still ended up in the landfill. Waste audits from campus buildings and events reveal that a majority of the trash the Institute sends to the landfill is post-consumer food and compostable food-ware (utensils, plates, napkins, and cups).
Thanks to a generous grant from the Middlebury Environmental Council, the Institute now offers composting bins in the Samson Student Center for the first time. The addition of these bins will allow students, staff, and faculty to divert their post-consumer food scraps as well as the compostable food-ware offered by café vendor AquaTerra.
The addition of composting bins to the Samson Center will help the Institute get closer to its carbon neutrality goal. The bins provide the potential to compost up to 0.7 tons per month of material. This adds up to over 8 metric tons of carbon dioxide equivalent that we could avoid annually. According to Sustainability Graduate Assistant Zara Currimjee MAIEP '18, this a significant amount considering that it is a 45% reduction from emissions resulting from the Institute's waste sent to the landfill in FY 15-16 (18.1 metric tons of carbon dioxide equivalent).
"If everyone joins us in doing so, the Institute could divert at least 550 to-go cups, 120 to-go containers, and 530 plates, napkins, and utensils from the landfill per week."
Currimjee says that composting is a "necessary process leading toward a sustainable campus." She adds that the Sustainability Council looks forward to working with the Institute community "to minimize our environmental impact through composting." For any questions or comments please contact the Sustainability Council at sustainablecampus@miis.edu and for more information about sustainability efforts, check out the Sustainability page on our website.