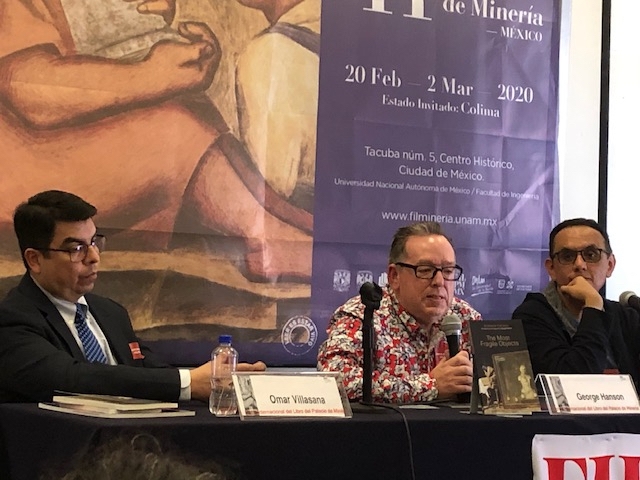 Middlebury Institute Professor George Henson presented his translation of Mexican novelist Alberto Chimal's novel The Most Fragile Objects at the 41st annual Palacion de Minería International Book Fair in Mexico City in February.
A specialist in contemporary Latin American narrative, George Henson has published seven books of translation, including works by Cervantes laureates Sergio Pitol (The Art of Flight, The Journey, The Magician of Vienna, and Mephisto's Waltz: Selected Short Stories) and Elena Poniatowska (The Heart of the Artichoke). His translations of short fiction, essay, and poetry have appeared variously in World Literature Today, Latin American Literature Today, The Literary Review, Asymptote, The Guardian, the Paris Review, Granta, and Two Lines.
The book fair, which is the 2nd-largest in Mexico, behind the Guadalajara International Book Fair, attracted over 120,000 visitors this year. "I was honored to be invited to present my translation at such a prestigious book fair, which is normally reserved for books published in Spanish," Henson shares. "But because the author, Alberto Chimal, has such a huge following in Mexico, the organizers of the fair believed that the translation of his first book into English was significant and would be of interest to his readers. While in Mexico City, I also met with Elena Poniatowska, who is widely considered Mexico's most important living writer. We discussed the possibility my translating her newest novel The Polish Lover, which is based on her ancestor Stanisław August Poniatowski, the last king of Poland."
During his trip to Mexico, Professor Henson also participated in a panel discussion on literary translation and a reading at the Profética bookstore in Puebla, Mexico.
Alberto Chimal (Toluca, 1970) is one of Mexico's most prolific authors. His work encompasses a variety of genres and forms, including the novel, short story, essay, experimental fiction, and children's literature. He is also a sought-after clinician, lecturer, and teacher of creative writing. The recipient of numerous awards, his second novel, La torre y el jardín, was shortlisted in 2013 for the Rómulo Gallegos prize, one of the most prestigious in the Spanish language. His work has been translated into numerous languages.
Four Middlebury Institute students have translations published in the most recent issue of Latin American Literature Today.
Nine students in Professor George Henson's Translation class worked directly with acclaimed author Alberto Chimal on a translation of his Twitter novel City X.