Students' Translation of Noted Author's Twitter Novel Is Live-Tweeted, Published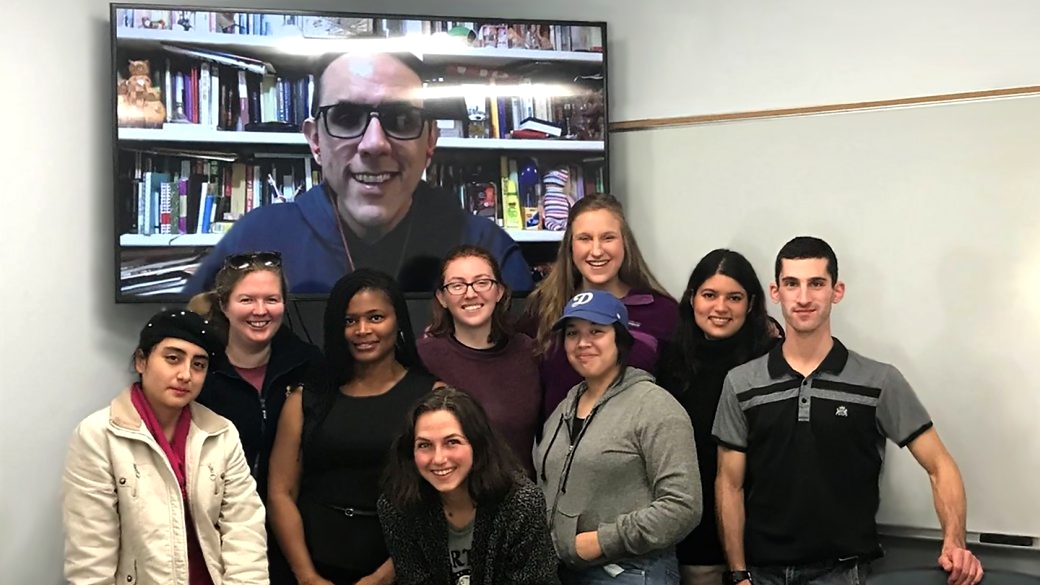 A topical work crafted for a unique social media platform by a critically acclaimed author was recently the catalyst for a high-profile class project that students in Professor George Henson's Spanish-to-English translation course called "exciting" and "really cool." Nine students participated in a project to translate noted Mexican writer Alberto Chimal's Twitter novel City X from the original Spanish into English, with the author's full cooperation, and then live-tweet the horror story over the course of 101 eerie posts on Halloween. The students' English translation of the work was then published in Latin American Literature Today magazine.
"This was a very exciting project," says Rita Correa MATI '20, "Working directly with Alberto Chimal was the most enjoyable part for me. It was amazing to be able to ask him for clarifications about things like word choice, register, and meaning." Classmate Rachel Echeto MAT '20 agrees: "It was really cool to hear directly from the author about the events or ideas that had influenced even the tiniest details like punctuation or verb tense in the original text. That made the decisions I had to make even more interesting; knowing that I had to find a way to honor his original intent in a new language."
Correa, Echeto, and classmates Sara Caplan MATLM '20, Mónica Bravo Díaz MATI '20, Emily Gilmore MATI '20, Lauren Hammer MATI '20, Hannah Mitchell, MATI '20, Matthew Mogulescu Ross MACI '20, and LaTasha Weston MATI '20 worked collaboratively on the entire project. Students from the Institute's degree programs in Translation, Translation and Interpretation, Conference Interpretation, and Translation and Localization Management all took part.
Prof. Henson approached the project with great enthusiasm and was pleased with the outcome. "This assignment not only allowed students to work collaboratively on a translation project, it provided them with an opportunity to simulate a real-world scenario, working independently and as part of a team," he says, adding that it also allowed students to see, and be credited for, their work in print. Henson also expressed his appreciation for Alberto Chimal, who gave a two-hour masterclass to the students via videoconference and responded to individual questions by email. "Not only did Chimal discuss the text in broad literary and cultural terms," says Henson, "the students were able to ask specific questions about their translations."
Echeto believes her experience working on this project "will inform how I approach future projects, both as a student and a professional. I have a little bit better understanding now of what kinds of decisions I can make independently as a translator, and which I need to collaborate on with the author or my editor." Echeto also found the opportunity to work on a translation project as part of a group challenging and helpful. "Until now all the translation work I've ever done has been solitary. Knowing that translators sometimes collaborate on larger works, I think it's important to start getting experience working with that kind of dynamic and this was a great first step toward building that skill set."
Correa is especially grateful for "the opportunity to cut our [professional] teeth with this project. It gave us a little taste of the translation world, in terms of working with many other people to ensure word choice, meaning, consistency was all there." She also notes the value of gaining professional exposure via the group's work being promoted on social media. "We were able to get our names out there and show the world an example of our work as translators—both our efforts and our passion for the work."
Following the live-tweeting on October 31 (which can be found on the @CityX101 Twitter profile), the full manuscript of the students' translation of City X was published in the November issue of Latin American Literature Today magazine.