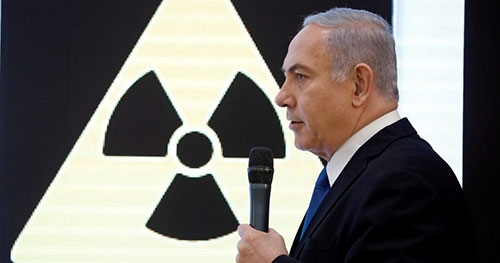 Professor Avner Cohen and Middlebury Institute student and Pickering Fellow Ben McIntosh MANPTS '19 have co-authored an opinion essay critiquing Israeli Prime Minister Benjamin Netanyahu's recent presentation on Iran's nuclear program. The essay was published in the Israeli newspaper Haaretz this morning.
In their provocative piece, Cohen and McIntosh describe Netanyahu's presentation as "cynical… manipulative and devious. Behind the stunning 'cloak and dagger' aura surrounding his newly obtained intelligence - the Mossad transfer of the entire archive to Israel is a feat beyond the imagination - Netanyahu presented the world with an obsolete picture that was well-known when the agreement with Iran was signed."
McIntosh is a student in the Institute's Nonproliferation and Terrorism Studies program. Cohen teaches in the program and is also a senior fellow with the Institute's James Martin Center for Nonproliferation Studies.
Haaretz is an Israeli newspaper, founded in 1918 and currently the longest running newspaper still in print in Israel. It is published in both Hebrew and English and both editions are available online.