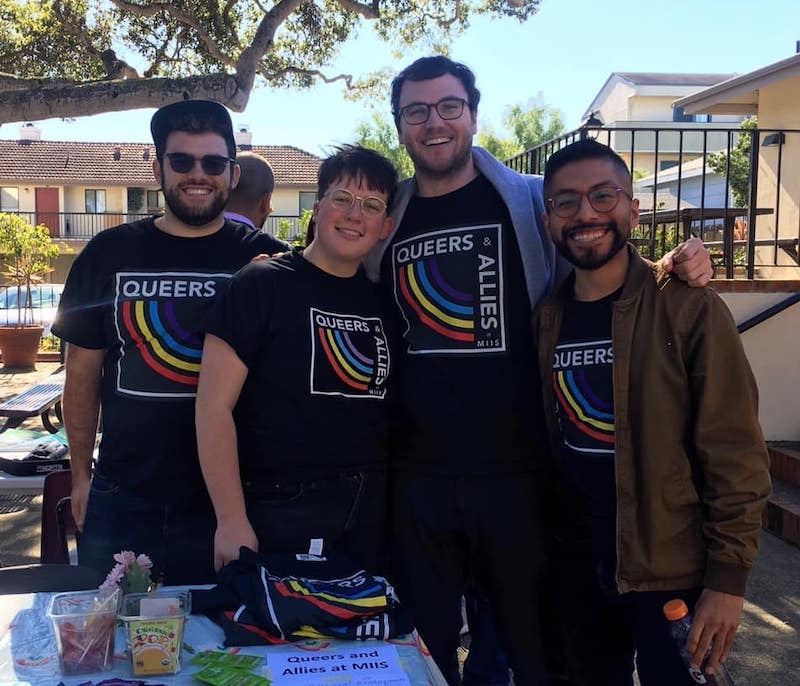 The Queers and Allies at MIIS (QAAAM) student club is hosting the Middlebury Institute's first Lavender Graduation on Saturday, May 16. The event will include a special showcase of LGBTQ+ graduating students, a keynote address from Monroe France, New York University's Associate Vice President for Global Engagement and Inclusive Leadership, and "a few surprises that will hopefully be heartwarming," according to organizers.
 
Lavender Graduations are intended "to honor lesbian, gay, bisexual, transgender, queer and ally students and to acknowledge their achievements and contributions." The first Lavender Graduation was held at the University of Michigan in 1995, and it has since become a tradition at dozens of colleges and universities across the United States. Eric Mora MPA '21 is one of the organizers. He says that this event follows similarly themed affinity graduation celebrations and that it is special event because LQBTQ students and allies experience unique challenges in their pursuit of higher education.
The event will be held on the morning of the 2020 Virtual Commencement as a compliment to the main graduation. It will feature an introduction by the incoming QAAAM President Lawrence Garber MAIEP '21, slides honoring each graduating student, the keynote address and surprises. "We have designed it to be an interactive event and with the support of Student Council are sending every participant a small gift of a lavender tassel and confetti," shares co-organizer Angela Luedke MAIEM '21. Mora says that one of the advantages of hosting an event like this for a small institution like MIIS is that they can make it very intimate. "Even the keynote address – we have had the opportunity to talk with Monroe and share our vision and we are hoping that graduates will find it very inspiring."
"So many students that I have encountered have mentioned that this is the first time that they have been a part of a queer community, or that they have been out in a school community," Mora says and adds that "this offers an opportunity for them to feel like they are part of the LGBTQ community." When he graduated from Cornell University, he attended several graduation celebrations – "the Lavender Graduation, the Latino Graduation, the main one and oh, my department celebration. It was a full day!" It was a wonderful experience for his parents who had not been to Ithaca before, "to experience all the parts of their child's identity and see them celebrated."
Luedke says she had never heard of a Lavender Graduation before the idea was raised in a QAAAM meeting. "and I really liked it." There had not been a celebration like that at her undergraduate institution in South Dakota. "Typically these events are in person," she says, "but we are having a lot of fun planning the first one virtually at MIIS."
"I've been thinking a lot about this quote from Toni Morrison at the Barnard College commencement in 1979, Women's rights is not only an abstraction, a cause; it is also a personal affair. It is not only about "us; it is also about me and you," Mora says when asked about civic engagement in the age of lockdowns and shelter-in-place orders. He says the reason why he loves that quote so much is that it reminds us that even abstract things can be boiled down to the personal. "So, as we are looking to make a difference it really can be as simple as just being more tolerant to the people around us and recognizing that we are all experiencing things and we are experiencing them differently. I keep reminding myself of that."
Middlebury Institute students, in collaboration with students from CSUMB, hosted an event celebrating diversity and local arts to raise money for undocumented college students.
Middlebury Institute student Eric Mora discovered the power of art and literature when he experienced discrimination as an English learner in American public schools. Today, it serves as a driving force for his dedication to community activism.
Monterey Institute students visiting the annual Student Club Fair found groups formed around common interests ranging from fine dining and outdoor recreation to language learning and international trade.