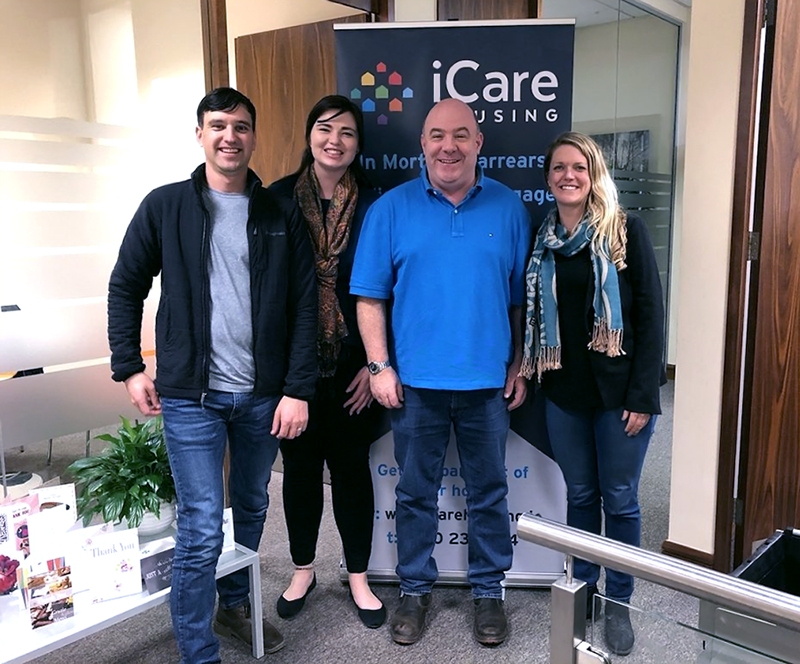 Over spring break, Middlebury Institute students spread out over the globe. A team of three MBA students, Melody Jensen, MBA/MAIPD '19, Jillian Flavin, MBA/MAIEP '18, and Tyler Higginson MBA/MAIPD'18, traveled to Ireland to conduct interviews as part of an ongoing impact project with an Irish NGO. The students are part of MForce, an on-campus club wherein student groups consult organizations and social enterprises in order to enrich student learning and support social initiatives. 
The organization, iCare Housing, is working to ease some of the effects of the Irish housing crisis through a mortgage to rent program. They work with homeowners and banks to buy mortgages that are irreparably in arrears and convert them to state-supported rental properties, allowing people to stay in their homes and banks to resolve their non-performing mortgages. Middlebury Institute professor Constantin Gurdgiev is on the board of the organization and connected the organization to the students.
While in Ireland, the student team interviewed many stakeholders of the organization, including employees, board members, customers, banks, and state housing authorities. By interacting with each group in person, the team gained valuable insights into the situation for each stakeholder and the way the organization affects each one. The results of the interviews will be compiled into a report to the organization and will help the students to build an impact management framework. The framework will allow the organization to measure, manage, and communicate their impact on the Irish community.
"In the classroom, we've frequently discussed impact reporting frameworks," says Higginson. "Our trip to Ireland to work on building one with iCare helped to solidify my learning of the classroom concepts. We also had a lot of fun doing it! Not only were classroom concepts reinforced, but we gained a fuller appreciation of the country itself. Having an excuse to engage in the politics, economics and society of Ireland made the trip rewarding on a much deeper level than if we had just visited for fun." 
A team of four Middlebury Institute students will travel to Davos, Switzerland for the final stage of the Business for a Better World international case competition hosted by CK Shulich and Corporate Knights on January 25.
For Middlebury Institute student Katie Barthelow, taking a course titled "Starting Your Own Social Change Organization" proved prophetic, as her classroom concept pitch led to piloting a project connecting classrooms in the US and Panama through language exchange.
Middlebury Institute MBA students traveled to Mexico this spring to research grass fed beef production for a comprehensive market study they conducted for a client.