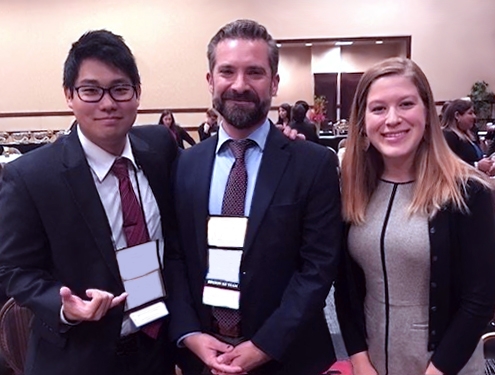 Earlier this month Danielle Fultz MAIEM '19 and Randall Yamaoka MAIEM '19 beat out established professionals in the international education management field to win a case competition at the Region XII NAFSA international education conference in Reno, Nevada.
Both are first semester students who bring a variety of experiences to their studies, including teaching English. Fultz taught in Marseille, France with TAPIF (Teaching Assistant Program in France) and Yamaoka taught in Sera Hiroshima, Japan with the JET (Japan Exchange and Teaching) program.
In the competition, they were given a case study and asked to come up with a plan of action for a theoretical university. "We were given 21 hours to create an internationalization plan for a made-up university," said Fultz. University internationalization plans could include efforts to recruit international faculty and students, increase educational opportunities abroad, and integrate intercultural competency and global elements into academic curriculum, for example. "We had a two-pronged plan," Fultz explained. "The first was to overhaul the university's English as a Second Language (ESL) programming. The second was to create a curriculum integration plan for the study abroad office. This plan was a coordinated effort to work with academic advisors to let them know which study abroad programs could provide academic credit for their students. The hope was that more students would study abroad, because they would be aware of how our study abroad programs could provide academic credit." Additionally, the duo suggested a review of current study abroad programs to ensure that students are receiving academic credit while abroad. Yamaoka said that "this was really an analytical learning experience that forced us to look at this problem from as many perspectives as possible."
Fultz plans to work in higher education, in a university education abroad office, so learning experiences such as the case study competition are helpful practice for her career. "This was very realistic in terms of being something that I might need to do, or might be asked to give input on. It definitely fit into what we've been learning at the Institute, since everything we proposed was based on information we've learned in classes so far." Yamaoka has ambitions to become a principal or chancellor of a university. He said that the case study competition was helpful to him "because it will be essential to always be researching and analyzing case studies in order to better a school."
Fultz encourages other students to take on similar challenges and opportunities to apply learning done in the classroom in professional environments. Yamaoka adds: "This experience was engaging, nerve-wracking, educational, and most importantly memorable."
Two Middlebury Institute students transformed a report on how to promote international education opportunities to high school students into a real-life field trip.
Middlebury Institute Professor and International Education Management Program Chair Katherine Punteney was honored with the Service in International Education Award at the Association of International Educators (NAFSA) Region 12 Conference.
Even at a conference that attracts over 8000 international educators from around the world, it was hard to miss the large Monterey Institute delegation. Faculty, staff, students and alumni gave presentations and hosted sessions at the national NAFSA conference in San Diego.