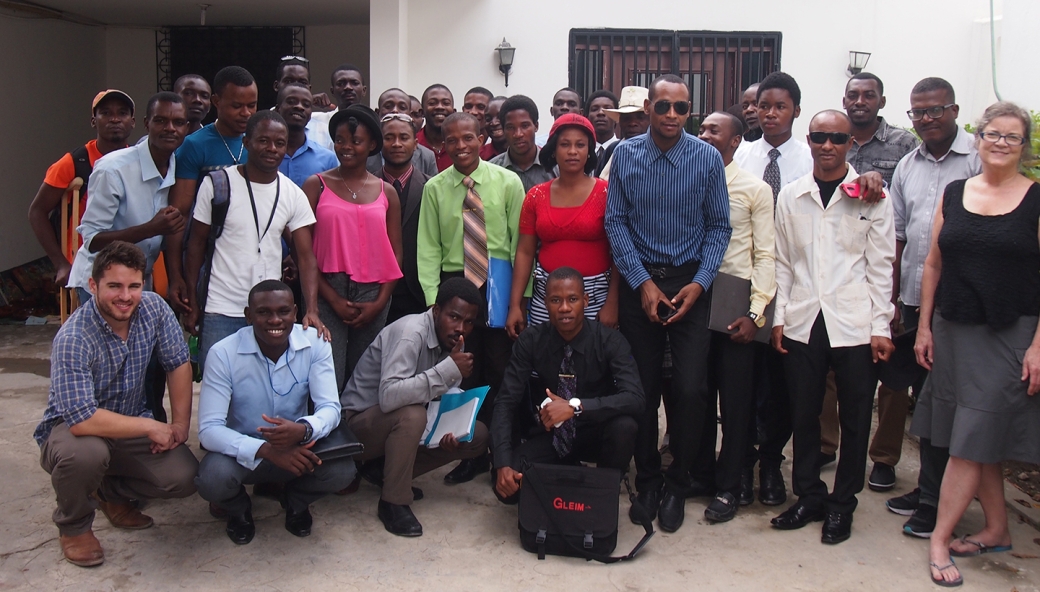 Middlebury Institute alumni from the Teaching English to Speakers of Other Languages (TESOL) and Teaching Foreign Language (TFL) degree programs have trained more than 80 teachers in Haiti since 2015. As a testament to the value these teachers place on the program, 24 of the 80 trainees have carried on to train another 226 teachers in their communities just in the past year, illustrating the "multiplier effect" in action, and marking a major milestone for the program known as Team EFL Haiti.
Thanks to a Rotary Global Grant, Institute alumni have able to share their expertise in communicative language teaching (CLT) and content-based instruction (CBI) with language teachers in Haiti. Early this year, team leader Lisa Donohoe Luscombe MATESOL '09 and recent graduate Stephen Spanos MATESOL/PCMI '17 conducted the third train-the-trainer session for 36 teachers from all parts of Haiti. Alumnae Vanessa Hoffman MATESOL '15, Lucy Crouppen MATESOL '16, and Ruth Castillo MATESOL '15 were trainers in the 2015 and 2016 sessions.
The program is the fruit of a longstanding collaboration between the Middlebury Institute and Pere Noe Bernier of St. Andre's School. Through this partnership the alumni teams are able to travel to the town of Hinche, the capital of Haiti's Central Plateau, and live at the school where they provide the training. They conduct a 30-hour teacher training workshop in which local English as a Foreign Language (EFL) teachers receive a crash course in applying Institute TESOL teaching methods in Haitian classrooms.
English is an important second language in Haiti as it increases chances of finding economic opportunities at both the personal and organizational levels. Although students do well on national exams, the methods shared in the training workshops aim to help students to be more communicative as English speakers, enabling them to find better jobs, partner with outside organizations for development projects in Haiti, or attract outside business to support the struggling economy, among other incentives.
The training is also an important professional development opportunity for Haitian teachers. Alberte Eveillard, a teacher from Mirebalais, shared, "It's the first time we have seen this sort of thing in our country. Certainly, you'll see the outcomes for Haitian learners quickly because your methods are very adaptable to our Haitian problem." 
Because of the growing reputation of the program among teacher communities, the program received more applications than they could accommodate. "It's heartbreaking when you have to turn away someone who clearly sees the benefits of a level of training unavailable anywhere else," says Donohoe. Many of the teachers who were accepted had to travel an hour or more by moto (small motorcycles) on a daily basis, and some others stayed in rustic conditions.
In the coming year, five top Haitian teachers will be selected from the 24 who conducted train-the-trainer sessions. A panel of Institute alumni trainers will rate the training reports of the Haitian teacher trainers based on a rubric for reporting. The grant allows for these five teachers to travel to Monterey for further training, classroom observation, and cultural exchange with local teachers. The project vision is for these five teachers to be ambassadors for communicative language teaching and content-based instruction in their teaching communities, carrying on their expertise beyond the grant period.
The Rotary Global Grant has been possible through cooperation with Rotary Club of Monterey Pacific and Rotary Club of Hinche, Haiti, with financial support from Rotary Clubs of Monterey, Carmel Valley, Visalia County Center, King City, Pacific Grove, Visalia Breakfast Rotary, in addition to IOOF Saratoga and Team EFL Haiti benefactor Bill Rand.