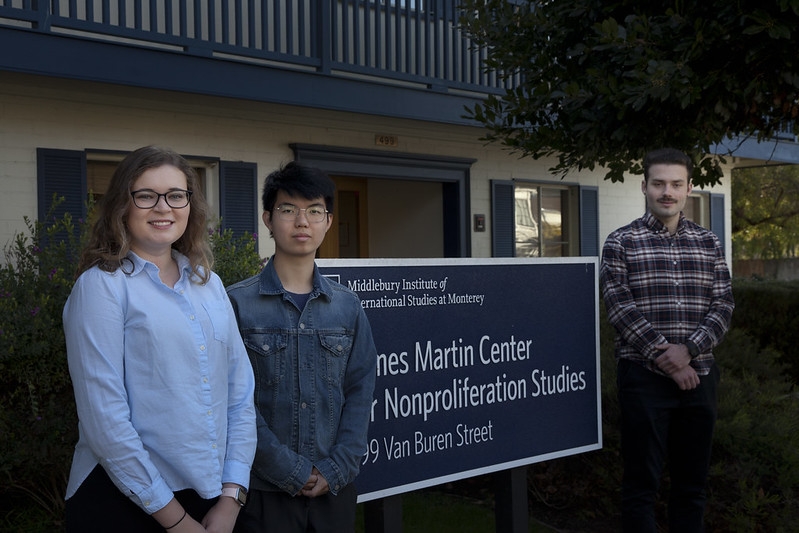 Three Middlebury College undergraduate students are enjoying the mild Monterey winter while delving into issues in the fields of nonproliferation, disarmament and arms control of weapons of mass destruction at the Middlebury Institute's James Martin Center for Nonproliferation Studies (CNS).

 
This is the second year for this four-week internship program that is supported by funding from the Envisioning Middlebury.
The three interns, Grace Carroll, Max Shulman-Litwin, and Kevin Lu participate in innovative research projects under the guidance of CNS experts, utilizing tools such as 3-D modeling and satellite imagery analysis.  
"I've found CNS to be a very encouraging environment, which I didn't necessarily expect given the high caliber of people and importance of tasks that function here on a daily basis," shares Carroll who is an International and Global Studies, Global Security Studies Major at Middlebury College. "I am working on New Tools and Emerging Technologies, which entails 3D modeling, geospatial technology, and metadata, among other things. My research involves reading and calculating the measurements of WMDs (weapons of mass destruction) such as missiles, and creating replicas of them using open-source software. It's surprising to me how much information is open to the public, if you only know where to look!"
"Despite the brevity of this program, I have learned much about the projects that the various research associates are working on here, and have even been able to participate to a great degree," Shulman-Litwin says. An Arabic and Russian Major, he says his main project during the internship involved working with Research Associate Sam Meyer MANPTS '16 on updating the Incidents and Trafficking Database, helping to document all instances of the loss, theft, and recovery of radiological and nuclear materials throughout 2019. "My primary source of information was open-source media on the internet; I searched in Russian, Spanish, and English to find news articles that covered these incidents. During my research, I came across a number of articles that struck me as suspicious; after talking with Sam, I realized that these articles were most likely examples of disinformation or misinformation, fitting into a larger trend of articles related to the alleged recovery of large amounts of WMD material. It has been amazing to see how foreign language skills can be used in the area of nonproliferation studies, and I look forward to developing a report on the intersection between disinformation and WMD."
Lu says that he came to the CNS internship with limited knowledge about nuclear nonproliferation but has "learned so much about it after talking to scholars and professors who work at the Center." The International and Global Studies, European Studies & Spanish Major says his assignments have included "matching open source intelligence about Israeli missile facilities with their location on Google Earth, and updating China's fissile material trafficking data base." He also conducted in-depth research about certain Israeli nuclear sites as well as the Israeli submarine bases and started his own project about China and Russia's political stance on North Korea nuclear crisis. "I not only practiced my language skills, but also learned more about regional political issues and historical conflicts."
It's not all work and no play, and the interns have found time to enjoy life in California during their time in Monterey. Carroll says that outside of campus she "can often be found eating clam chowder on Fisherman's Wharf with friends, hiking in Point Lobos, or shopping at the local farmers' market." She adds that "Monterey is a wonderful city with so much to do! My advice to future interns would be to engage with everyone you meet, work hard, and enjoy California."
In addition to the CNS Summer Undergraduate Internship Program with over 20 years of history, the Winter-Term Internship Program furthers CNS' mission of combating the spread of weapons of mass destruction by educating the next generation of nonproliferation experts.
For more than a decade, Sarah and Tom Pattison have been stalwart supporters and friends of the James Martin Center for Nonproliferation Studies (CNS) at the Middlebury Institute. They are the major supporters of the Summer Undergraduate Nonproliferation Program.
Students in the Summer Undergraduate Nonproliferation Internship Program conduct research and education projects supervised by some of the nation's leading experts on nonproliferation.
Four Middlebury College students were among the seventeen undergraduate students invited to spend the summer at the James Martin Center for Nonproliferation Studies, learning about the field, and pursuing independent research with top experts.