A State of Being: Alumna Maame Yelbert-Sai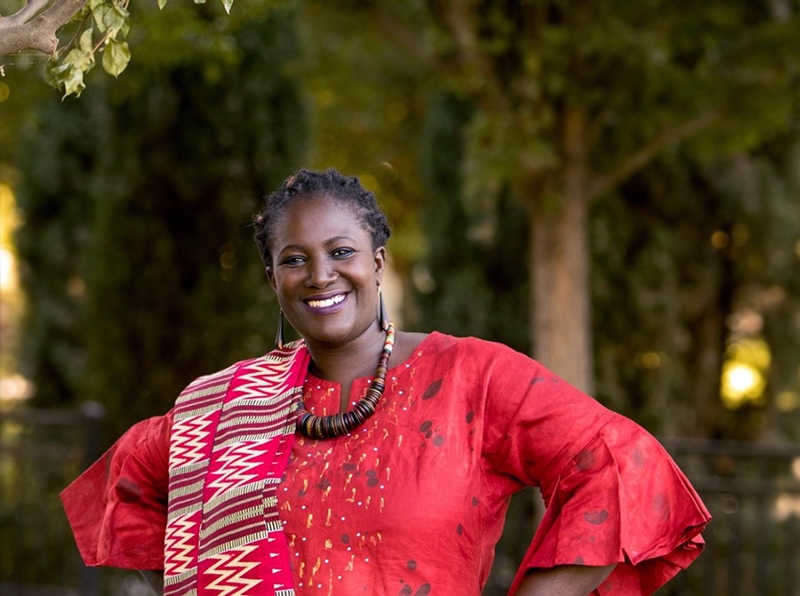 "Don't ask me what I am doing," says Maame Afon Yelbert-Sai MAIPS '05, "ask me what I am being. I am a human being, not a human doing." Yelbert-Sai directs programs and partnerships for Moremi Initiative for Women's Leadership in Africa, sits on the board of the African Women's Development Fund – USA, We Care Solar, Ghana Bamboo Bikes, Cocoa 360, and provides support to many other organizations. A mentor, mother of three, wife and musician, she is passionate about being what she calls a "whole woman" – bringing all of who she is to everything she does.
Finding my voice
In 2009, I was working at the Global Fund for Women in San Francisco, my first job in the field after graduating from the Institute, when I was invited to participate in the "Women Leaders for the World" leadership program in Santa Clara. At the time I had three young kids—twin girls and a son, and was still learning the ropes of motherhood, of being a wife. As part of the leadership program I was asked to think about my passions and my voice. I realized that I had been putting my life into silos, and bringing only a part of me to my different roles. As I went through the program I got more clarity on this. The capstone was to come up with a project that would make a difference for women in leadership.
Bringing it all together
My hope is that when I show up, what people see is the complete picture of who I am. You will find that when you show up in your fullness, you open up to new experiences. What does this mean in real life? Three things stick out. First, you do the things you love with passion. Secondly, find your calling. Ask yourself, why are you here? Live your life with purpose. And thirdly, look at what your experiences have equipped you to do.
Starting with yourself
What you should know about me is that I am proudly African, unapologetically feminist and boldly Christian. Leadership is at its roots for me simple—it starts with self-understanding. Why are you taking up real estate on this earth? If you do not know that, you cannot lead anyone. In the end when you embrace bringing all of who you are to everything you do, you thrive and others around you also thrive because your experiences become useful and serve a higher purpose.
Making music
Bringing my voice through music and humor into my work has opened new dimensions. When music shows up, there is a shift in the atmosphere. It can bring out emotions, become a rallying cry and catalyst for change. I am blessed to be able to team up with my husband to create and share wholesome music that inspires and uplifts. Showing up in the fullness of who you are gives you the freedom, joy and liberty to embrace different ideas.
Paying it forward
Mentorship is also a big part of me. My work and mentoring relationship with MasterCard Foundation Scholars and MILEAD Fellows is vital to me. I learned a lot about mentoring and supporting others from my mother. She raised us as a single mom in Ghana for most of my life, but she also took care of everyone else, a true matriarch. She was so resourceful and visionary in her thinking. One of her best qualities was her ability to call out the good and see the "gold" in people. When I was growing up she kept helping a man in our neighborhood whom most people had written off. I never understood why. With her coaching, mentoring and persistence, today this man is a successful business owner. Lesson—look beyond what you cannot see yet. That for me is bold and visionary leadership! I choose to show up guided by my purpose and calling to "inspire and support young leaders, especially African women and girls to enjoy a fulfilling leadership experience."
Finding forgiveness
After my mother passed in 2013, I made a deliberate decision to reconnect and invest in my relationship with my dad. The decision and process taught me a lot about forgiveness, and made me a better Christian, leader and parent. I continue to learn a lot about myself as I learn more about my dad—my love for music; my faith in God; some of my leadership qualities; my love for sports and languages; and some of my personal attributes. As you grow older you understand what is important in life. In August 2016, my father passed away. I am thankful for the peace and closure I feel, especially knowing that I received my father's blessings as he would always speak them over and into my life.
Picking battles
As a leader it is important to give yourself time to rest and reflect – and sometimes that means saying no. Learn to win wars and lose battles. Keep your eye on the big picture and preserve your energy for what really matters!
Being bold and daring
Be bold, daring and intentional about the choices you make. Recognize that your leadership is a journey and process that continues to be refined as you go through life.
Yelbert-Sai was featured in the Fall 2017 Communiqué alumni newsletter.