The Student Life team maintains the following information about off-campus housing to support students when they relocate to Monterey.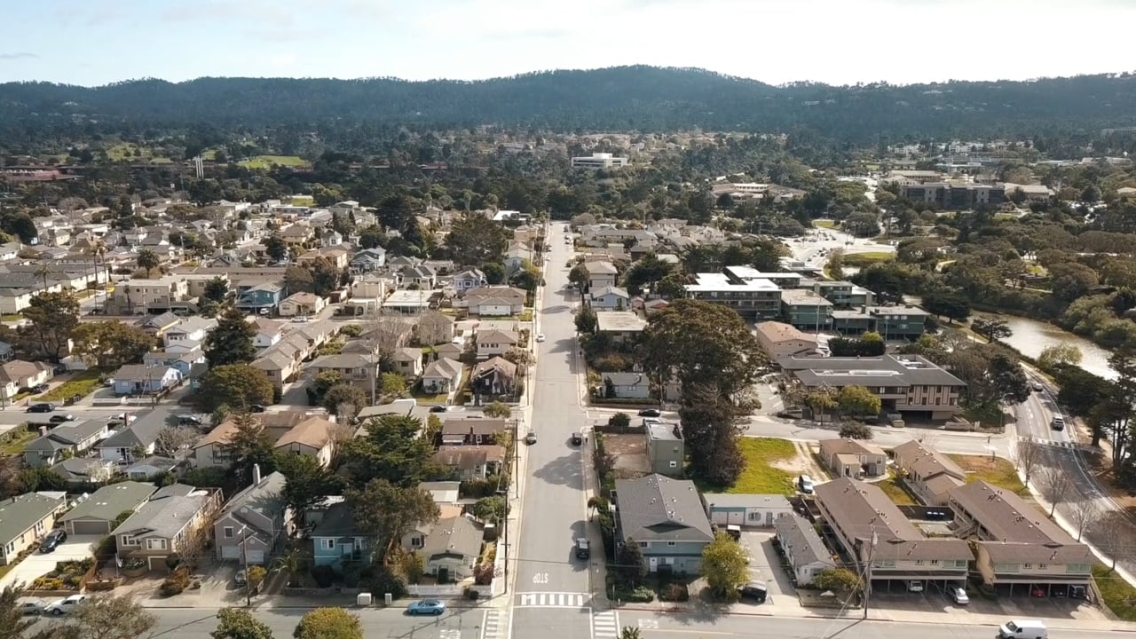 Housing Guide Table of Contents
Beginning Your Housing Search 
Tips to Avoid Online Housing Scams
Middlebury Institute Private Housing Group 
Other Places to Find Housing 
Average Cost of Living 
Utilities
Internet, Cable and Telephone Services
Residential Parking Information 
Understanding Your Lease 
Furnishing Your Rental 
Local Apartment Complexes
Monterey Peninsula Neighborhoods
Property Management Company List
Please note: the resources provided on this page are for reference and research purposes. None of the authors or contributors to this content, nor anyone else connected to the Middlebury Institute, can be held responsible for your use of the information contained in or linked from this series of web pages.
Beginning Your Housing Search
The Middlebury Institute has limited campus housing so most students live off campus. Our campus is located in a residential area of what is considered downtown Monterey. Students live all over the peninsula and beyond, but the majority of students try to live as close to campus as possible. If you live more than 1.5 miles from campus, you are entitled to a free on-campus parking permit. Learn more about parking.
This MIIS Housing Guide will detail lists of property management companies, a private housing group for MIIS students seeking local rentals, and other helpful resources. Read below on how to get started with your search.
Tips to Avoid Online Housing Scams
Search online for "how to avoid online housing rental scams" for more tips and resources. 
Make sure to see the full property, in-person, before signing any rental contract/lease. Tip: If you find what looks like a great place and are not in Monterey yet to see it, either wait to look at places until you arrive, or find another student who is already in Monterey who can look at it for you. 
Do not rely solely on email to communicate with the landlord.  There should be a phone number associated with the listing and a legitimate voicemail. If you cannot reach the landlord by phone, it is best to find a new listing.
Make a payment with a check or credit card (if possible) and try to avoid using cash or transferring money online. If you must transfer money or pay in cash, only do so after you have visited the property, met the landlord and are confident that the rental is not a scam.
Read your rental contract/lease thoroughly before signing. It is a best practice to sign an actual hard copy vs. an electronic rental contract/lease.
Google the email address provided in the listing to see if the landlord is advertising the same listing (likely with a different address) on different online platforms. This would indicate the listing is likely a scam.
Make sure to report any suspicious activity to the local police and Student Services so others do not get scammed.
Middlebury Institute Private Housing Group
Many students use the Institute housing group, located within the private social network for the Institute, to post sublets, apartments for rent, and roommate searches. Additionally, area landlords submit available rentals to be posted in the group. The group is a great resource when seeking housing with other Institute students and community members who support them. Current and incoming, deposited students have access to this Housing Group. Follow instructions sent to you as an incoming or current student to login to MIcommunity and access the group.
Landlords: if you have an available rental to post, please use this form to submit details to be posted in the private Housing Group.
Other Places to Find Housing
Monterey Bay Craigslist
Every year, a large number of our students find their housing through the Monterey-area Craigslist. Craigslist is an online network offering free classified advertisements from furniture to employment to housing. Many of the property management companies and landlords in the area will choose to advertise their listings via Craigslist. However, please keep in mind that Craigslist is an open site available to anyone, and there may be scams and false information. Under no circumstance should you sign any paperwork, or exchange any money, for a place that you have not seen without viewing it firsthand. 
ApartmentList.com
ApartmentList.com is a free website that is used by over 395 Universities nation wide. The website pulls from over 100 different listing sources so it's more of a one-stop shop for students, that way they don't have to bounce from site to site looking for apartments.
Each city on the website is broken down into neighborhoods, highlighting pricing, noise level, nearby attractions, restaurants, shopping, etc.
Furnished Finder 
Furnished Finder is a housing site that is specialized for visiting professionals such as nurses and scholars.  It's especially helpful for visiting scholars who may stay in the Monterey area for a few months and need a furnished residence without signing a 6 or 12-month lease.  It can also be helpful for students who need housing for a month or so at a time while they search for more permanent housing.
Monterey Herald
The Monterey County Herald is the major daily newspaper serving all of Monterey County. You can pick one up at newsstands or boxes in town, or access their online classifieds section. When searching online, you can indicate your desired rent price range, number of bedrooms, and type of home.
Apartment Complexes
There are a number of small and large apartment complexes throughout Monterey and the surrounding areas. It is often useful to drive around the area looking for apartment complexes or "For Rent" signs.
Zillow Group
Zillow and Trulia are a part of Zillow Group, the largest and most popular real estate network, which has about 30 million rental visitors each month. Trulia is uniquely valuable in offering in-depth neighborhood information including crime statistics, commute times, demographics, local amenities and more. Zillow is famous for offering our Zestimate, an estimated rental or real estate value of each property, which helps the user gauge the value of each property. The following pages will help with any and all student housing needs!
Trulia Monterey apartment rental page offers over 30 listings with in-depth neighborhood information
Zillow Monterey apartment rental page contains fair rental price estimates for apartments
Zillow Monterey house rental page contains fair rental price estimates for homes
Zumper
Zumper is a site for finding rental properties. In most cases, you can contact the property manager or owner directly through Zumper. In some cases, you can complete an application and manage other parts of the rental process through the site, too. 
Apartments for rent in or near Monterey
Apartments for rent in or near Pacific Grove
Apartments for rent in or near Seaside
Average Cost of Living
An important question most students have when they arrive in Monterey is what they will be able to afford given their small student budget. Housing costs vary considerably and can be an important consideration when choosing a place to live. Below are some average monthly costs of living in Monterey County.  Rentals that accept pets may have additional fees and/or an increase in the monthly rent.
Monterey
# of Rooms
Avg. Price Range
Room in a home
$800–$1,495
Studio
$1,500–$1,950
One bedroom
$1,800–$2,300
Two bedroom
$2,100–$3,500
Three bedroom
$3,500-$4,500
Marina
# of Rooms
Avg. Price Range
Room in a home
$700–$1200
Studio
$1,450–$1,895
One bedroom
$1,550–$2000
Two bedroom
$1,900–$2,700
Three bedroom
$2,895–$4,000
Pacific Grove
# of Rooms
Avg. Price Range
Room in a home
$1,000–$1,595
Studio
$1,600–$2,300
One bedroom
$2,000–$2,600
Two bedroom
$2,200-$3,600
Three bedroom
$3,600–$4,795
Seaside
# of Rooms
Avg. Price Range
Room in a home
$800–$1300
Studio
$1,500–$1,900
One bedroom
$1,700–$2,200
Two bedroom
$2,000–$2,900
Three bedroom
$2,900–$4,100
Utilities
Setting up your new home includes arranging for utilities. Depending on the terms and conditions of the lease, you may be responsible for setting up all utilities or they may be covered in the cost of your rent. Below are some average costs.
| Utilities | Price Range |
| --- | --- |
| Gas and electric | $50–$100 per month |
| Water | $30–$75 per month |
| Garbage | $15–$20 per month |
| Cable | $30–$40 per month |
| Phone | $20–$30 per month |
| Internet | $20–$50 per month |
Internet, Cable, and Telephone Services
You may want to set up Internet, cable, and phone service in your new home. Companies often give special deals if you sign up for two or three of these services at once. The following are local providers:
Parking
Some apartments and houses come with designated parking spots, but others require on-street parking. While this may not be an issue in certain areas, other places may require a residential parking permit. If you are unsure if you need to obtain a permit, ask your landlord.
Find out more about residential parking in Monterey and Pacific Grove.
Understanding Your Lease
Before you sign your lease, make sure you have reviewed all of the important terms and that you understand everything that you're agreeing to. Discuss any questions with your landlord and include all changes in writing on the lease agreement. Here are some external resources that may help. If you have any questions, contact the Office of Student Services.
          Read more in depth with links to specific, corresponding state legal codes here. 
Buying Furniture
It is not necessary to break the bank just to furnish your new home. There are lots of resources available to you for purchasing affordable furniture.
The closest IKEA to Monterey is in East Palo Alto, approximately a 90-minute drive from Monterey. If you have a car or can arrange a ride, IKEA is a good option for reasonably priced furniture.
1700 E. Bayshore Rd
East Palo Alto
(650) 323-4532
The Goodwill store in Monterey often has secondhand furniture for reasonable prices. Their inventory comes to them solely through donation, so it is not consistent, but you never know what you will find!
571 Lighthouse Ave.
Monterey
(831) 649-6056
Many people in the community advertise on Craigslist when they want to sell something themselves. While Craigslist can be a great resource for finding furniture, we cannot stress enough that you exercise caution in the information you give out through this service.
Costco warehouse offers many items at reduced prices, including furniture. You will need a membership in order to shop at Costco, but check out the resources page for more information on Costco card rentals.
801 Tioga Ave.
Sand City
(831) 899-1256
MIIS Marketplace MIcommunity Group
Many students and members of the Monterey community will place items for sale at very affordable prices.
CORT is a furniture rental provider.