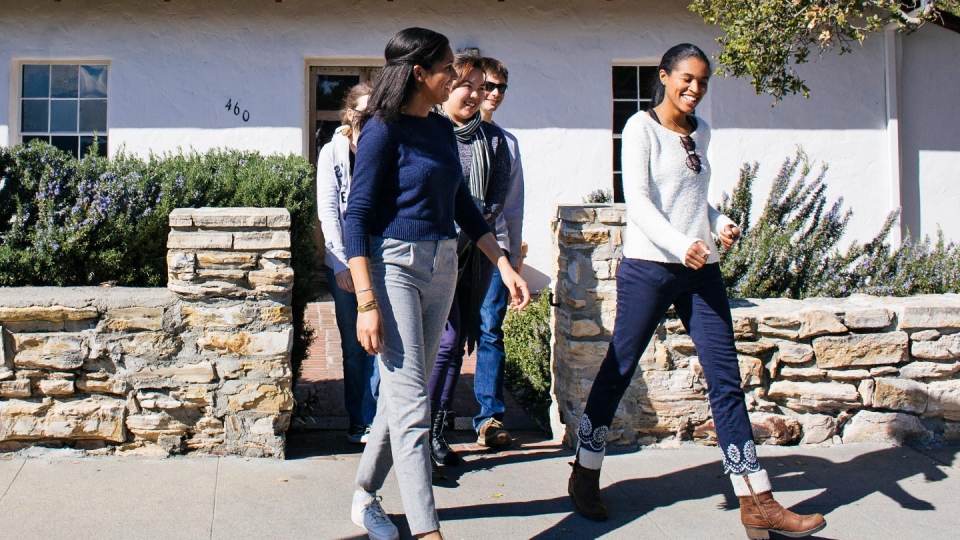 Orientation is the official start of your program and an important opportunity to meet and network with your classmates.
Three-Part Orientation
New student orientation is made up of three components:
Getting Started at MIIS course
Welcome Week

Required for synchronous program students
Optional for asynchronous program students
Optional for nondegree students enrolled in one course

Cohort-based activities during the semester

Optional for all students
You are encouraged to participate as much as possible in relevant content. Orientation is the perfect time to begin building relationships with the people who will be part of your lifelong personal and professional network. We will guide and support you in the following:
Increasing your career-readiness

Understanding expectations for the community and work culture

Mapping out your course registration plans

Engaging with your community
Getting Started at MIIS
At least one month prior to the start of the semester, new students will be invited to enroll in the Getting Started at MIIS course. This course is the first part of a three-part new student orientation. It is self-paced, asynchronous, and 100% online—all of the content will remain available after the course concludes. Please note that some assignments are required in order to register for classes.
Please note that there are different versions of GSAM and you will be invited to the appropriate one depending on your program type:
Synchronous programs

Environmental Policy and Management
International Policy and Development
International Trade
MPA
Nonproliferation and Terrorism Studies
Translation
Translation and Interpretation
Conference Interpretation
Translation and Localization Management
Related joint degree programs

Online, asynchronous programs

Online International Education Management
Online Translation and Localization Management (Advanced-Entry)
Online TESOL
Online MPA in Sustainability
Note: Joint MPA/International Education Management students are invited to both versions of GSAM as your MPA courses are synchronous while your IEM courses are asynchronous
International Student Pre-Orientation
The International Student Pre-Orientation is specifically designed for international students who will be studying in person. Featuring videos, quizzes, international-student-only live sessions, and more, this course will help you become familiar with being a student in the U.S. and at the Middlebury Institute. This is complementary to Getting Started at MIIS but is not a replacement for that content.
Welcome Week
Welcome Week is the second part of orientation and a great opportunity to meet your new classmates. You will focus on your career readiness and learn how to maximize your time at the Institute to achieve your professional goals.
Some welcome week sessions are only available in person but any required content will be available both in person and online to accommodate our remote students. Students studying in person in their first semester should be on campus for Welcome Week.
Welcome week is required for synchronous program students, optional for asynchronous program students, and optional for nondegree students taking one course. 
Recordings of sessions will be available for optional attendance students.
Cohort-Based Activities
Once the semester has started, keep an eye on your email and MIcommunity for invites to continued activities with your orientation cohort.
Online, Asynchronous Students
As an asynchronous student, you are not required to attend scheduled events but you may find certain sessions beneficial and we will make sure to highlight those and share recordings.
Nondegree Students
If you are taking one course in a nondegree program, you will have more flexibility in which sessions are required vs. optional. Look out for emails guiding you to the appropriate content.
If you are taking multiple courses (e.g. certificate, Study Away, or exchange programs), you should participate in all of the orientation content that is required for degree-seeking students.
Late arrival policy
The Institute expects students enrolled in on-campus programs to be present and attending classes from the first day of the semester. Students who must arrive later than the first day of the semester should notify the Enrollment department (miis@middlebury.edu) and the Associate Dean of Academic Operations (tmthomas@middlebury.edu). In exceptional circumstances, late arrivals may be considered. In general, the last day to arrive for in-person classes is the first day of the second week of the semester.
Visit the Academic Calendar for specific term dates and information.