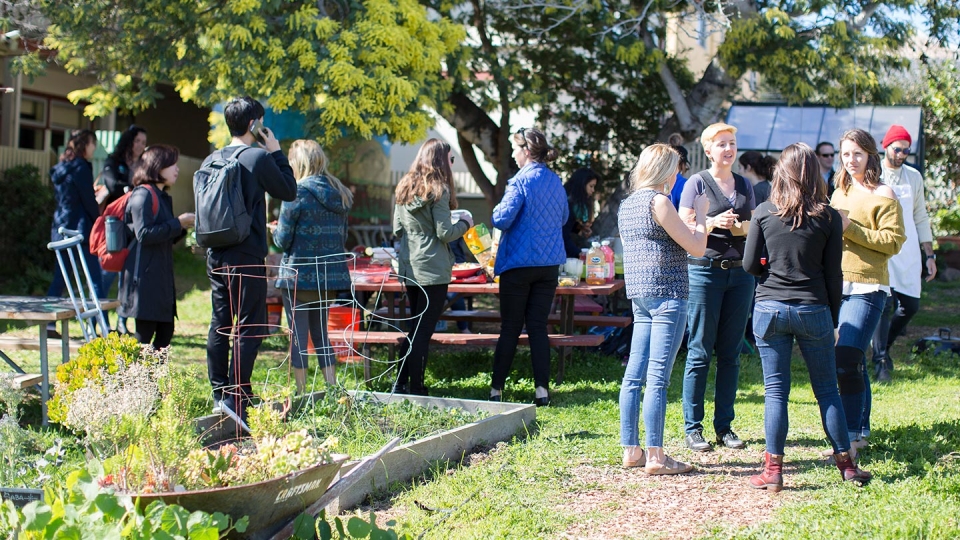 There are plenty of opportunities to participate in sustainability at and around the Institute.
 
Sustainability Council
The Sustainability Council at MIIS is a student-led forum made up of students, faculty, and staff. The Council meets regularly to work on sustainability initiatives across campus. It's a great opportunity to collaborate with students in other programs as well as faculty and staff across the Institute. Everyone is welcome to attend meetings, and if you are a student who is interested in serving as a representative for your program or a faculty/staff member who would like to participate, please reach out to one of the Sustainability Graduate Assistants! (Contact information can be found on the "Contact Us" page.)
Student Environmental Clubs
Aquatics Club
The Aquatics Activities club exists to create an open forum and organization space by which students and faculty alike can organize exploration of and sport relating to the amazing marine space in and around Monterey. The club connects interested individuals and organizes learning and volunteer opportunities for those more interested in participating in various sea-related activities. Among some of the activities they organize: Scuba Diving, Snorkeling, Free Diving, Surfing, and any other activities that members care to bring up/are willing to organize events for. If you're interested in joining this club, please email imohn@middlebury.edu or ebent@middlebury.edu.
Blue Club
Blue serves our community by making our environment safe and clean. Join us for beach and park clean-ups, yoga, and dance on the beautiful beaches of the Monterey Peninsula. Together let's make environment protection fun! If you're interested in joining this club, please email phow@middlebury.edu or ldohoubi@middlebury.edu.
Coffee Club
Coffee Club provides a space to take a break and learn about coffee testing promoting sensory stimulus. Fostering a platform for sharing culture through coffee, simultaneously re/learning environmental, economic, and policy issues surrounding coffee and coffee farmers.
Fair Trade Club
The Fair Trade Club aims to highlight the value of ethical business practices by making students aware of standards such as 'Fair Trade.' Fair Trade certification helps to make consumers responsible choices about food consumption and serves as a form of regulating labor practices in a globalized economy.
Outdoor Recreation Club 
The Outdoor Recreational Club (ODRC) of the Middlebury Institute of International Studies at Monterey (MIIS) is a collaboration of students providing outdoor leadership for weekend outings, social gatherings, and affordable rental equipment for the entire MIIS community.
Thrift and Thrive
Thrift and Thrive is an on-campus organization that aims to reduce waste in the fashion and clothing industry through the reuse and recycling of clothes with members of the MIIS community. Together we can make the planet better and bring together like-minded individuals. If you're interested in joining this club and/or taking over as club president, please email sbenjamin@middlebury.edu.
Engagement Opportunities in the Community
If you want to get involved beyond campus or just see some beautiful places, Monterey is an excellent place to be.
Work
The Institute has partnered with the Association of Monterey Bay Area Governments (AMBAG) to offer students internship opportunities in managing greenhouse gas audits for local municipalities. A number of local businesses and organizations offer environmentally focused internships.
Eat
Central California is the agricultural supply center for the western United States. In fact, the largest organic farm in the world, Earthbound Farm, has its headquarters in Carmel Valley. Organic, locally produced food is available Mondays at the Pacific Grove Certified Farmers' Market and Tuesdays at the Old Monterey Farmers' Market. A number of community-supported agriculture and fisheries programs deliver organic produce to or near campus every week, including Real Good Fish. Look out for restaurants participating in the Seafood Watch program, which is run by the Monterey Bay Aquarium and evaluates how sustainable certain seafood products are based on fishing practices, fish stocks, and other factors.
Play
We are surrounded by terrestrial and marine protected areas, including the Monterey Bay National Marine Sanctuary, one of the largest protected areas and richest fishing grounds in the entire world. People come from all over the world to visit the Big Sur coastline, and it is right in our backyard. Get out, discover, and enjoy the natural beauty that makes this area worth protecting. The Monterey County tourism bureau maintains the latest information on these resources.
Upcoming MIIS Sustainability Events
Check here for a list of upcoming events for MIIS students, faculty, and staff celebrating sustainability!