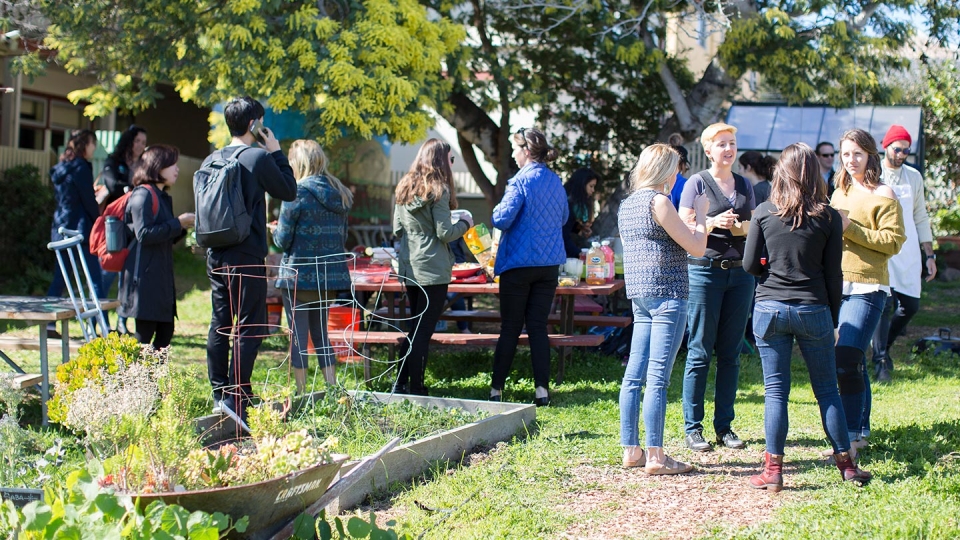 There are plenty of opportunities to participate in sustainability at and around the Institute.
 
Student Environmental Clubs & Initiatives 
Sustainability Impact Lab (SIL)
The Sustainability Impact Lab (SIL) is an initiative that launched in the spring semester of 2021. The Sustainability Council secured a grant through Middlebury's Energy2028 Funds. SIL hires a group of students each semester to focus on various projects that support reaching carbon neutrality. Currently, there are 6 topic areas: Water, Waste, Food, Environmental Justice, Energy, and Transportation. SIL provides MIIS students the opportunity to take on projects at the Institute and the city of Monterey that provide them with an excellent learning experience while supporting the Climate Action Plan at MIIS. 
Sustainable Agriculture Club
The Sustainable Agriculture Club aims to explore the variety of approaches to sustainable agriculture seen in California and around the world.
Outdoor Recreation Club 
The Outdoor Recreational Club (ODRC) of the Middlebury Institute of International Studies at Monterey (MIIS) is a collaboration of students providing outdoor leadership for weekend outings, social gatherings and affordable rental equipment for the entire MIIS community.
Fair Trade Club
The Fair Trade Club aims to highlight the value of ethical business practices, by making students aware of standards such as 'Fair Trade'. Fair Trade certification helps to make consumers responsible choices about food consumption and serves as a form of regulating labour practices in a globalized economy.
Our Green Thumb
Our Green Thumb inaugurated the student-led community organic garden on Van Buren Street adjacent to the Morse Building in spring 2009. During the Spring of 2019, Our Green Thumb Garden instituted several sustainability projects. The Garden Manager purchased 2,300 worms and restarted the vermiculture plot to create compost, using dried garden vegetation and coffee grounds from the Institute's food service vendor, Aqua-Terra. In an effort to naturally deal with the harmful insects that are common in our garden, 1,500 ladybugs and approximately 150 praying mantises were released onto the grounds and seem to be effectively reducing aphid populations. During Earth Month, we started a culinary mushroom garden using a previously unusable plot. We are striving to be an educational sustainable garden, so signage in the garden has been updated to inform students and visitors of ongoing projects and the benefits of our efforts. Two insect houses have also been added to the garden, hoping to get local bees to establish their habitat there. The garden is just a cool place to kick back and relax.
Community
If you want to get involved beyond campus, or just see some beautiful places, Monterey is an excellent place to be.
Work
The Institute has partnered with the Association of Monterey Bay Area Governments (AMBAG) to offer students internship opportunities in managing greenhouse gas audits for local municipalities. A number of local businesses and organizations offer environmentally focused internships.
Eat
Central California is the agricultural supply center for the western United States. In fact the largest organic farm in the world, Earthbound Farm, has its headquarters in Carmel Valley. Organic, locally produced food is available on Mondays at the Pacific Grove Certified Farmers' Market and Tuesdays at the Old Monterey Farmers' Market. A number of community supported agriculture and fisheries programs deliver organic produce to or near campus every week, including Real Good Fish.
Play
We are surrounded by terrestrial and marine protected areas including the Monterey Bay National Marine Sanctuary, one of the largest protected areas and richest fishing grounds in the entire world. People come from all over the world to visit the Big Sur coastline, and it is right in our backyard. Get out, discover, and enjoy the natural beauty that makes this area worth protecting. The Monterey County tourism bureau maintains the latest information on these resources.
Contact
Contact us with any questions or concerns, or for more information on sustainability issues at the Institute.