An Exploration: Italian Wine, Language, and Culture in Tuscany
A Unique Tuscan Experience
For Tuscany, wine is culture, family, and land, a fundamental part of the history of the entire region. The best way to understand this bond is to just dive into it. Join us on this exploration of Italian wine, language, and culture.
In this program, you will deepen your knowledge of Italian wine, gain insider perspectives from local wine experts, and talk about wine in Italian as you immerse yourself in the beauty of Tuscany. Our program offers the perfect blend of education, culture, and unforgettable experiences.  
Location: Tuscany, Italy
Price: $6,400-$7,200 (airfare not included)
Register/Questions: To register or for any questions, please email Alicia Brent at abrent@middlebury.edu. 
Date: September 13-23, 2023
Priority Registration Deadline: June 15, 2023
Overview
In this program, you will experience the beauty and charm of Tuscany and its people while you explore the world of Italian wine.  You will learn about the Italian wine regions, discover the unique characteristics of Italian varietals, and uncover the secrets of Italian winemaking from local vintners and industry experts. This is a customized program designed to provide you with an in-depth understanding of Italian wine, from its history and traditions to its modern innovations. 
But that's not all! You'll also learn to talk about wine in Italian. You will learn to describe (and taste!) the characteristics of wine, read and decipher Italian wine labels, and pronounce regions and appellations like a true Italian.  Beginners and those with more advanced skills are welcome.  
 
What's included?
Our 10-day adventure begins in the historic city of Florence, where we will spend two and a half days and three nights engaged in a unique exploration of Italian food and wine. The University of Florence's viticulture and oenology faculty will provide an overview of the wines of Italy, pair them with local specialties, and introduce the riches of the Florentine wine and food culture. We will then journey through the Tuscan countryside south toward Siena where we will stay for one week in a 14th century villa owned by one of Tuscany's oldest and well-known noble families. As we explore the Tuscan countryside, we will be guided by some of the region's most knowledgeable experts in Italian wine, its traditions, evolution, and the industry that supports it today.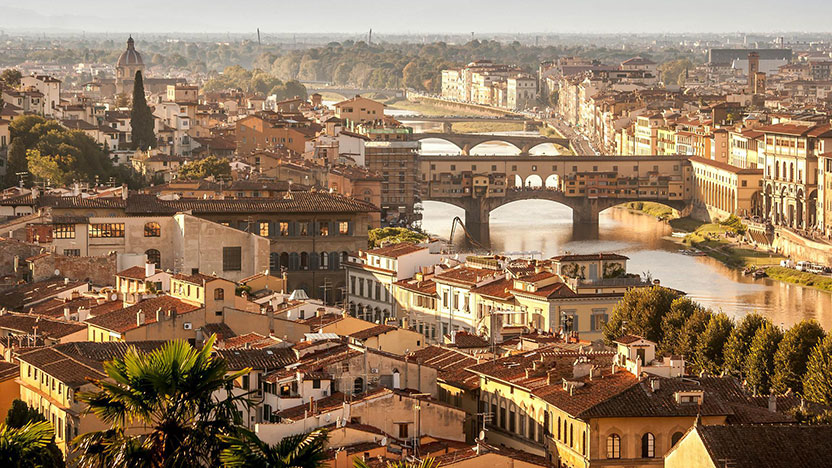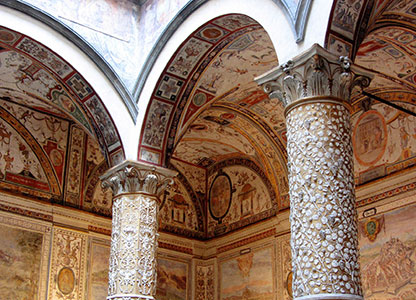 Florence Highlights
Experience Florentine wine and food culture through custom wine tastings and food pairings while engaging with local wine professionals and fellow enthusiasts.
Gain new perspectives from the local experts: Faculty from the University of Florence will share their knowledge of the traditions and current innovations of the Italian wine industry providing an in-depth understanding of the unique characteristics and production of wine across the different regions. 
Communicate with locals in Italian! Learning to talk about Italian wine and food.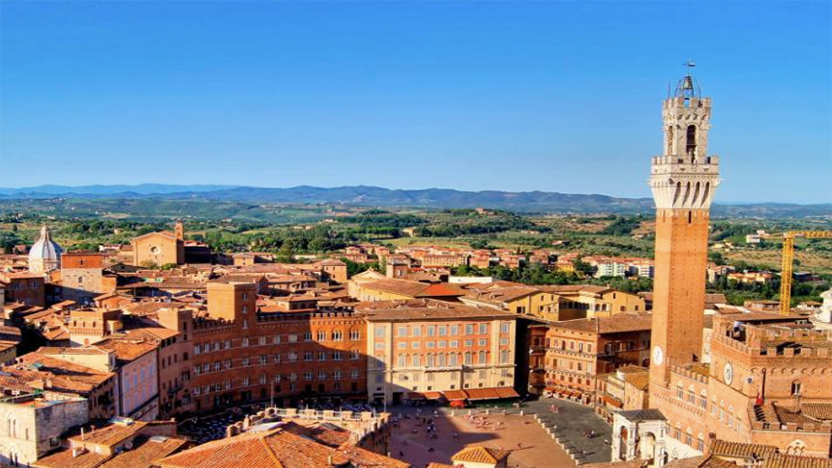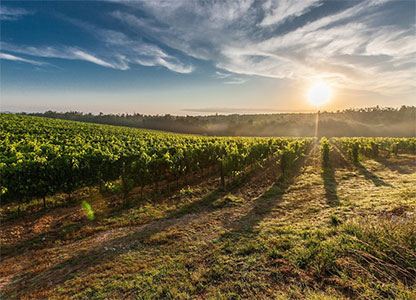 The Tuscan Countryside and Siena
From Florence, the group will travel through the beautiful countryside of Tuscany, south toward Siena, to an impressive 14th century villa that will be our home for the week. There, we will be hosted by the owners of the Villa from the well-known Guicciardini family, whose history in the region goes back centuries. The villa is conveniently located near Siena, San Gimignano, and Val d'Orcia, offering the opportunity to visit some of UNESCO's World Heritage sites.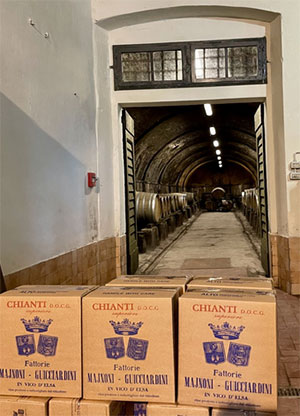 You will have the opportunity to discover some of the secrets behind the production of wine in Tuscany while exploring its historic estates and tasting its world-renown wines! Particular attention will be given to Chianti Classico, Vino Nobile of Montepulciano, and Brunello of Montalcino. Less traditional wines such as the ever popular Super Tuscans will also be explored, as we learn about the evolution of the industry in Tuscany and its place in the global market. All wine-related activities will be tailored to the interests and wine knowledge of the group.
The Villa
This 14th century villa overlooking the Siena countryside is nestled in the heart of a 150-acre property surrounded by an organic garden, vineyard, olive grove, two lakes, and sprawling woods. The structure is completely renovated and equipped with state of the art silent, central AC and high-speed internet, both powered by an on-site solar energy system. Though equipped with modern amenities, this villa remains a beautiful reflection of the heritage and aesthetic of this exceptional part of Italy.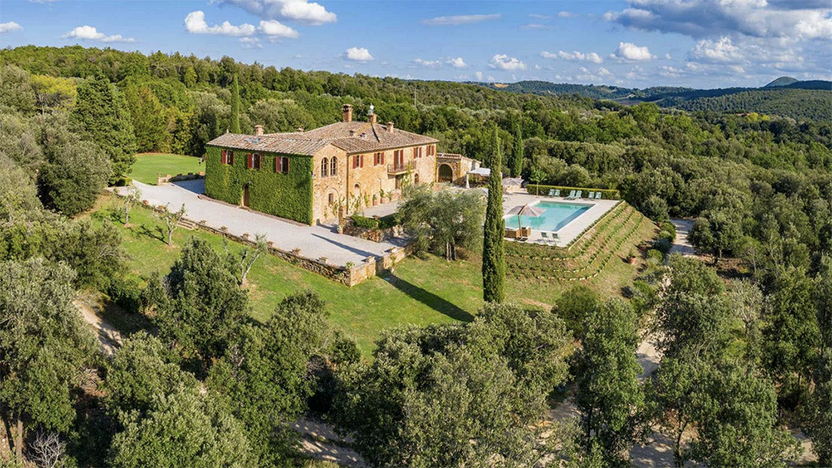 Highlights
Discover the beautiful landscapes of Val d'Orcia, as you taste the wines of Brunello of Montalcino, Chianti Classico, and Vino Nobile of Montepulciano.
Visit the Guicciardini Family farm, winery, and family estate in Chianti, which includes a charming chapel with 16th century frescoes.
Learn about the wine culture from local industry experts and walk through the wine production facilities of some of the region's most exclusive wineries with private tours guided by the owners themselves!
Explore picturesque villages and towns like San Gimignano and Siena as you immerse yourself in a uniquely Tuscan experience. 
Discover a 14th century castle with splendid views and a priceless art collection that is open only to Villa guests.
Enjoy a private wine tasting at the villa with a professional sommelier.
Learn about the local culinary tradition and taste how certain dishes are best paired with particular wines. 
Learn how to cook an authentic, organic, Italian meal, and enjoy it afterwards! 
Visit a local open market, where you will be able to practice your Italian language skills and buy all the ingredients to realize your dishes.
Relax by the pool immersed in the beauty of Val d'Orcia as you sip the estate wine grown and processed by the Guicciardini family themselves. 
Package
The package includes:
Accommodations in Florence and at an exclusive villa near Siena.
All breakfasts, lunches, and most dinners. 
Italian language and culture classes 
Transportation to and from all excursions and to and from the villa and *hotel. 
Customized cultural excursions in Florence and in Val d'Orcia.
Wine tastings with sommelier and wine producers.
Entry fees for all excursion to wineries and cultural sites.
Italian cooking classes at the villa.
Accommodations: In Florence, you will stay in a very well-situated and comfortable 4-star downtown hotel at walking distance to many of the highlights. In the countryside, you will stay at a 14th century villa, which includes beautifully renovated rooms with exceptional views from each. All rooms have their own bathroom with modern amenities and a semi-private living area suite (some suites have independent kitchens as well). In addition to the bedroom suites, there is also a common living room, kitchen, dining room, and a pool area.
Excursions: These are very unique experiences organized in collaboration with local wine industry experts and well-established cultural consultants from the Tuscany region. While our guests will have plenty of opportunities to explore and learn through these high-touch experiences, we are mindful of their need to relax and absorb the local culture and the space on their own time. For this reason, we have included some down time at the villa and in the evenings in Florence, so our guests can relax and explore at their own pace.
Transportation: *Airfare and transportation from the airport to the hotel are not included, but all other transportation associated with our organized activities is included. For the departure day, we have two vans and can take a group from the villa to the airport in Florence at two different times (we will try to accommodate the group's needs).
Detailed Program Cost: All guests will receive the same level of attention and engage in the same experiences throughout the program. Each of the six rooms at the villa are beautiful and unique with an amazing view of the hills of Tuscany. All have private bathrooms and access to semi-private living room suites. However, as this is an authentic Tuscan home, some of the rooms are larger than others, so there are three pricing options.
Luxury Option: $6,900/person - Double Occupancy Only
Deluxe Option: Double Occupancy $6,700/person; Single Occupancy $7,200
Standard Option: Double Occupancy $6,400/person; Single Occupancy $6,900 
*Airfare not included
Important:  This program will require some physical endurance. The excursions include walking and standing for periods of time, sometimes in the vineyards and on uneven ground. Some days can be long as we visit several different locations. Visiting Italy's historic towns also requires some physical effort, as they tend to be very hilly and some are particularly steep.  So, please take this into consideration. 
Who's involved?
Custom and Executive Programs at the Middlebury Institute of International Studies
Custom and Executive Programs offers customized professional development programs to government, non-profit, and private industry partners. Our programs emphasize practical skills through the use of authentic materials and real-world interaction.
Middlebury School in Italy
Since 1915, Middlebury Language Schools has been one of the nation's preeminent language learning programs. Middlebury's Schools Abroad offer programs in 17 different countries, with a school in Italy situated in downtown Florence at Sede Capponi. 
University of Florence
The modern university dates from 1859, and the Faculty of Oenology and Viticulture is within the School of Agriculture, one of the 12 of the University.
The Guicciardini and Biagini Families of Florence
The owners of the villa and family-run winery Fattoria Majnoni Guicciardini will be your hosts at the villa and are also co-organizers of the excursions throughout the Siena region.