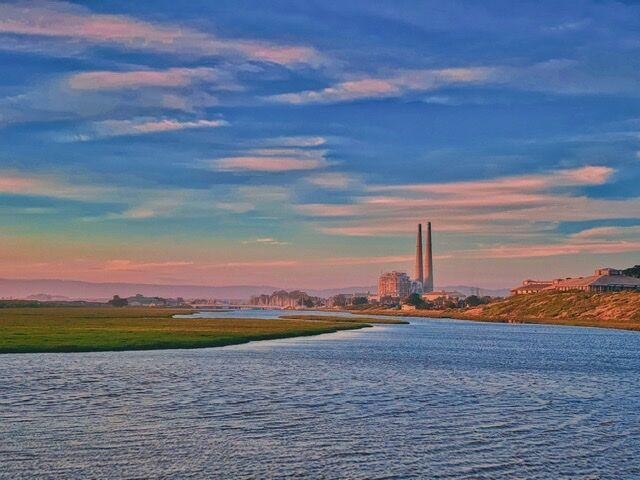 What does a government agency do when faced with the threat of sea level rise inundating an eight-mile stretch of critical north/south highway (Highway 1), while simultaneously protecting critical habitat of national significance (Elkhorn Slough National Estuarine Reserve)?   Conduct a study and call upon the experts.
Elkhorn Slough is California's third largest tract of tidal wetlands and hosts extraordinary biological diversity, providing critical habitat for more than 135 aquatic birds, 550 marine invertebrate species, and 102 fish species.1  Highway 1 runs directly through an eight-mile stretch of this important wetland, and it is threatened by flooding from increasingly common king tides and anticipated flooding by future sea level rise.  
The Central Coast Highway 1 Climate Resiliency Study is a collaboration between the Center for the Blue Economy and the Association of Monterey Bay Area Governments (AMBAG) in partnership with with California Department of Transportation (Caltrans), The Nature Conservancy (TNC), and Environmental Science Associates (ESA) to develop and evaluate adaptation strategies for Highway 1 (and the adjacent railway) while protecting the surrounding ecosystems throughout Elkhorn Slough.1
The main options under consideration for this study were:
Take no action
Raise Highway 1, keeping two lanes and restoring marsh land (C1)
Move north-south traffic up into the mountains along County Road G12 (C2)
Raise Highway 1, but expand to four lanes and restore wetlands lost in the expansion (C3)
The findings showed that costs exceed benefits for "no action," C1 and C2.  Benefits only exceed costs with the expansion to four lanes (C3) because it is the only one that has enough travel and safety benefits to offset costs. 
How does an economic analysis put the transportation and ecological benefits on the same measure for full comparison of what are normally separate considerations?  The Center for the Blue Economy team developed a survey of Elkhorn Slough tourists to value recreation and ecosystem services in the Slough.  Throughout the summer of 2019, graduate students from the Middlebury Institute were employed in approaching visitors to the slough and conducting the survey.  Among the economic considerations considered were:
The expenditures on transportation system adaptation and wetlands enhancement/ restoration
The value of time spent in transportation for both passengers and freight
The economic costs of highway accidents
Expenditures on motor vehicle operations1
A decision on which strategy to use should be made no later than 2040.  By that time, the risks of damage from sea level rise and coastal storms increase to the point where serious damage is likely if no action is taken and it will take as long as ten years after a decision is made for a project to be in place. 
Note 1:  This article is drawn from the very readable The Central Coast Highway 1 Climate Resiliency Study and accompanying press release, with help from Dr. Charles Colgan, Director of Research, Center for the Blue Economy.