Field Notes from the Sustainable Blue Economy Conference in Nairobi, Kenya

The Sustainable Blue Economy Conference, held November 26-28, 2018 in Nairobi, Kenya, focused on the theme, 'The Blue Economy and the 2030 Agenda for Sustainable Development.' 
Although the Center for the Blue Economy was unable to send a representative, Dr. Mark Spalding, President of the Ocean Foundation and Center for the Blue Economy Senior Fellow (shown in the photo, front row, yellow shirt) attended and sent these notes.  This reflection was originally intended for the Ocean Foundation Board, and is reproduced here by permission.  The Ocean Foundation was an early sponsor, and Dr. Spalding was engaged on the organizing committee to develop the meeting.  Here are his observations from this historic event: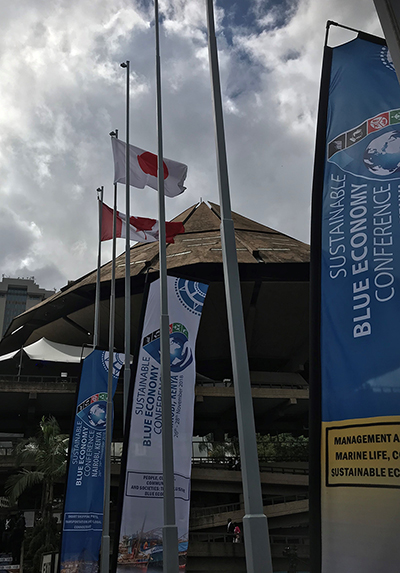 We expected to organize a meeting of 4000 people. Instead over 18,000 people participated in over 300 events, and nine separate conference threads were organized. As you might expect, the results of such a scale difference from our original plans created some forms of chaos, as did the challenges of hosting in a developing nation destination.  
During the conference, I acted as moderator for 3 panels:
— The two-hour Blue Economy Conference 2018 signature thematic session on "Cities, Tourism, Resilient Coasts and Infrastructure"
— A panel on "Investing in Sustainable Fisheries and Aquaculture Practices," that was part of the Business and Private Sector Forum (one of the nine threads)
— A panel on "Governance and Implementation - the Relationship between Local and National Governments" for the Governors and Mayors Convention (another of the nine threads)
Despite any chaos, it was truly amazing how well it all went, and what was accomplished. The official meeting outcome statement (which I helped to draft) and a summary of commitments made by governments and others is available here:  The Nairobi Statement of Intent on Advancing Global Sustainable Blue Economy 
 
At the end of the conference, UN Special Envoy for the Ocean, Peter Thompson, and I hosted a small private dinner with Macharia Kamau who is both the father of the UN Sustainable Development Goals process, and also the visionary for this conference.  Both Peter and Macharia were ecstatic about the results of the meeting and the future of the process going forward into the second UN Ocean Conference to take place in Portugal in 2020.