New Perspectives on the Ocean Economy of the Mid-Atlantic States

The Center for the Blue Economy has prepared a new report for the Mid-Atlantic Regional Council on the Ocean (MARCO), which calculates the contributions of oft-overlooked portions of the ocean economy, concluding that marine research and education, state expenditures related to the ocean, and coastal electricity production support 38,000 jobs and $25.5 billion in annual economic activity. The analysis also uses a new approach to estimate the value of peak summer tourism with greater precision than standard government measures, and for the first time attempts to place an economic value on the region's "blue carbon" – the ability of marine plants to store carbon that would otherwise be released to the atmosphere and exacerbate climate change.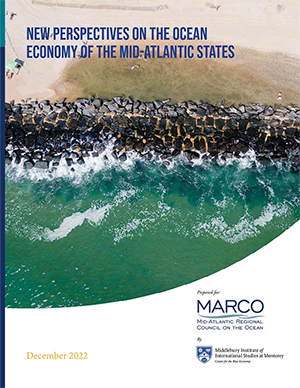 The report, "New Perspectives on the Ocean Economy of the Mid-Atlantic States," provides regional and state-by-state summaries of the economic impacts of each of these sectors along with six others (marine construction, living resources, offshore mineral extraction, ship and boat building, tourism and recreation, and marine transportation) that have long been tracked by the National Oceanic and Atmospheric Administration's (NOAA) in its Economics National Ocean Watch (ENOW) data.
ABOUT MARCO
Established in 2009 by the Governors of New York, New Jersey, Delaware, Maryland and Virginia, MARCO provides a forum for our coastal Mid-Atlantic states to collaborate on shared regional priorities related to marine habitats, renewable offshore energy, climate change adaptation, and ocean water quality. MARCO initiated and oversees the Mid-Atlantic Ocean Data Portal to assist the region with ocean planning efforts
ABOUT THE REPORT
The statistics provided in the report are based on economic data from the 2018 calendar year. The following are some of the report's findings.
State Government: MARCO states budgeted $654.6 million and employed 6,300 workers for needs such as resource management, parks and recreation, and law enforcement related to the ocean. The regional average budgeted by state governments per mile of shoreline was $62,000. New Jersey topped the list at $144,000 per mile.
 
Marine Research and Education: Public and private higher education institutions with marine research and education programs accounted for $317 million in spending and 7,200 jobs. Virginia had the largest marine research expenditures at $134 million.
 
Tourism and Recreation: To present the most accurate picture of peak summer tourism in the Mid-Atlantic, the analysis took steps to discount seasonal economic activity that was not related to coastal recreation – for example, hotel and restaurant spending tied to business travel or family visits. It found that peak recreational tourism accounted for $10 billion in spending and supported 696,000 jobs. New Jersey and Delaware had the largest peak summer economies, with employment in ocean tourism and recreation 54% and 39% higher respectively.
 
Blue Carbon: The report assigns a range of potential values for the economic damage that would be suffered from climate change if each state's aquatic vegetation were to be eliminated. The region's aquatic vegetation was estimated to hold $10.1 billion to $29.5 billion in total value, depending on the choice of carbon price (for example, the Regional Greenhouse Gas Initiative market price). Virginia (64 metric tons), Maryland (63.5 metric tons) and New Jersey (60 metric tons) stored the bulk of the region's blue carbon.
 
Electric Power Generation: Although power generation hasn't traditionally been considered a coastal industry, the report notes that many of the region's plants were built in nearshore locations because they offer access to water for steam generation and discharge and for delivery of fuels such as coal and oil. The analysis focused on plants within 3 miles of the coast and found they accounted for $22.4 billion in output and 24,500 jobs – second only to tourism and recreation among ocean economy sectors, and certain to grow with the advent of offshore wind farms. Any costs associated with negative health and environmental impacts of fossil fuels were not included in this analysis. New York had the largest coastal electric power industry with 115 plants.
Author Dr. Charles Colgan, Research Director for the Middlebury Institute of International Studies at Monterey's Center for the Blue Economy, said the report marks a significant change from the economic activity counted as "ocean-related" in the widely consulted ENOW. He said it also provides a bridge between ENOW and the Bureau of Economic Analysis' Marine Economy Satellite Account (MESA), which expanded the definition of activities related to the ocean in a similar way, but only provided that data at a national scale.
The report recommends that the data be updated on a regular basis so that important changes in the economic activity associated with the ocean can be detected and investigated. It notes that this can be done easily and at a modest cost by state coastal programs using publicly available information. 
Good job CBE Research Team:  Dr. Charles Colgan and Anthony (Tony) Castelletto! 
Story adapted from MARCO press release, thank you MARCO team!