Monterey Threat Financing Forum Highlights Strategies for Enforcing Sanctions, Blocking Funding to Terrorist Groups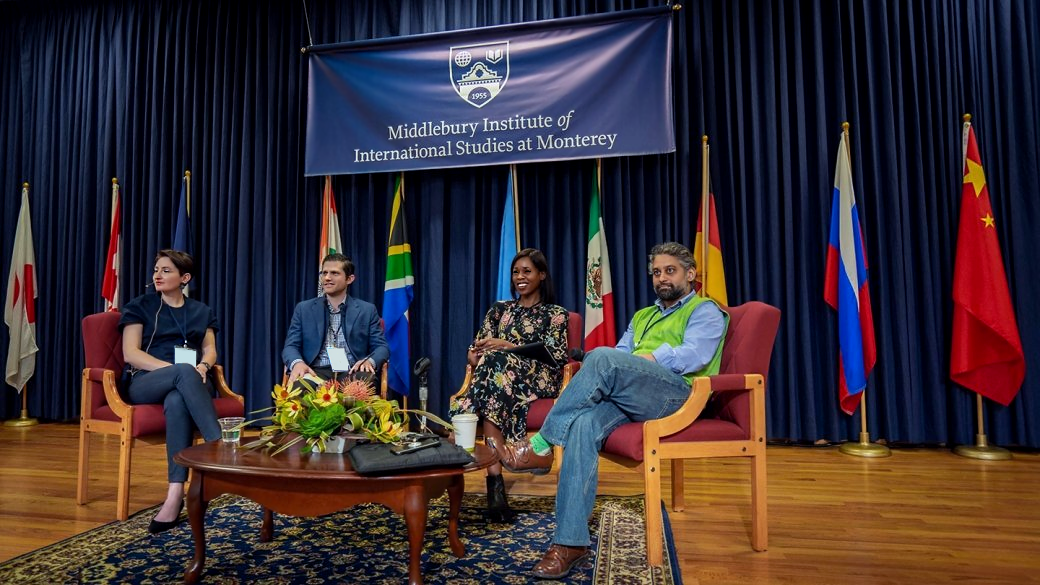 The inaugural Monterey Threat Financing Forum featured sessions highlighting topics such as blockchain forensics, use of crypto-currencies to evade sanctions, and artificial intelligence applications for financial crime compliance, drawing more than 130 attendees to the Middlebury Institute campus on March 20-22.
"Following the money has proven to be a very effective strategy for government agencies pursuing violent extremist groups," said Moyara Ruehsen, a Middlebury Institute professor who specializes in financial crime management and one of the principal organizers of the conference, along with Jason Blazakis, director of the Institute's Center on Terrorism, Extremism, and Counterterrorism. Added Ruehsen, "Meanwhile, private sector institutions are eager to stay up to date with the newest techniques for detecting and tracing the transactions of these groups, and concerned about making sure they comply with some of the toughest and most strictly enforced sanctions in U.S. history.
The forum was convened in response to increasing demand from industry professionals for more knowledge and training regarding emerging threat finance risks and vulnerabilities, and attendees included private sector compliance professionals, federal and state regulators, law enforcement, multilateral agencies, financial crime experts, and sanctions compliance consultants. The forum aimed to provide the most up-to-date knowledge and tools needed to help combat growing threats while also providing professionals in the field the opportunity to exchange ideas, experiences, and techniques.
"This was a tremendous gathering of knowledge and talent," said Blazakis, "featuring experts in the areas of counter-terrorism financing, counter-proliferation financing, threat financing investigations and sanctions compliance." Participants learned about the latest sanctions evasion typologies, how blockchain forensics can trace cryptocurrency transactions, and had the opportunity in break-out workshops to analyze a fictitious terrorism financing case, trace the transnational workings of a real North Korean proliferation-financing operation, and learn how network analysis tools can aid investigators. "We're especially grateful to conference sponsors Chainalysis, The Data Initiative, and i3 Strategies," added Blazakis.
The keynote speaker was Andrea Gacki, director of the Office of Foreign Assets Control (OFAC) in the U.S. Treasury Department, and other speakers at the 18 sessions offered included representatives of the U.S. Department of State, the Federal Bureau of Investigation, Google, Paypal, Square, Stripe, Chainalysis, Ciphertrace, i3 Strategies, The Data Initiative, Western Union, HSBC, Charles Schwab, RegTech Consulting, and Steele Global Compliance Solutions.